Throughout what has been a tumultuous year, Human Rights and Equity Services (HRES) at Dalhousie has worked hard to spur important public discussions about diversity, race and issues of inclusion.

Its latest initiative is a full-day Human Rights and Equity Conference happening this Friday. Open to all, the event will bring together a range of speakers — from students, alumni, faculty, community members, Elders, and government officials — for a series of workshops and panels on topics related to human rights, social justice and anti-discrimination.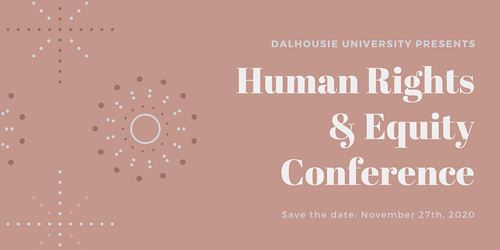 "We know how difficult this year has been for so many, particularly BIPOC and low-income communities who have been heavily impacted by police violence and COVID-19, and this conference provides a chance for people of all backgrounds to engage with each other on some of these topics, learn from the past, and work towards making our society safer, healthier and more inclusive," says Theresa Rajack-Talley, who provides leadership to HRES in her role as vice-provost of equity and inclusion.

Centred around the titular theme of Learning from the Past to Build for the Future: Challenging Discrimination from the Global to Local, the conference will feature segments on everything from Indigenous realities, institutional racism and microaggressions to domestic violence and immigrant health.
Leadership and service


The conference — organized by HRES education advisor, Amina Abawajy, and a team of student peer educators — is just the latest activity in what has been an extremely busy year for the unit, which provides both trauma-informed, survivor-centred advisory service to community members as well institutional leadership on diversity, inclusivity and equity goals.

in June, HRES launched its Speak Truth to Power speaker series with a timely forum on anti-Black racism. The series has continued throughout the year, with sessions on racism's impact on mental health, Indigenous Treaty Rights, and gender-based violence. So far, the series has drawn 900 participants overall to live sessions, with more than 1,000 total views on YouTube following the events.

Read also: 'It's just heavy': Dal‑hosted forum explores burdens of anti‑Black racism

State of mind: Forum showcases racism's heavy toll on mental health

What's more, HRES has begun offering a new online anti-racism module open to all faculty, staff and students — an additional service added to the many other supports now operating virtually due to the pandemic.

"We are seeing more and more people across our community showing up to learn more and help in making change, which makes all of our efforts this year feel worthwhile," says Dr. Rajack-Talley.

Registration for this week's conference is still open. For a full schedule and conference details, visit the Human Rights and Equity Conference page.