In the fight against racism, mental health is an all-too-common victim.
That was the focus of an online forum Thursday evening hosted by Dalhousie's Office of the Vice-Provost for Equity & Inclusion/Human Rights and Equity Services.
The forum, Speak Truth to Power: Racism, Mental Health & Healing, was the third in a series launched by the university and partner groups earlier this year to explore racism and its impacts.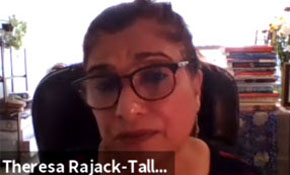 "Research shows that the burden or the labour of love that we carry in making sure that social justice prevails for our respective communities on and off-campus comes with a great deal of stress," said Theresa Rajack-Talley (shown right), Dal's vice-provost of equity and inclusion, in opening remarks.
"We are here today to talk about this."
Reaching up, reaching out


Co-facilitated by Catherine Martin (shown below left), Dal's director of Indigenous Community Engagement, the panel included a mix of speakers from both Dal and the greater Halifax community.
Naomi Bird, a Dal student, community organizer and Cree, Two-Spirit person from Montreal Lake First Nation in Treaty 6 territory, spoke about their experiences earlier this year setting up and attending rallies in support of Wet'suwet'en Nation in British Columbia protesting the Coastal GasLink natural gas pipeline.
"I dropped everything to organize and attend solidarity actions. There was an energy at the rallies that I'd never experienced before."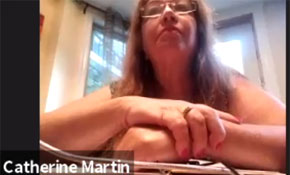 Even though they felt as if society were on the "precipice of change," Bird also began to bear the mental weight of her experiences fighting for change.
"I felt gaslit by dominant society trying to explain my Indigenous reality and being told I was asking too much, that I was too sensitive or just straight up wrong. I took a step back from organizing to heal."
Another speaker, Tyler Simmonds, said his own struggles navigating racism and resulting mental health issues began when he was just a boy. Being from North Preston, N.S., the largest Black community in Canada, he said as early as 10-years old he began to feel self-conscious about how he was being perceived by people outside his community and would alter his behaviour as a result.
"I would go to a store, to school and I would play sports thinking, 'Oh, I have to make sure that they know that I'm not a threat," he said.
Now a filmmaker, public speaker and entrepreneur, Simmonds strives to help break down stereotypes about his community through his work. But he said it's also important for individuals to take a break sometimes and to reach out for help if the pressure feels too much. 
"We grow up and often we are taught that as Black men we can't show emotion. That we can't be vulnerable. It's important to change that narrative. It's important to let people know that the cool thing to do is to love people," he said. "The cool thing to do is show people you love them and cry if you have to. That's the cool thing to do, that's the healthy thing to do."
From microaggressions to explicit racism

Other panelists dug deeper into some of the research on how racist experiences can be traumatic for individuals. Lydia Muyingo, a PhD student in Dal's Clinical Psychology program, cited studies showing links between discrimination in the workplace and psychiatric disorders such as depression, anxiety and post-traumatic stress disorder.
"For some, these can turn into clinical diagnoses."
Muyingo said both overt acts of racism (such as racial slurs, comments on teaching evalutions, etc) and more subtle "microaggressions" (such as differences in pay, difficulties getting promotions, etc.) affect relationships with coworkers, self-esteem and people's own belief in their ability to succeed.
Winnie Grant, an active member of the Association of Black Social Workers and adjunct professor in Dalhousie's School of Social Work, said one of the challenges of racism is that victims don't have control over when it happens. Resulting trauma can lead to various psychological responses.

"We will become anxious, we become depressed, we may become overwhelmed, we may have a lack of motivation, a lack of self-esteem. We may become self-destructive. We may hate who we are as persons of African descent. We may not continue to try out activities, we might withdraw, we might conform . . .  we might abuse ourselves," she said.
Hope and healing

The forum also touched upon aspects of how to heal after the trauma of racism and how people can deal with racist feelings.

For John R. Sylliboy, a doctoral candidate at McGill University and the co-founder of the Wabanaki Two-Spirit Alliance (W2SA), that means building a sense of balance into his life. He spoke about the various dimensions of racism that go from the self to the family to the community to the First Nation and then to the societal/national level.
"For that racism healing process to take place, it has to be supported. We have to provide supports for the person that is going through their own understanding of why they are racist. But also, we have to provide supports for the resurgence of a new awakening . . . that turns into a societal value."