Run by partners and Dal alumni Jane Abbott (MArch '06) and Alec Brown (MArch '93), Abbott Brown Architects is the recipient of two 2019 Lieutenant Governor's Awards of Merit for Excellence in Architecture.

One award, in the large building category, is for the renovation of Dartmouth's Zatzman Sportsplex in collaboration with Diamond Schmitt. The other, in the small building category, is for the renovation of the Alderney Gate pedway. Both projects are part of a growing portfolio of celebrated efforts to revitalize and rejuvenate the infrastructure in the area.  
Redefining renovation

Increasingly, progressive cities are looking to create more vibrant, liveable downtowns.  Architects are recognizing renovation as a powerful tool to activate older public buildings and urban spaces.  

For Abbott Brown, the focus on renovation runs parallel to other new-build design projects but it is an area of expertise which they wholeheartedly embrace.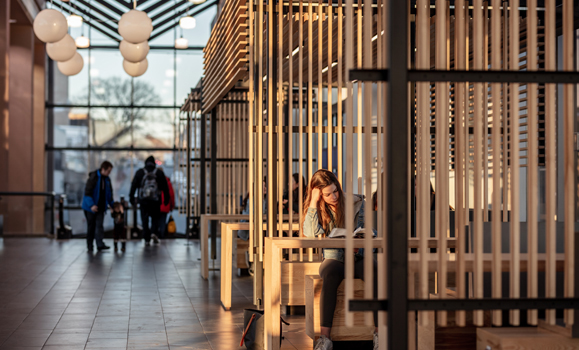 Alderney Gate pedway rendering.

"When you are renovating a building," says Brown, "you already have layers of building fabric and cultural meaning that you can work with. That impact of a lovely old masonry wall, or a re-purposed space in a legacy building — these are part of what makes downtowns so rich and so important."

"For us it is less about whether the project is a new build or a renovation itself," says Abbott. "It is most important that the project be considerate of quality urban design and that it be sustainable. Because we have more than enough buildings, often the best solution involves a renovation. Other times a solution might be a new build that acts as a renovation of a neighborhood or area."

The firm has been successful with this as well, adding two modern newbuilds to Lunenburg's Old Town heritage district while still meeting stringent UNESCO standards. Renovation is being redefined, adding elements to existing infrastructure in a way that is environmentally conscious, considers the fabric of an existing building or area, and is reactive to the way people use their spaces.
Old meets new

It is not difficult to see how Abbott Brown is carving out a niche in this area. Their winning formula includes an understanding of the interface between the old and the new and the friction that exists between the dated and the very modern. 

The Tell Lofts in Dartmouth is an example of this. The project was a renovation of a derelict telephone company switching station into 24 double height loft apartments. Many aspects of the original building were maintained including exposed brick and concrete.  

"People responded to this" says Brown. "The first lofts to rent were those with elements of the building's past". When reflecting on the project Abbott emphasizes that they strive to deliver clients a unique combination of modern design along with the embracing of some of the original elements of a place. "It's a formula that engages the end user and the public". 
Projects for people

In both projects acknowledged by the Lieutenant Governor's Awards, great attention was paid to how the spaces were used, sometimes unintentionally, and then improved to serve the end user better.  

The Zatzman Sportsplex (seen in the image below), originally designed as an events centre, was reimagined into a place for the whole community as collective users, not spectators. A focus on improved lighting, openness and flow transformed it into a place that supports the centre's ethos of a healthy body and mind. Rather than seek to impose a new identity on a cherished institution, they worked instead to revitalize it.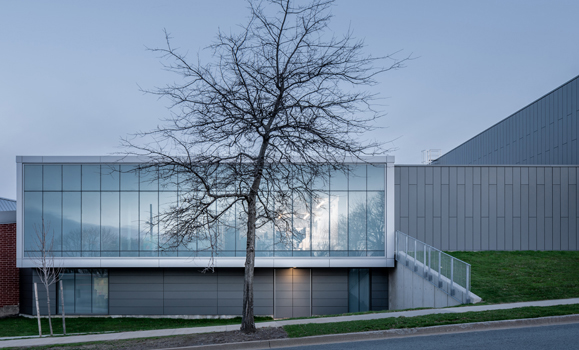 The Alderney pedway, a link connecting the Dartmouth Ferry with other areas of the Alderney Gate complex, was generally uninviting for the public. Halifax Regional Municipality wanted to create a place that supported other functions: a place for office tower occupants to have informal meetings, a place that supported library visitors reading and using wi-fi and a place that creates a more dynamic link between Dartmouth and Halifax — celebrating the arrival of visitors to the Dartmouth side of the harbour. The design is a transformation from throughfare to a place for community and is now referred to as The Alderney Commons.
Great clients win awards!

"In order for a project to translate to award winning architecture, a client needs to want to do something interesting", says Abbott. "Great architecture starts with a willingness to be just bold enough to create the unexpected." She admits that this isn't always easy. "It can be scary and often requires a leap of faith. However, it is always these projects – in which the client is willing to go on this journey with the architects and gets excited and believes – that end up winning awards."  

Abbott recalls a moment during the renovation of the Halifax City Hall Clerks' offices where all the old materials were exposed and even she had a moment of doubt about the design they had settled on. Today, the finished project is stunning, and just another in a long line of examples of Abbott Brown leading their clients on a journey of reusing, reimaging and recreating their spaces.