Ella MacDonald is one of the many university students that lost their jobs due to the impact of the COVID-19 pandemic. This caused her extra worries about how she would fund her final year of studies in the Fountain School of Performing Arts Theatre program.

So when she received an email from the Hnatyshyn Foundation notifying her that she was one of the seven young Canadian performing artists to receive a grant of $10,000 to pursue their studies for the 2020-21 academic year, to say she was excited is an understatement.

"I was actually working on a theatre project with some of my Fountain School peers when I received the email," says Ella. "I was expecting it to be a notice of rejection. I was stunned. I started crying happy tears and calling my parents and my teachers. I definitely didn't get any other work done that day!"
A significant honour

The Hnatyshyn Foundation's Developing Artist Grants program is designed to provide assistance to the most promising young Canadian performing artists enrolled in qualified post-secondary educational or training programs. The grants are awarded in several performing arts categories to assist them with their schooling, training, and career development, and to promote to the Canadian public the importance of the arts in our society. Ella is this year's recipient of the acting (English theatre) grant.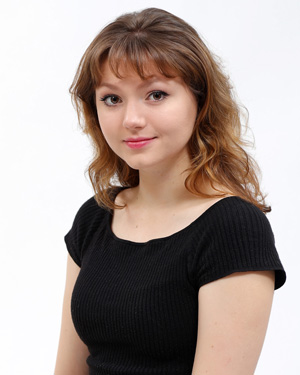 Ella, who is completing a B.A. Honours in Acting with a Certificate in Dance and Movement, explains that winning an award like this is an incredible break, allowing her to focus on her studies during her final year of her undergraduate program, in the midst of a pandemic, rather than worrying about finances.

Matthew Walker, assistant professor in the Fountain School's Acting program, nominated Ella for this grant on behalf of the program and worked with her on her application to ensure it was successful. He has taught and directed Ella in the past and is once again teaching her this year. He adds that the Fountain School is very excited and proud to see Ella recognized on a national stage.

"The award is a tremendous honour and it's the first time an Acting student from the Fountain School has been the recipient," says Walker. "We have great pride in our students and the depth of investigation they're undertaking in studio. It's always wonderful when their work gets recognized beyond our walls."

Diving in

Originally from the local community of Mineville, Nova Scotia, Ella is a University of King's College student studying in Dalhousie's Faculty of Arts and Social Sciences. After completing the King's Foundation Year Program, she had intended to major in psychology, but soon realized that she, personally, was not enjoying that discipline. She had been taking several electives in theatre and had become very involved with the King's Theatrical Society, finding joy in that community. After having a heart to heart discussion with one of her theatre teachers, she was convinced she needed to switch programs and pursue acting.

"I had fantasized about being an actor when I was a teenager, but I had a misconception that careers in the arts were risky, rare and draining," says Ella. "When I got to Dal, I realized how much the industry is changing, and instead of just auditioning endlessly hoping for work, I can create my own original works and support myself with other specialty skills between acting contracts."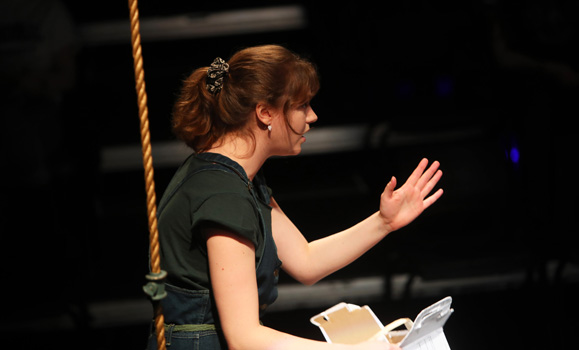 Since starting university, Ella has worked part-time and full-time jobs in the theatre industry, including the front of house manager for Shakespeare by the Sea, a theatre curriculum designer for EAL students, a teacher at Neptune Theatre School, a life model at the Nova Scotia College of Art and Design, and as a musician at the Alexander Keith's Brewery. She also has a background as a trained peer supporter and worked in crisis intervention on campus. She aspires to complete a MA in Performing Arts and become a certificated intimacy director.

Ella credits several of her high school teachers for properly introducing her to the world of drama, as well as her Fountain School theatre instructors for making extra efforts, going above and beyond what is expected of them, supporting her growth, preparing her and her fellow students to enter today's arts industry, and helping to shape her life for the better.

Performing online

Ella notes that it hasn't been easy transitioning her studies to an online environment. Fortunately her class already has group collaboration experience after producing the devised show Ephemera last winter, where the students were engaged as creators as well as performers. She adds that the experience was essential preparation for these unprecedented circumstances, and they are now successfully collaborating on the Fountain School's first show of the season, and very first digital production, Concord Floral.

She adds that although the performing arts industry, like all industries, is taking a hit during this pandemic, there will always be a need for theatre and the performing arts.

"All throughout history, wherever there have been people, there has been theatre. Good theatre moves us to laugh, to cry, or to think new thoughts. Theatre cannot 'die' as there will always be a fundamental human need to be moved. Even if you aren't seeking a career in the performing arts, your training will be an advantage in any other field of work, and deeply nourish you intellectually, emotionally, and physically."

In her career, Ella wishes to give back to her community and society by creating world-class, cutting-edge, contemporary works that share questions about the world that we are all struggling to answer.