What happens to all of the moments we choose to forget? To the issues we would rather ignore? The parts of ourselves that we want to turn away from? Where do they go?

The Fountain School of Performing Arts' first show of the 2020-21 season, Jordan Tannahill's Concord Floral, asks these questions both of its audience and its own characters — and it will do so as the first ever online show conceived through the Fountain School.
Concord Floral performances will streamed online, free of charge, nightly from October 13 to 17 at 7:30 p.m. Atlantic, with an extra Saturday matinee show at 2 p.m. featuring a talk-back with cast and the director following the performance.

The digital stage

With all of Dalhousie transitioning to online learning this Fall, the Fountain School is adapting its programming online with creativity and enthusiasm. This new format has presented the cast and crew with countless challenges, but also unique opportunities and chances to explore brand new methods of performance and production.

"I definitely feel like we've all been on a kind of collective learning curve," says director Ann-Marie Kerr, "trying to understand what we can do that is exciting to us and is not "film" — is not what our minds are used to seeing on screen. [We're learning] how to invent in this medium and keep it really interesting for ourselves."

This performance is certainly full of invention. The artistic input from the cast, the director's vision, a talented crew, and tireless efforts of lead designer Karyn McCallum, has resulted in a multimedia theatrical collage of analog and digital storytelling. The show mixes elements of live theatre and film, recorded and live music, and delves deeply into how online video platforms like Zoom and Vimeo can function as theatre spaces.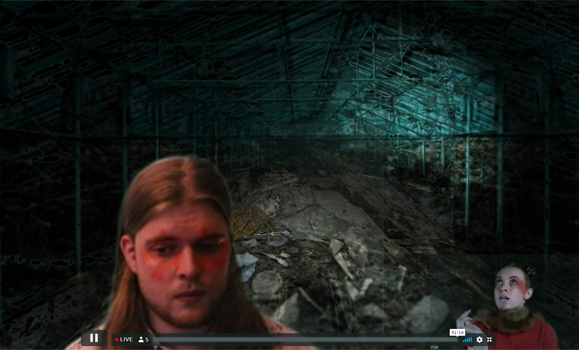 It also makes the Fountain School's performances more accessible than ever: all performances are free of charge, and can be accessed digitally around the world, with no ticketing limit.

A coming-of-age story

The play follows a group of teenagers as they work through the usual high school concerns: family problems, passions, guilt, and the pressures of simply growing up.

Oh, and there's the little problem of the looming plague they set loose over their town and peers.

Concord Floral — the abandoned greenhouse that hosts parties and gatherings of local teens — hides a terrible secret buried within. When Rosa Mundi (Emma James) and Nearly Wild (Ella MacDonald) uncover this secret, they and their friends struggle to put to rest the forgotten memory that haunts them all.

Part coming-of-age, part ghost story, part confessional, the show is described by Kerr as a way of "getting to see inside the minds and hearts and imaginations of this demographic when they're in a difficult situation —how they become more compassionate, more thoughtful, more aware of their actions in the world."

Originally set in Concord, Ontario, the play has been adapted to centre in the HRM area, mentioning Halifax and Spryfield in particular. This adjustment situates the play into a familiar and physical location, as well as allowing for the feeling of a universal story. "There is a kind of larger, almost urban legend feeling about it," notes Kerr. Like any good thriller, the events of this show could happen anywhere, to any group of teenagers, in any town not unlike your own. In this particular instance, the performance simultaneously occurs locally and in a more universal, variable locale due to its nature as an online production.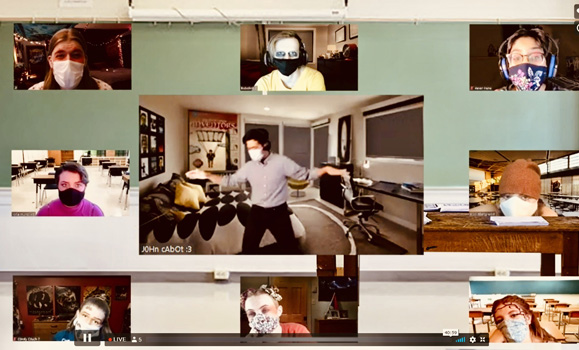 A theatrical collage

Watching the show is akin to watching a collage of moving pieces and images. Each actor's "square" or panel shifts, expands, shrinks, and disappears in front of the audience fluidly. Faces are hidden with superimposed images placed as a filter over the action and attention is drawn to particular characters with the size or clarity of their display. Characters are transported to different locations with clever adjustments — all from the comfort of the actors' bedrooms.

As many of us have experienced over the past months, there has been a clear shift in how we think about togetherness and separation. Concord Floral speaks to this experience. "There is something weirdly liberating," Kerr says. "I think people feel liberated to get to try stuff in their rooms by themselves. There's a privacy that you feel like you can never really get on stage."

There is something special about watching this show, in which the characters are united in the same virtual space — able to act and react to one another and their locations but simultaneously isolated from one another by their screens and the borders of their designated video displays. This contradictory feeling of both togetherness and isolation is drawn out from the script by its digital format. The idea speaks both to our current situation and physical distancing, and also the everyday experiences of teenagers as tensions arise among friends and rifts are drawn and repaired over and over again.

Memory at rest

"We have made this show for you."

That's one of the lines from the opening scenes of Concord Floral, and it summarizes the production in full. There is a tenderness in the direct address of the audience, an admission of the show's theatricality, but also of the audience's purpose as spectators to the piece's events. The characters ask us to grow with them as they finally come to accept the memories they have repressed.

The end of Concord Floral has a palpable sense of growth. By presenting itself to the audience so directly and honestly, the play and its characters call upon their viewers to strive for the same commitment to accountability and self-forgiveness as presented by the characters themselves. It asks us to reflect, to recognize the impact of our actions, to adapt, and above all, to always be swayed to kindness.

Concord Floral performances take place from October 13 to 17, streamed free of charge over Vimeo. All evening performances take place live at 7:30 p.m. Atlantic time. The Saturday matinee (2 p.m. Atlantic) will be pre-recorded but will be followed by a live audience talk-back with the director and cast.