When the decision was made that Dalhousie's fall semester would be predominately online due to COVID-19, university staff and faculty realized that the engagement-focused programming traditionally available to new incoming students would be different this year. There was a need to find new ways of building a sense of community in a virtual setting.
A group of staff and faculty members convened under the leadership of Dr. Ivan Joseph, Vice-Provost, Student Affairs, and came up with the Together@Dal program, which launched this week and is hosting a virtual "Launch Party" for participants this Friday (July 16).
Learn more: dal.ca/together
"In this virtual world we are living in right now, we need to create spaces for people to meet and form community, to connect, and to belong," says Dr. Kerrianne Ryan, a postdoctoral fellow in the Department of Psychology and Neuroscience and program manager of Together@Dal. "There is so much to being a member of the Dalhousie community, and we want to help students learn from all facets of that community to help them transition and succeed at Dalhousie."
A new kind of mentorship

Together@Dal is an online learning environment built to help new students with their transition to university. Upper-year students (known as "UPS"), will act as mentors for groups of 20 or fewer incoming students. Each week, they will host a live session to share information about common topics of concern for new students. These meetings will include activities, show-and-tell sessions and fun community-building exercises. Students will also receive one-on-one mentorship through office hours.
The mentors themselves have all participated in mandatory training and were chosen based on a number of factors, including mentoring skills and experience. They, too, are mentored by SuperUPS, a group of senior student leaders who will provide support and guidance.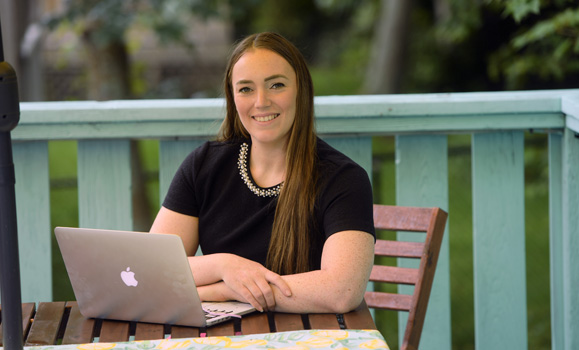 "Through my work with an existing program at Dalhousie that uses a group mentoring model, I can say that every year the incoming students come to value tremendously the knowledge, experience and guidance from these more senior students," says Dr. Ryan. "I know with certainty that they will contribute to the fun factor — the lived experience — to connecting students within and outside of the program, and to building a sense of belonging. I also hope they will help to shape the program so that, like the students, it can grow and become more connected across the university."
There are a few components that differentiate Together@Dal from the mentorship opportunities that exist in some faculties. For one, it begins in the summer, so students will have a chance to prepare for online learning before the fall term begins. It will be available to all Dalhousie students, and connect them with their classmates as well as mentors to benefit from their shared knowledge.
A sense of belonging

It is important to coordinators of the program that the content will include discussions and activities that promote equity, diversity and inclusion at Dalhousie.
Indeed, though Together@Dal may be new, Dr. Ryan says the intention and goals behind the program have always been important. Being forced into a virtual world due to the pandemic simply acted as the impetus to create the program at this particular time.
"I think we all crave a sense of belonging, and any time we enter a new space we look for ways to belong," she says. "I can speak to my own experience at Dalhousie as an undergraduate and then graduate student where I found that belonging in many ways through the years, by navigating, joining, trial and error. I would have loved to come into Dal with a sense of belonging, or an idea of how I might find it. This program is all about creating that for new students."
A version of the program designed for new incoming graduate students is slated to launch on Monday, August 10. The "Grad Edition" (dal.ca/togethergrad) is also based on a mentorship model and focused on creating a virtual sense of community.
"We're so pleased to be able to offer our new graduate students the Together@Dal: Grad Edition program," says Marty Leonard, dean of the Faculty of Graduate Studies. "No matter where our students are based in the world, they'll have the opportunity to make connections, ask questions and start building the foundation they need for success at Dal."
Learning from one another

The challenge of helping all new students find a sense of belonging will only be compounded for those who choose to live at home for the fall term, and even for those who are on campus yet not in the classroom. Together@Dal hopes to provide fun opportunities for socialization early on so that students feel less alone. It's hoped that these opportunities to meet other students, along with the wisdom and resources provided by the UPS, will help integrate new students into the university.
"I want new students to achieve what they want out of this program: to make friends, to meet new people, to learn from senior students' experiences, to access resources and opportunities, and to see all the opportunities to explore, become and belong at Dalhousie," says Dr. Ryan.
"We want students to feel a sense of belonging at Dalhousie and to know that they are each valued and important members of the community with unique strengths, skills and talents to contribute, and in fact that they are the reason we are all here."