A total of seven projects involving Dalhousie University and its researchers have received an investment of almost $18 million from the Government of Canada.
The funding is being awarded through Partnership and Partnership Development Grants from the Social Sciences and Humanities Research Council (SSHRC). SSHRC is one of three federal granting councils responsible for supporting the researchers and scholars who are strengthening scholarly enquiry and evidence-based decision-making, while nurturing a culture of curiosity in Canada. Partnership and Partnership Development Grants support formal partnerships in the humanities and social sciences between academic researchers, businesses and other partners.
The results of two rounds of funding (October and November 2019 competitions) were announced by SSHRC on May 21, 2020. The discoveries made by the funded projects will provide a greater understanding of the world around us and provide the government with evidence to make sound policy decisions about families and communities, health and environment, and jobs.
"Congratulations to all of the Dalhousie researchers who have been recognized by the Social Sciences and Humanities Research Council," says Alice Aiken, Dal's vice-president research and innovation. "The work they are doing is pushing boundaries of what we know, answering complex questions, and helping to create a better society for all of us."
Project highlights
Dr. Kevin Quigley, Dr. Ahsan Habib, and Dr. Ronald Pelot
Faculties: Management, Architecture and Planning, and Engineering
Project: Working across disciplines to understand and improve mass evacuations: Examining different types of risk and contextual pressures

More people in Canada have been forced to evacuate their communities in the last 30 years than in the previous 90-year period (1900-1989). There have also been three times as many evacuations which have cost 20 times more than the earlier period. Despite the increasing cost and frequency of mass evacuation, and the growing threat of mass evacuation due to extreme weather events, the dynamics of evacuation have not been rigorously theorized or generalized. This constrains the ability to learn and improve.
The purpose of this research project is to bring together risk scholars, policy analysts and operational staff to develop a shared understanding of risk regulation regimes that are responsible for mass evacuation and the risks and pressures they face, and improve our theoretical understanding and training tools in this domain.
Dr. Aaron Newman and Dr. Hélène Deacon
Faculties: Science and Medicine
Project: Ensuring full literacy in a multicultural and digital world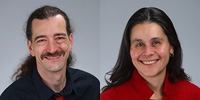 The landscape of literacy – which includes both the medium (the mode via which we read) and the reader(s) "shifting beneath our feet." (Asa Kachan, Chief Librarian, Halifax Public Libraries).

The medium is increasingly digital, and rapidly evolving to more interactive interfaces that contain hyperlinks, embedded videos, and sound. While some aspects of this interactive media are undoubtedly beneficial, not all are, and certainly not for all readers. The reader is also changing. While the focus is on ensuring high levels of literacy in all Canadians, it is recognized that on-line reading comprehension presents even more challenges for those whose home language does not match the materials that are often in an official language, English or French.

The overall goal of this project is to create knowledge, programs, services, and products that ensure full literacy and equitable opportunities for success for all readers, but with special attention to those changin
Dr. Karen Foster
Faculty: Arts and Social Sciences
Project: What is the Best Policy Mix for Diverse Canadian Families with Young Children? Re-imagining Family Polices



Led by Dr. Andrea Doucet from Brock University, an international team of 58 researchers and 34 partners will explore the following questions:
How are current Canadian childcare, parental leave and employment policies structured, financed and delivered, and what can we learn from national and international research?
What impacts do Canadian policies have on how diverse families live, work and care for their children and what can we learn from their lived experiences?
What approaches and data are needed to measure the effectiveness and inclusiveness of these family policies?
What is the best policy mix for Canada's diverse families with young children?
As a co-investigator, Dr. Foster will lead a component on rural families which aims to include a nationwide survey.

For more information about SSHRC, visit the website.