This article is part of a series focusing on the grads of the Dalhousie Class of 2020. Visit our Class of 2020 virtual space to share in the excitement with our newest graduates.
Dennis Beauchamp faced his share of deadlines and pressures over the years as a writer, director, producer and cinematographer for National Geographic, Discovery Channel, the BBC and other major TV and film outfits.

But all those experiences didn't change how he felt on his first day of class as a 63-year-old.

"I walked in that first day terrified," recalls Dennis, who had enrolled in a university preparatory course on Writing for Academic Purposes through Dal's College of Continuing Education (CCE).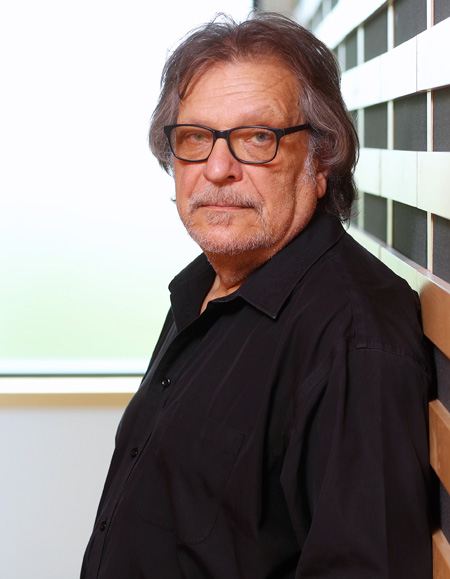 Dennis says his nerves that day stemmed from his own personal fears as he embarked on his decades-long dream of going back to school. While he did well in the classroom early on as a child, even skipping a grade, he later struggled to maintain focus — in part, due to lingering effects of bullying and abuse he suffered at Catholic school. Failing Grade 10, he dropped out and ran away from his home in Ottawa to head west where he got a job as a cook at Banff Springs Hotel.

The early transition to adulthood felt comfortable for Dennis, and he later landed himself a job as a cameraperson at CBC and covered Parliament Hill for a decade. It was the start of a rich and storied film and TV career that has taken him to more than 50 countries and landed him several awards.

Still, despite his personal resilience and professional successes over the years, Dennis says he continued to feel something was amiss in his life.

"I always had the abilities to fix a situation, except I couldn't fix that feeling that I didn't belong," he says.

He says his imposter syndrome followed him all the way to Halifax and that first day of class. It wasn't long before those feelings began to melt away, though.

"I could have had all this school trauma. I could've walked into some class with some arrogant professor who looked down on us. It could have set a tone for me that could have made me feel smaller than I already felt," he says.
An inspiration for others


Instead, Dennis felt empowered. He credits Paul Keeler, his writing instructor; Jennifer Hann, director of mature student services and university preparatory programs with CCE; and CCE administrator Denise Sullivan for each putting him at ease right away and setting him up for success as he moved into the undergraduate social work program at Dal.

Dennis excelled, quickly ascending to the Dean's List — success he was thrilled to share each term with those family and friends cheering him along on a journey some once doubted he would even end up pursuing.

"The older I got, the more people thought it was just a dream and not something I would act on," says Dennis, who graduated this spring with a bachelor's degree from Dal's School of Social Work.
Over the years, Dennis was tapped to share his perspectives more broadly at the university as a member of the selection committee for the last CCE dean search and on the School of Social Work's five-year strategic planning committee.

Now, he wants to put his expertise — informed by both his formal education and his life experience — to work in helping imprisoned individuals pursue educational opportunities. He did a placement at the John Howard Society, a provincial organization devoted to understanding and responding to problems of crime and the criminal justice system, and has even been in discussions with Dianne Tyers, dean of CCE, about offering an academic program to inmates.

Turning 69 this summer, Dennis recognizes he's a little bit later getting into the field than most. But he's just happy now that he'll be able to help others who may have struggled like himself to get back to school.

"How long am I going to be a social worker? Well, it doesn't really matter. I'm going to do it for as long as I can and try to be an inspiration to people who doubt themselves."