This article is part of a series focusing on the grads of the Dalhousie Class of 2020. Visit our Class of 2020 virtual space to share in the excitement with our newest graduates.
"Looking back, we took it comically serious at times, but it certainly paid off in the end."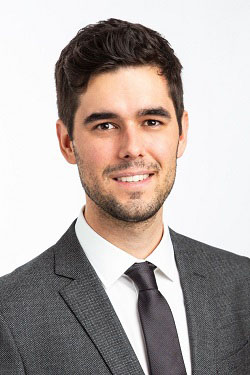 It's no surprise that the Class of 2020 won a historic four straight Euphoria competitions, especially considering the music background and preparation of Euphoria co-chair, and upcoming graduate from Dalhousie Medicine New Brunswick, Alexander Clark.

Born in St. John's, Newfoundland, and raised in Riverview, New Brunswick, the thought of pursuing a career in medicine never crossed Alex's mind. As a serious trombone player, his undergraduate and master's degrees were in music, but after tearing a muscle in his lip, which required surgery, he was forced to switch his focus to singing.

Alex went on to perform in over a dozen operas with different companies in Canada and the United States, all while studying singing. During this time, he had the opportunity to learn about the science of singing and to work one-on-one with people, teaching them to sing and helping them with their voice issues.

After presenting his master's thesis at a laryngology (the study of the larynx, also known as the "voice box") conference, he decided pursuing a career in medicine would be the next challenge ahead.

As a music major, the sudden switch to a scientific field presented initial challenges, but it also uniquely equipped him for certain aspects of becoming a physician.

"I think the largest influences towards my medical studies was towards communication and knowing how to work with patients to figure out problems with their health," says Alex. "Through my studies, I could see lots of parallels between teaching voice lessons and the patient/physician interactions."

The highlight of Alex's medical school career was participating in the student-run variety show/competition, Euphoria. What makes this experience even better, is the Class of 2020 is the only medical school class to win the competition for four straight years.

"While it was tough at times collaborating with Halifax, working through disputes, and juggling rehearsing with studying, everyone in the class was so grateful for it in the end," says Alex. "I think it really taught us how to work as a team, how to communicate and problem solve as a group, and we enjoyed being pushed beyond our comfort zones."

If Euphoria was one of Alex's most memorable experiences at Dalhousie, the overall educational environment at DMNB building was the most impactful. From the small class sizes, to the hands-on and independent approach to clerkships, Alex hopes to return to New Brunswick once he completes his residency in otolaryngology in Halifax.

Wherever his career takes him, there is no doubt that Alex will be practising medicine with a smile and a song.