This article is part of a series on researchers who have joined the global fight against COVID-19 after receiving funding from the Canadian Institutes of Health Research (CIHR) as part of the Novel Coronavirus Rapid Research Funding Opportunity. Learn more about how one of these researchers, Dr. Alyson Kelvin, is helping in the hunt for a COVID-19 vaccine.

The researcher: Dr. Alyson Kelvin

The biography: A virologist at Dalhousie University and the IWK Health Centre, Dr. Kelvin is an assistant professor in the Department of Pediatrics cross-appointed to the Department of Microbiology and Immunology. Her research focuses on respiratory virus infection and vaccination, specifically investigating the intersection of host age and previous infection as factors. Her research includes viruses such as the influenza virus and SARS-CoV-2. She uses animal models, in vitro systems and patient samples to obtain a picture of disease and its mechanisms to be used for vaccine design and evaluation.

The project: Animal models for SARS-CoV-2: Vaccines and immune enhancement

Dr. Kelvin is working with the team at the VIDO-InterVac lab in Saskatoon on identifying what common lab and agricultural animals may be infected with SARS-CoV-2. The animals will help them determine how the virus causes disease, whether vaccines can be developed to protect against disease, and how the virus may be transmitted.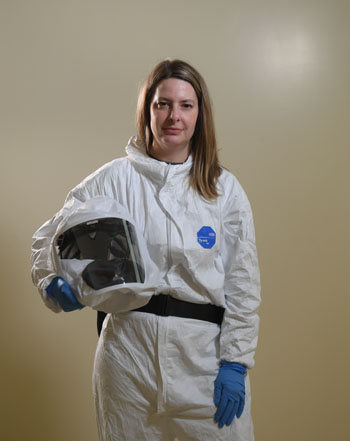 The team will also use the animals to test whether less-than-optimal vaccines or previous exposure to related pathogens could exacerbate disease, a phenomenon seen with SARS-CoV vaccines. This research will ensure that vaccines are safe prior to testing in human clinical trials.
The impact: The team will test a vaccine that use pieces of SARS-CoV-2, the virus that causes COVID-19, or pieces of its genome. Dr. Kelvin says that these types of vaccines have proven to be safe in humans, so it is hoped that clinical trials in people could happen shortly.

The update: Since the CIHR funding was announced, Dr. Kelvin and her team have been able to hit the ground running, and have accomplished the following:

Establish a model for evaluating candidate vaccines.
Establish assays for evaluating vaccine effectiveness.
Establish four vaccine platforms that have candidate vaccines. Two of the platforms are in partnership with vaccine companies IMV with Marianne Stanford and Entos with Roy Duncan and John Lewis. The vaccines will be easily scalable and can quickly be ready for human use.
The other vaccine platforms are being developed with Chris Richardson and are on the backbone of previous approved vaccines.