On March 21, 2020, Nova Scotia's chief medical officer Dr. Robert Strang announced the suspension of dental services at all dental offices across the province. From that point on, routine dental care was put on hold and only specific dental emergencies — including infection, trauma, acute pain, and excessive bleeding — would receive treatment.

On March 31, a more drastic shutdown of clinics was ordered. All dental offices in the province were completely closed. Dental emergencies could only be treated at a small number of designated dental emergency clinics.

The reason for the widespread closures, of course, was COVID-19. The onset of community spread, with cases unrelated to travel, made the spread of the virus less predictable. The risks became too great for both patients and dentists. Dental treatments inevitably involve close contact between the patient and oral care provider. Another major concern is aerosols, which are created during some typical dental procedures like drilling or ultrasonic cleaning and can disperse the virus widely.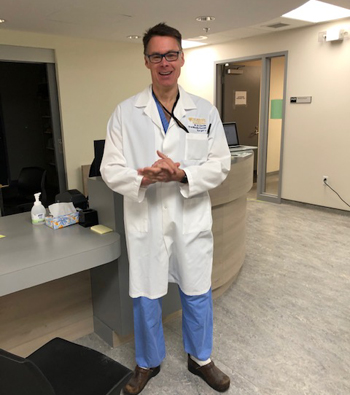 "The dental drill produces a fine mist or aerosol of air and water that carries the virus up into the air," explains Dr. Ben Davis, dean of the Faculty of Dentistry (pictured). "It's invisible and can be breathed in or come into contact with mucous membranes, which is one way the virus can spread."
Only emergencies and only at designated clinics

When the dental offices were required to close, emergency treatment was initially restricted to three clinics: the Faculty of Dentistry emergency clinic, the oral maxillofacial clinic at the Victoria General Hospital, and the dental department at the IWK Health Centre. Without these clinics, patients would have had no recourse to treatment apart from hospital emergency rooms.

"Emergency rooms are not the best place for dental emergencies," says Dr. Davis. "The medical personnel there have limited means at their disposal for dealing with dental emergencies – chiefly antibiotics for infection and analgesics for pain – plus we don't want to burden the ERs with patients who can be better managed elsewhere."

Patients with a dental emergency must first call their own dentist, who will triage them over the phone and, if the case is a true emergency, arrange an appointment at one of the designated emergency dental clinics.

Receiving treatment in the Faculty of Dentistry

When patients go to at the Faculty of Dentistry clinic for their appointment, they call when they arrive and are met at the side entrance, which is separate from the door that staff use. The patient's temperature is taken and other basic vital signs are checked. They are also given a mask to wear and asked to use hand sanitizer.

"Now that there is community spread of the virus, we are treating every patient as if they are COVID-19 positive," says Dr. Chris Lee, director of the Faculty's emergency clinic. "We want to protect everyone who comes into the clinic and also those who work here."

Each patient is treated in one of the Faculty's 12 enclosed operating rooms with hospital-grade ventilation systems for the control of infection. All dentists wear appropriate personal protective equipment while treating patients.

The operating rooms contain the aerosols and prevent them from spreading. When the treatment is finished, the room is closed off for several hours to allow any mist in the air to fall to the floor and then the room is thoroughly cleaned before it is used again.

Dr. Lee says that roughly 40 patients a week receive treatment in the Faculty of Dentistry emergency clinic. In addition to treating infection and pain, he says that patients are still having accidents, such as falling off an ATV or knocking out teeth while chopping wood.

Devising emergency protocols

Dr. Lee and the emergency team at the Faculty emergency clinic were quick off the mark to develop safe practices and protocols for treating patients during the COVID-19 pandemic. These protocols have been shared with dental schools and professional dental bodies across the country. Here in Nova Scotia, the protocols have been made widely available among the dental community and Dr. Lee and his team have trained dentists to meet the requirements, resulting in a further five emergency dental clinics opening up around the province.

Both Dr. Lee and Dr. Davis enthusiastic in their praise the team of faculty members, residents, and volunteer dentists working the emergency clinic who are consulting with private practice dentists over the phone, providing care to patients, and developing and regularly updating the protocols and resources that are available on the Faculty of Dentistry website.

"People have been amazing," says Dr. Lee. "The residents have done double duty, caring for patients and developing protocols, and no one has said no to anything. We are really fortunate to have the people we have."