When it comes to the dollars and cents of how Dalhousie University is run, the university's operating budget is where most of the action is. It accounts for 70% of all financial activity at the university, including compensation for faculty and staff, infrastructure maintenance, student assistance and many other things.
With Dal's Budget Advisory Committee prepping its draft budget plan and recommendations for 2020-21, we wanted to dive deeper into its context report from the fall [PDF] for a look at where Dal's operating funds come from, and how that money is spent.
What is the operating budget used for?
The university operating budget designates funding allocations to Faculties and other critical service and support units, which they then use to deliver on the university's mission and strategic priorities. In general, these allocations cover things such as:
Total compensation (salaries, benefits and pension) for faculty and staff
Student assistance
Teaching supplies and other materials
Utility payments (energy, water, etc.)
Library acquisitions
Infrastructure maintenance and renewal
Strategic priorities for the university mission
(As for the other 30% of Dal's financial activity outside the operating budget, those are managed through other designated funds reserved for their specific purposes, including ancillary services, research funds and capital projects. For more info on the various funds, you can review Dal's annual financial reports.)
How much money is used for the operating budget?
In 2019-20 the operating budget was set at $447.2 million. The budget is balanced annually (meaning expenses don't exceed revenues) with input from the community and on recommendation from the President's Budget Advisory Committee (the BAC).
Where is the money spent?
Among the different categories of expenditures, compensation to faculty/staff makes up the most significant cost in the operating budget, and by a good margin: nearly three-quarters of overall expenses.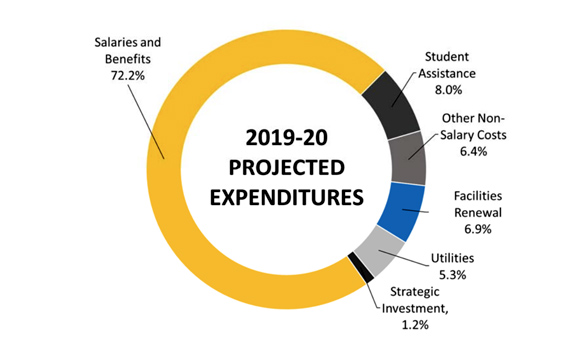 Total compensation includes salaries (which are set and increase according to collective agreements with Dal's employee groups), benefits (health, dental, etc.) and pension payments — both regular and extra payments, on behalf of the university, to cover any shortfalls in the pension fund that need to be met. (For more on Total Compensation, visit the HR website. You can also find more info on pension here.)
Broken down between academic and administrative salaries, the percentage of Dal's budget devoted to academic salaries is larger than the average of Canada's U15 research universities (36.4% versus 32.7%) while non-academic salary spending is lower (26.7% versus 28.2%). Less than 2% of total operating expenditures for the university is spent on senior administrative appointments (individuals reporting to a vice-president, the provost or the president).
Other operating budget expenditures are more variable than salaries/benefits, but are also largely out of our day-to-day control: pricing for library acquisitions, for example, or the cost of utilities. Finally, there are other areas where the Dal community has to work together to determine how best to apply limited resources to these goals, including, including:
Student support: A need for new (and sometimes improved) services given our increasingly diverse and changing student population, as well as financial awards and assistance for those with barriers to access.
Infrastructure and IT: improving facilities and classroom spaces and meeting growing demands for network and wireless services.
Strategic investments: Targeted investments in areas of strategic importance, from faculty renewal to equity, diversity and inclusion.
For more on some of these areas, review the BAC context report (see pages 3-5 and 12-13).
Where does the money come from?
The vast majority of the operating budget comes from just two sources.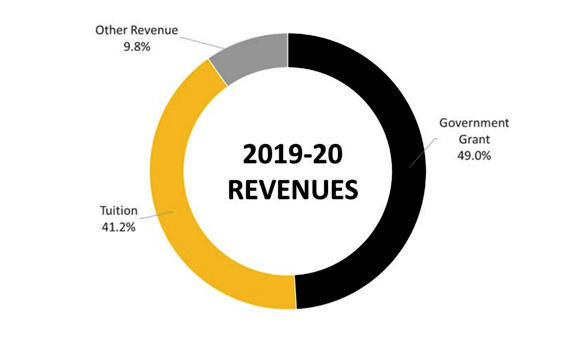 Provincial government support (49%): Like all universities in Nova Scotia, Dal receives funding from the provincial government to support its operations. This amount was $219 million in 2019-20 — $207 million in operating grants, and $11.1 million for scholarship and bursary programs that goes directly back to students.
Tuition revenue (41.2%): Tuition fees are the second largest source of support for the university: more than $184 million this current year.
The remaining 9.8% of the operating budget comes from various sources, the bulk of which are the university's 1,400 individual endowment — funds earmarked by donors for student assistance, academic chairs and salaries, and libraries and research.
Expenses rise faster than government funding
For the past six years and continuing under the new Memorandum of Understanding just signed between universities and the province, Dal's operating grant funding has been limited to annual increases of 1% — which, given the grant makes up about half the operating budget, amounts to roughly a 0.5% budget increase overall.
In comparison, Dal's costs generally rise 3.5-4.2% annually. The bulk of these rising costs include total compensation for faculty/staff, as well as increasing utility and library costs and covering required pension contributions when there is a shortfall in one of Dal's two pension funds. There are also areas where Dal needs to invest funds to better support its mission: growing research requirements, the need for infrastructure renewal, campus accessibility, potential pension legislation changes and more. (You can read more about these on pages 4-5 in the BAC context report.)
Put these numbers together and you have an annual budget gap of anywhere from 3-3.7% that needs to be addressed each year by increasing revenue and/or decreasing expenses.
Tuition is typically Dal's only avenue for revenue growth
One way for Dal to close this budget gap is by reducing expenses. But much of the operating budget is already committed in items such as total compensation for faculty/staff, utilities costs, etc. So the university community works to save money where it can, in particular via improvements in operational efficiency. That can only do so much, though — and many of Dal's Faculties/units have already made significant cost savings in recent years working to manage gaps between rising compensation costs and their overall budget allotments.
With government funding set for the next several years (through 2024), the only significant avenue available to Dal to generate more revenue is through tuition fees — either by increasing enrolment or raising tuition itself. And it's true that Dal's enrolment has grown over the past several years, which helps somewhat (an increase of 18% on the Halifax campuses between 2005-06 and 2018-19).
But the bottom line is that, absent a different overall funding model for the budget, tuition fee increases are generally necessary to offset Dal's rising costs. Over the past several years, you can see a clear trend in Dal's operating budget, one echoed at other universities across Canada: tuition is funding more and more of university operations.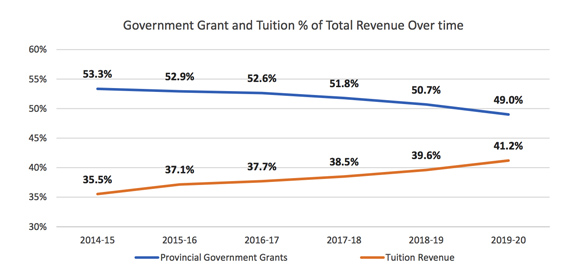 The decline in government grant as an overall proportion of Dal's budget indicates a potential long-term trend the university will need to address. Enrolment and tuition costs will become increasingly important, and part of the work of not only the Budget Advisory Committee but the university in general, will be to consider and address the consequences of that fact.