Dalhousie Budget

Welcome to the Dalhousie Budget page, where you'll find up-to-date information about the university's financials.
Latest news
January 18, 2018
Thanks to all who participated in our budget discussion forums on January 15 and 18, and to the more than 1,500 people who completed our campus survey on budget priorities.Your input will help inform the Budget Advisory Committe's (BAC) initial recommendations for the 2018-19 operating budget.
There will be more opportunities for feedback following the release of the BAC's  recommendations in February.
For more on the 2018-19 operating budget, read the December 2017 report Balancing Dalhousie's Operating Budget [PDF].  
Email comments and contributions are welcome at any time through BAC@dal.ca.
Learn more about the Dal operating budget 
About the university operating budget
The operating budget funds the day-to-day operations of the university. It accounts for the majority (70%) of the university's financial activity. The operating budget for 2017-18 balances the operating budget's revenues and expenditures at $415.36 million.

The operating budget pays for:

• Salaries for faculty/staff
• Student assistance
• Facilities renewal and upkeep
• Library acquisitions
• General budgets for Faculties and service units
Dal's budget planning process
Dalhousie's operating budget planning process is coordinated through the Budget Advisory Committee (BAC) — a group chaired by the Provost and consisting of senior leadership, faculty, staff and students. It advises the president on budgetary matters and supports an open and consultative approach to budget discussions at the university.
The BAC engages with faculty, staff, students and university leadership throughout its planning process. See the full timetable.
The BAC makes initial recommendations for the university budget in late-January/early-February each year. Following further review with the Dal community, it releases a final Operating Budget Plan in March.
The Board of Governors votes to approve the operating budget at its June meeting. It approves tuition and fees earlier, at its April meeting, so they can be incorporated in time for Student Accounts to begin collecting fees for the summer and fall terms.

Dal's operating budget planning process is based on four principles:
The budget must be balanced and financially sustainable going forward
Recommendations must be transparent
The budget is driven by Dalhousie's mission
The budget must support the university's strategic priorities
Where operating revenues come from
Dalhousie's operating budget is sort of like a two income household: nearly all its funding comes from just two sources.

Source: BAC projections for 2017-18
The university's provincial operating grant (52.1%). This is set by the provincial government each year; in recent years, increases have been limited to 1% annually.
Revenue from tuition fees (38.4%). Dal's tuition fees are set by the university's Board of Governors. Increases are capped at a maximum of 3% per year by the provincial government in most programs.
The remaining 9.5% of revenue comes from sources including operating interest and endowment revenue.
This balance of revenues has shifted over time, based on the level of government funding. Since 2010-11, the portion of Dal's budget funded by the government has declined by 8 percentage points, while the portion funded by tuition fees has risen by 7.2 percentage points.
How the university spends its operating funds
The vast majority of the operating budget — 74% — pays for compensation (salaries, benefits, pension) for faculty and staff. Student assistance (8%), facilities renewal (6.8%) and utilities (5.3%) also make up significant portions of the operating budget.
Source: BAC projection for 2017-18
Here's a look at how funds are distributed across the core functions of the university:
Source: Canadian Association of University Business Officers (CAUBO), 2014-15 numbers (the most recent available).

Among the U15 group of Canada's leading research schools, Dal's percentage of academic expenses is above average (62.2% vs 60.7%), while Dal spends less than the average on administration (6.6% vs 9.5%). It's the same story in Nova Scotia, where Dal exceeds the provincial average in academics (62.2% vs 54.8%) and is lower than average in administration (6.6% vs 11.8%).
Closing Dal's funding gap
Each year, it costs more and more to run the university. That's largely because of inflationary costs and scheduled compensation increases for faculty/staff (as outlined in collective agreements). Expenses typically go up by 3-4% annually (prior to any budget reductions being applied).

Dal's revenues do not keep pace with these costs. An increase of 1% to Dal's provincial funding (like in recent years) is not enough to cover rising costs. Even applying the largest possible tuition increase (3%) only results in a total revenue increase of about 2%.
(For example, for 2017-18, if Dalhousie were to not implement tuition increases or Faculty/unit budget reductions, there would be a $10.6M budget gap.)

That's why, in most years, balancing the budget requires reducing faculty/unit budgets and increasing tuition revenue. It also forces the university to be strategic in where it makes important investments, given limited resources.
You can try your own attempt at balancing Dal's operating budget with the 2017-18 Operating Budget Calculator.

The BAC is targeting a three-year planning horizon for the operating budget. It aims to:
Maintain a balance between academic, support and administrative functions;
Remove the need for the use of Reserve Funds to balance the budget on an annual basis;
Reduce the amount of annual Faculty and Service Unit budget reductions each year of the cycle;
Engage in strategies for sustainable funding for both deferred maintenance and IT support to reduce reliance on the operating budget.
Tuition fees
Tuition revenue is critical to Dal's operating budget, accounting for nearly 40 per cent of revenue. It helps support salaries for faculty/staff, support services, facilities upkeep and other key operating budget expenses.

When funding does not keep pace with rising expenses, tuition revenues — together with cuts to Faculty/service unit budgets — are key to balancing the overall operating budget. One way to do this is to recruit more students and, in some years, this has helped limit the need for further budget cuts. More recently, Dalhousie's enrolment has held steady, with occasionally slight increases.

Tuition increases to most programs are capped at 3% by the province. For 2017-18, the Operating Budget includes a 3% tuition fee increase for all programs (including the international differential fee). This recommendation is in conjunction with a 1.8% reduction to Faculty/service unit budgets.

How do Dalhousie's tuition fees compare to other universities?
It varies by disciplines — and where a student is from, since Nova Scotia students receive an additional provincial bursary to study at schools in the province. See Appendix D (pages 32-35) of the BAC report for a comparison of 2016-17 fees.

International fees
As is the case at universities across Canada, international students pay an additional differential fee to study at Dalhousie. The university's differential rates are among the lowest of the university's comparators — for an undergraduate Science student, for example, the differential for 2016-17 was $8,964, ranking 11th out of 14 comparator universities across Canada. See pages 36-37 of the BAC report for a more detailed comparison.
Student assistance
Across all its various funds (operating, endowment, etc.), Dalhousie spends $66.1M annually on student assistance. This includes scholarships, bursaries and campus employment. That total has grown by approximately $9M over the past five years.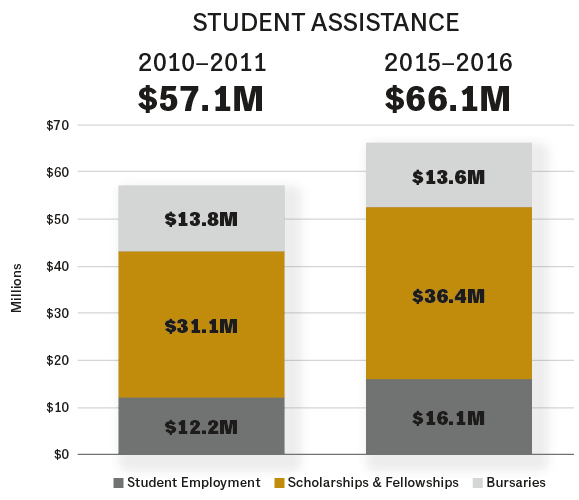 Within the operating budget, 7.3% of funds are devoted to student assistance — well above the U15 average of 5.3%.
In addition to the operating budget, Dal's endowment fund — which contains funds from gifts and donations to the university — is also a significant source of student assistance. Dal's endowment has grown under the university's effective stewardship over the past several years, enabling Dal to provide this additional support for student assistance, alongside other programming costs.
Total student assistance is set to increase by $892,000 in 2017-18. This includes:
A BAC recommendation for a $400,000 increase in operating budget funds for student assistance.
Plus $125,000 more in endowment fund support for students
And $367,000 more in funding for graduate students through the Nova Scotia Graduate Scholarship program.
Budget reductions to Faculties/service units
Dalhousie's operating expenses go up every year, mostly because of planned compensation increases for faculty/staff (as included in agreements with Dal's employee groups). These are added directly to Faculty and service unit budgets.

When there is a gap between projected revenues and these increases (along with other costs and investments), reductions to Faculty/unit budgets are necessary to balance the overall operating budget. Under Dalhousie's budget model, budget reductions are applied to Faculties and all service units, including administrative units, as a percentage, with each determining how best to find cost savings and/or generate revenues and recoveries.

The budget reduction for 2017-18 is 1.8%. This is lower than the previous year's adjustment (which ended up at 2.38%) and is the lowest cut in seven years. As part of its three-year planning process, the BAC is recommending that Dalhousie aim to reduce these annual reductions each year over the next three years.