Dalhousie Budget
Up-to-date information about the university operating budget

 
Latest news
December 7, 2020
The Dalhousie Budget Advisory Committee (BAC) is seeking your feedback on the university operating budget.
Please review the message below from BAC Chair Frank Harvey, Provost and Vice-President Academic (Acting), and email responses to BAC@dal.ca by Monday, December 21. 
Your feedback on the university operating budget - December 2020
MEMORANDUM
To: The Dalhousie University community
From: Frank Harvey, Provost and Vice-President Academic (Acting), Budget Advisory Committee Chair
Date: Monday, December 7, 2020
Re: Your feedback on the university operating budget

To our Dalhousie community,
As a result of the COVID-19 pandemic, the final budget for 2020-21 was delayed as the university considered the potential impact on enrolments and other factors on revenues and expenditures. The budget for 2020-21 was approved by the Board on November 24.
The BAC is now turning its attention to the budget plan for 2021-22. Every year, the BAC seeks feedback from the university community to support budget planning. The last few years, we have circulated a survey along with a context paper to seek input before a draft Operating Budget Plan is published. This year, because of shortened timelines and the continuing impacts of the COVID-19 pandemic, we are seeking your email feedback on a series of questions that follow. You are also encouraged to provide any other feedback you have in relation to the university budget.
Background
The operating budget provides funding to faculties and service/support units to deliver on the university's mission and strategic priorities. It covers day-to-day expenditures that include compensation for faculty and staff (salaries, benefits, pension), student assistance, teaching supplies and materials, utility payments, library acquisitions, infrastructure maintenance and renewal, and allocations for strategic priorities.

For more background on the university operating budget, visitdal.ca/budget or consult the Budget Advisory Committee reportsBAC Report LX - Draft Operating Budget Plan for 2020-21 and BAC LX Update: Final Operating Budget Recommendations for 2020-21 and Dalhousie University 2020-21 Operating Budget.
The primary budget challenge we face annually is that projected operating costs increase at a faster rate than government support, creating a gap that must be addressed by increasing revenue and/or adjusting expenditures. The university budget also needs to consider the allocation or reallocation of funds towards long-term strategy to support the university mission. The budget plan must provide for a balanced budget, while allowing advancement in strategic areas that enable a thriving university.
We anticipate that next year's budget will also continue to be impacted by the ongoing COVID pandemic, particularly in ancillary operations but also in other areas:
While overall enrolment is up 3.7% as of October 15, a decrease of 5.3% in the number of new students entering from high school will have implications for future years as students progress through their programs.
Tuition revenue impacts as a result of potential changes in student retention and attrition patterns in a largely online environment is not known.
Potential changes to government funding in future years as federal and provincial deficits grow.
Status of travel restrictions/study permits/health concerns/vaccine will mean enrolment planning and tuition forecasting will continue to be challenging and ancillary revenue losses will continue until students can return in full capacity in residences and athletic facilities.
Questions
The BAC welcomes your feedback at BAC@dal.ca on the following questions:
Projected operating costs increase at a faster rate than government support, creating a gap. One way to address the gap is by adjusting expenditures. How could expenditures be reduced or adjusted in the 2021-22 budget to address the gap? It is important to note that the gap in 2021-22 could be larger than in past years as a result of lingering impacts of the pandemic.
Acknowledging the challenges that are posed by regular tuition increases, we have an obligation to balance the budget, and increasing tuition is one of the few levers available to us to address annually rising costs. Along with tuition increases, the university has invested significantly in bursary support for students in need. In addition to current supports, are there better ways we can support students for whom increased tuition represents a financial hardship?
There are important priorities that need to be protected or require investment, even in times of financial restraint. In recent years, the budget has allowed for increased funding to support strategic initiatives.

What priorities should Dalhousie seek to invest in, or protect in your view? What other priorities do you see for strategic initiatives as important?
Given Dalhousie's ongoing work on a new Digital Strategy (digital infrastructure, online teaching and learning, digital research, operations, and processes, etc.), where do these initiatives fit in your thinking about priority areas for investment?
Improving the state of university infrastructure — both facilities and IT —has been a focus for additional investment in recent years. How should we think about this in the coming 2021-22 year?

Given the very compressed timeline facing us in the development of the next budget, are there key areas of consultation we should prioritize?
Finally, the BAC welcomes input on any other area impacting the university budget.
Please submit your feedback by December 21, 2020 to bac@dal.ca.

Dal's operating budget at a glance
The operating budget funds the day-to-day operations of the university, accounting for the majority (70%) of the university's financial activity. The operating budget plan for this past fiscal year (2019-20) balanced revenues and expenditures at $447.2 million.
The analysis below reflects recent Dalhousie budgets. For information specific to 2020-21, please review the operating budget plan [PDF]

Where the money comes from
Just under half of the budget (49%) generally comes from the provincial operating grant, set by the government.
41.2% comes from tuition fees, set by the university's Board of Governors.
9.8% comes from other sources, including operating interest and endowment revenue.
Source: BAC context paper for 2020-21 budget
Where the money goes
Most of the operating budget (72.2%) is spent on total compensation for faculty and staff (salaries, benefits, pension).
Dalhousie allocates resources in a similar way to its U15 comparators (Canada's group of leading research‐intensive universities), spending 63.2% of its operating budget in academic areas (Faculties, including Graduate Studies and Continuing Education).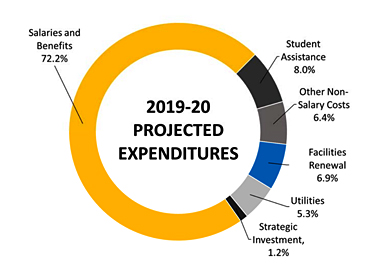 Source: BAC context paper for 2020-21 budget

More about the operating budget
Dal's budget planning process
Dalhousie's operating budget planning process is coordinated through the Budget Advisory Committee (BAC) — a group chaired by the Provost with membership from senior leadership, faculty, staff and students.
Through a transparent and consultative process, the BAC is tasked with considering Dalhousie's varied and diverse priorities and interests and making high-level recommendations for allocations of funding across the University. From there, it is up to leadership in each Faculty or service and support unit to determine how best to allocate resources to deliver on their plans and ensure Dal's strategic goals are achieved.
The BAC engages with faculty, staff, students and university leadership throughout its planning process. See the full timetable. It produces a draft operating budget plan in February/March, followed by a final plan in late March.
The Board of Governors votes to approve the operating budget at its June meeting. It usually approves tuition and fees earlier, at its April meeting, so they can be incorporated in time for Student Accounts to begin collecting fees for the summer and fall terms.
Dal's operating budget planning process is based on four principles:
The annual operating budget must be balanced.
The operating budget recommendations must allow for long term financial sustainability.
Operating budget recommendations must be driven by Dalhousie's mission and strategic priorities.
Operating budget recommendations must be transparent, and the process for making recommendations must be consultative.
Tuition fees
Dalhousie's success depends on our ability to provide excellent programs and to be competitive nationally and internationally. We strive to keep tuition rates competitive with other Canadian universities while reflecting the high quality of the programs we offer.
Addressing rising costs and investing in university priorities requires resources. With costs increasing at a faster rate than government funding, that leaves tuition — which funds 43% of the operating budget — as the only significant means available to balance the operating budget.
Annual tuition increases are necessary to maintain the high quality of our academic programming — this was true before the COVID-19 pandemic and is even more apparent today as we work to ensure students' academic experience in 2020-21 is delivered to the highest standards.
How do Dalhousie's tuition fees compare to other universities?
It varies by program — and where a student is from. Nova Scotia students receive an additional bursary from the Province that lowers their tuition, and Dal's international tuition fees compare very different nationally than domestic tuition. Appendix G of the BAC's draft operating budget plan [PDF] has detailed comparisons of tuition costs between Dal and its peer universities.
International tuition fee increases
Dalhousie's international undergraduate tuition fees are currently among the lowest of Canada's U15 group of leading research universities. For Dalhousie to maintain and improve the quality of programs and student support, and to increase the university's competitiveness nationally and globally, sustainable resources are required.
In April 2019, Dalhousie's Board of Governors approved a four-year plan to increase tuition for nternational students beginning their studies in fall 2019 or later in undergraduate or non-thesis masters programs. These fees will increase by $1,473 annually on top of any general fee increases.
Even with these increases, Dalhousie's international fees remain well below the U15 average.
Following last year's decision, a Rapid Task Force recommended new investments in international services and supports currently in development. These include: a program manager for international student support; a Mandarin-speaking international student advisor, an additional writing centre advisor; and further new supports for writing, advising, and intercultural competence.
Student financial assistance
Across all university funds (operating, research, endowment, etc.) Dalhousie spends more than $70 million each year on student assistance, including scholarships, bursaries, student employment, research and external funds.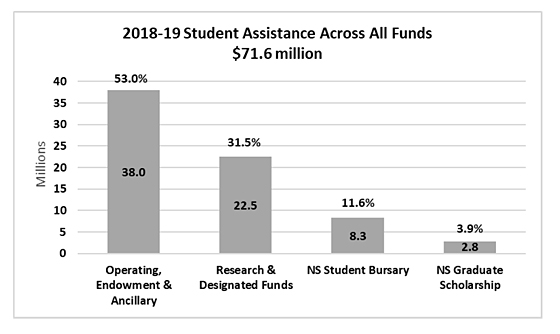 Dalhousie spends 7.5% of total operating expenditures on scholarships and bursaries — compared to an average of 5.5% at other U15 universities.
In Fall 2020, Dalhousie is providing more financial aid than ever before, recognizing the impact of the current pandemic on the financial means of many of our students. We're doubling financial aid bursary funding, adding an additional $3 million for undergraduate domestic and international students who need financial support.
Spending in Dal's Faculties
63.2% of the university operating budget is allocated to Deans to manage direct costs of the university's academic Faculties (including salaries). This allocation is similar to other U15 universities.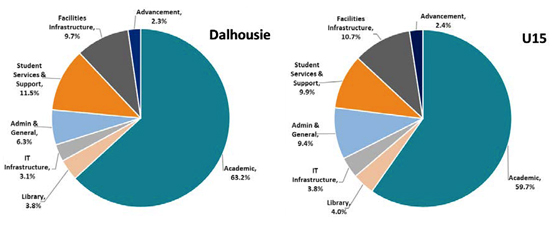 Overall, academic budgets have increased by $39 million over the last 6 years — a total increase of 18% or an average annual increase of 3.0%.
While Faculty budgets increase annually, there is pressure on budgets as the funding allocated does not fully cover increased expenditures (driven largely by required increases in compensation for faculty/staff). Dal's Faculties and service/support units are usually asked to find cost savings to close the gap between rising costs and available resources. The Budget Advisory Committee has made minimizing this gap a priority.
Dalhousie spends 36.4% of operating expenditures on academic salaries as compared to an average of 32.7% at U15 comparators.
From 2012‐13 to 2018‐19, total career stream academic appointments have increased by 83 or 9.5%. (This excludes growth of 57 appointments related to the merger with the Agricultural College which created the Faculty of Agriculture).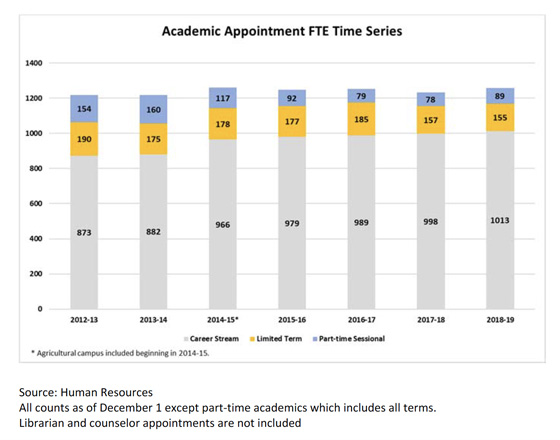 Faculty/staff compensation
Almost three-quarters of Dalhousie's operating budget goes to compensation for faculty and staff, and the budget must provide for annual salary, wage and benefit increases as outlined in collective agreements.
The university spends 36.4% of operating expenditures on academic salaries as compared to an average of 32.7% at U15 comparators. In contrast, Dalhousie spends less operating expenditures on non-academic salaries than its comparators.

Just 1.9% of total operating expenditures is spent on senior administrative appointments (individuals reporting to a vice-president, the provost or the president).