Dalhousie Budget

Welcome to the Dalhousie Budget page, where you'll find up-to-date information about the university's financials.
Latest news
April 16, 2019
Tuition and fees approved for 2019-20

On Tuesday, April 16, the Dalhousie Board of Governors voted to approve tuition and fees for 2019-20 and a four-year plan to increase international tuition. Read more about the changes and how the budget plan increases support for international students on Dal News.


Comments are welcome on the budget at any time to BAC@dal.ca.
---
Dal's operating budget at a glance
The operating budget funds the day-to-day operations of the university, accounting for the majority (70%) of the university's financial activity. The draft operating budget plan for 2019-20 balances revenues and expenditures at $447.2 million.
Where the money comes from
Just under half of the budget (49%) comes from the provincial operating grant, set by the government.
41.2% comes from tuition fees, set by the university's Board of Governors.
9.8% comes from other sources, including operating interest and endowment revenue.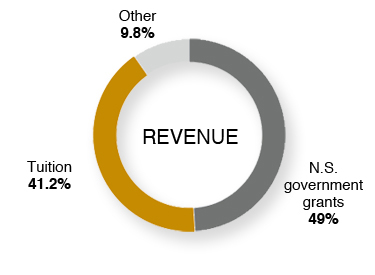 Source: BAC Projections 2019-20
Where the money goes
Most of the operating budget (72%) is spent on compensation for faculty and staff (salaries, benefits, pension).
Dalhousie allocates resources in a similar way to its U15 comparators (Canada's group of leading research‐intensive universities), spending 62.4% of its operating budget in academic areas (Faculties, including Graduate Studies and Continuing Education).
Source: Canadian Association of University Business Officers (CAUBO) Financial Information of Universities and Colleges 2016‐17, Statistics Canada. (most recent data available)

More about the operating budget
Dal's budget planning process
Dalhousie's operating budget planning process is coordinated through the Budget Advisory Committee (BAC) — a group chaired by the Provost and consisting of senior leadership, faculty, staff and students. It advises the president on budgetary matters and supports an open and consultative approach to budget discussions at the university.
The BAC engages with faculty, staff, students and university leadership throughout its planning process. See the full timetable. It produces a draft operating budget plan in February/March, followed by a final plan in late March.
The Board of Governors votes to approve the operating budget at its June meeting. It approves tuition and fees earlier, at its April meeting, so they can be incorporated in time for Student Accounts to begin collecting fees for the summer and fall terms.
Dal's operating budget planning process is based on four principles:
The operating budget is aligned with Dal's mission and priorities
Recommendations are transparent
The operating budget must be financially sustainable
The operating budget must be balanced
Addressing rising costs
Dal's projected operating costs increase at a faster rate than anticipated revenue.
On average, each year it costs between 3-4% more to run the university than the year before, and government funding does not keep pace with those costs.
About 74% of Dalhousie's operating budget goes to compensation for faculty and staff, and the budget must provide for annual salary, wage and benefit increases as outlined in collective agreements.
Other pressures related to costs include expenditures that are difficult to influence, such as utilities and library acquisitions, and the need to upgrade aging university facilities and network infrastructure.
Government funding (in the most recent Memorandum of Understanding with the Province of Nova Scotia) has been limited to 1% increases annually — not enough to cover these rising costs.
Tuition fees
Dalhousie's success depends on our ability to provide excellent programs and to be competitive nationally and internationally. We strive to keep tuition rates competitive with other Canadian universities while reflecting the high quality of the programs we offer.
As one of two primary sources of revenue (alongside government funding), tuition is critical to ensuring a sustainable operating budget that enhances the university's core mission.
For 2019-20, the BAC is recommending a 3% general increase for both domestic and international students, and a four-year, phased-in plan to further increase tuition for future international undergraduate students and international masters students in non‐thesis programs — those starting in fall 2019 or later — by $1,472 per year for four years.
How do Dalhousie's tuition fees compare to other universities?
It varies by program — and where a student is from. Nova Scotia students receive an additional bursary from the Province that lowers their tuition, and Dal's international tuition fees compare very differential nationally than domestic tuition. Appendix F of the BAC's draft operating budget plan [PDF] has detailed comparisons of tuition costs between Dal and its peer universities.
Why is Dal considering raising international tuition?
Dalhousie's international undergraduate tuition fees are currently the third-lowest among Canada's U15 group of leading research universities — more than $10,000 below average.
For Dalhousie to maintain and improve the quality of programs and student support, and to increase the university's competitiveness nationally and globally, sustainable resources are required. Increasing international tuition fees, will result in Dalhousie's fees being more in-line with our U15 comparators, and will result in increased tuition revenues.
The Budget Advisory Committee's draft operating budget plan recommends exempting current international students from the proposed larger increases. They would only have the same 3% tuition increase for 2019-20 as domestic students.
For future international students (those beginning in fall 2019 or later) in undergraduate or non-thesis masters programs, tuition will increase by $1,472 in 2019-20 and in each of the three subsequent years, for a total increase of approximately $5,900. This will still leave Dalhousie well below the U15 average for international fees.

Student financial assistance
For 2019-20, the BAC is recommending a $500,000 increase to student assistance funding, bringing total operating budget support for student financial assistance to $12.2M.
Across all university funds (operating, research, endowment, etc.) Dalhousie spends more than $67 million each year on student assistance. Over the past six years, this number has grown by $10.4 million.
More than 7% of Dalhousie's operating budget is devoted to student assistance — well above the U15 average of 5.2%.
Faculty and service-support unit budgets
62% of the university operating budget is allocated to Deans to manage direct costs of the university's academic Faculties (including salaries). This allocation is similar to other U15 universities.
Faculty/unit budgets increase in the vicinity of 3-3.5% each year, largely due to required increases in compensation for faculty and staff (in accordance with agreements with employee groups). However, there is pressure on Faculty spending power as the centrally allocated budget is unable to fully cover increased expenditures.
The BAC has worked over the past three years to minimize the portion of the gap left for Faculties/Units to address, either through cost savings and/or identifying new revenues. This gap has decreased from 2.4% to 1.5% and this year is just 0.5%, keeping more funds within Faculties/Units to support salaries, services and other Faculty/unit initiatives.