Reminiscent of a gala from centuries ago, opera singers and musicians dressed in glamorous gowns and sleek tuxedos take centre stage and display their talent. In the dead of winter, Dalhousie's premier music students prepare an evening of exciting classical music, captivating enough to brave the cold and treat your senses.

Concerto Night is one of the Fountain School of Performing Arts' best-selling performances, year after year. It brings together every kind of musician to perform on one stage, united. Under the baton of Maestro Leonardo Perez, students selected by audition perform works of their choosing alongside the Dalhousie Symphony Orchestra.

A chance to impress

A dazzling evening of agile voices, playful wind instruments and lamenting strings, this evening is looked forward to by the Dalhousie community every year. The event gives students the opportunity to put their best musical foot forward and show a sold-out audience how they have progressed as artists during their degree.

Auditions take place in October, with students eager to impress the panel with what they have worked so hard preparing. Each soloist is selected from a panel of professors of different instruments.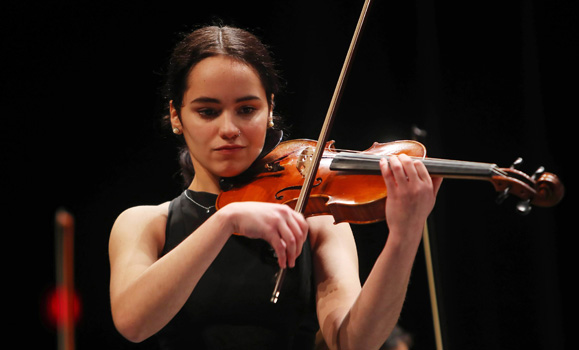 Alison Enriquez performs at Concerto Night's dress rehearsal.
Christina Haldane, Dal voice professor, says passion is what drives home a winning audition.

"A 'wow' performance for me is when a performer fully expresses the musical and dramatic intentions of a piece, however, adds their own special touch to what they do." says Dr. Haldane. "This results in a performance that is connected to the music and free of personal judgement, and where the performer can fully show the panel their joy of music making and genuine communication."

This was Dr. Haldane's first year on the deciding panel. Having professors of different idioms oversee the auditions exposes them to talent they don't see every day.

"It was such an enjoyable experience!" she continues. "It allowed me to get to know some of the talented musicians from outside the voice area and to experience their performing. All of the participants were very well prepared and showed a sense of developing professionalism."

Fresh faces and veteran performers

For many Dal students, this will be their first time soloing in Concerto Night, alongside performers who have had the spotlight for several years. Half of the students featured as soloists this year will have their first time on the Concerto Night stage. Other students are bidding the evening a sweet farewell as they graduate this spring, like Jacob Macdonald (cello) and Julia MacVicar (soprano).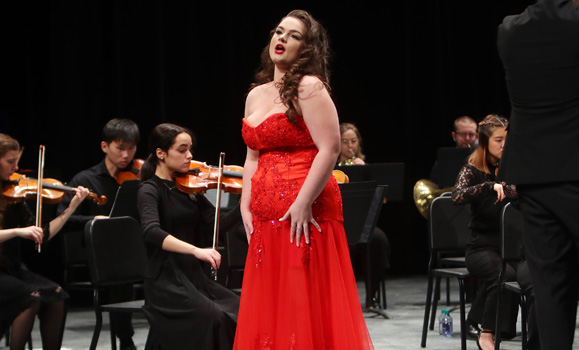 Julia MacVicar performs at Concerto Night's dress rehearsal.
MacVicar, in her second year in Concerto Night, was selected to receive the the Djokic Family Prize for Excellence in Performance, awarded during the audition process.

"It's kind of unreal to me that I would receive this prize," says MacVicar. "You practise and prepare and practise and prepare, but in that performance, it's just you trusting all the work you've done and letting yourself go. Letting the music speak, and riding with it in the moment. And as musicians, this is most often the hardest part... "letting yourself go" and trusting yourself and all that. I feel like now, at the end of my undergrad, I'm finally learning how to do this."

Musical and emotional support

The soloists could not give their breathtaking performances were it not for the Dal Symphony Orchestra. The orchestra features not only Dal students but community musicians as well. They work tirelessly to prepare the music needed for each aria and concerto.

Percussionist Raquel Wasson is in her third year with the symphony and is always pleased with the combined work put into this evening of music.

"Everyone has worked so unbelievably hard over the past five weeks preparing for Concerto Night," says Wasson. "The soloists are absolutely amazing and have put together an impressive program. It is astounding the amount of talent displayed by the soloists this year. It is a privilege to be a part of something so wonderful. The Dalhousie Symphony Orchestra is truly special to me and has created such a wonderful music community to be a part of."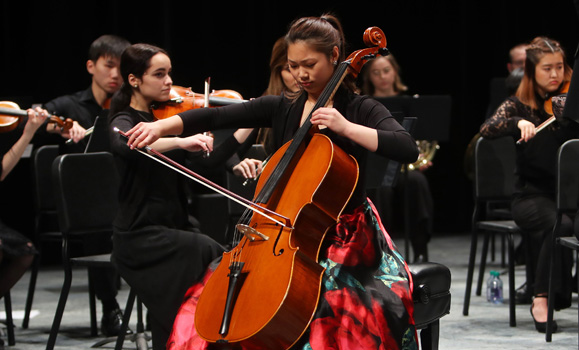 Priscilla Lee performs at Concerto Night's dress rehearsal.
Tasman Tantasawat (viola), also a member of the symphony, praises the orchestra for getting so much music prepared in a short period of time for the concert.

"We have to prepare all the pieces in about a month," says Tantasawat. "It can be very challenging sometimes, but from my experience, I actually enjoy preparing and I practice these parts a lot. Concerto Night is a very unique opportunity to support my colleagues. To play in the orchestra feels like I am one of the people that help my colleagues become recognized by everyone in the audience as a soloist."

All aspects of Dal Music merge together in this lavish event. For those who have tickets: let the grandiosity of beautiful music by a symphony and its soloists entertain you in an evening that won't soon be forgotten.

Concerto Night is on Thursday, February 13th at 7:30 pm in the Sir James Dunn Theatre. Tickets have been sold out for several weeks.