Some stories appeal to us so powerfully that they bear retelling over and over again, often serving as inspiration for future artists looking to create new stories of their own.

Henry Purcell created his opera Dido and Aeneas in London between 1683-88. James Rolfe composed his Aeneas and Dido in Toronto in 2007. Each found source material in Virgil's epic Latin poem The Aeneid, written in Rome between 29 and 19 BCE.

Now, you can see both Purcell and Rolfe's takes on the classic tale come to life on stage at the Dalhousie Arts Centre this week (Feb. 6-8) in an opera double bill.

The basic story of Virgil's poem offers a new outcome for Aeneas and some other survivors of Troy, imagining their escape from the devastation of the Trojan Horse and their journey to a new homeland in Rome. The tragic love story chapter features Dido, Queen of Carthage, and Aeneas, falling in love and then parting because the gods have other plans.

Purcell's baroque treatment allows a glimpse of the tragedy, showing us lovers who are self-conscious and aware of their duties. The chorus remains on stage for almost the entire show, making the famous couple be on their best royal behaviour.  Even in Dido's famous lament, she is being watched by her subjects, looking to their queen for stability and reassurance.
Movement speaks

Movement shapes the tone of both versions of the story, says director Mary Lou Martin.

"Movement can be a very seductive and subliminal story teller," she says. "There is so much you can do to build emotion, action, and to exhilarate the pace, or to decelerate the pace of a scene."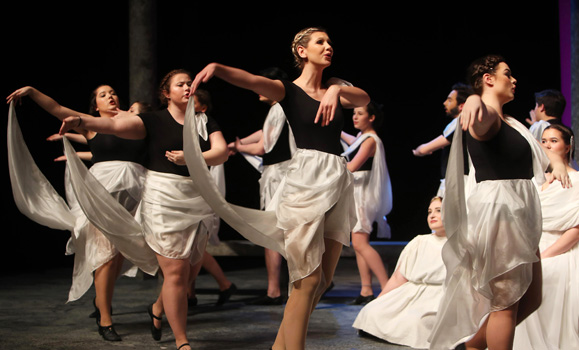 With sudden head snaps, lilting dances, and sharp angles, dance and movement have fuelled the engine of both shows.

Following the contrast of the movement used, the set design by Danielle Wilson features hard Greek style columns, combined with soft billowy fabrics twisted into trees and shifted into caves. Costuming by Oliver Dorais-Fleming is also kept dreamy and Grecian through both performances, fitting well with the show's minimalist aesthetic. At every turn, you can feel the push and pull of both operas being expertly executed as works that are tied together. The two takes on the same events offer us deeper insights into the characters and their lives.

It is a difficult task to make these works seem immediate and relatable when one was written hundreds of years ago and the other consists of edgy and interesting modern music. However, actor Nicole Keeping (who plays Dido in the Purcell version), thinks there is a lot that the story, especially the friendship of Dido and her confidante Belinda, offers its audience.
"Dido is so relatable," she says. "I think everyone has things in their lives that they're not sharing. Your friends will know when something is wrong, so it's better to just tell them and let them help you work through it."
A new side of an old hero

Rolfe's work is a perfect companion to Purcell's piece, giving Aeneas more depth and dimension to his character. "In the Purcell you get to see Aeneas as the Parting hero, perhaps too quick to fall in love, and too quick to run," says vocalist Kip Johnson (Aeneas). "Whereas in the Rolfe, you see Aeneas at the whim of the Gods. You get to see how much he's actually just a ping pong ball for them bouncing back and forth."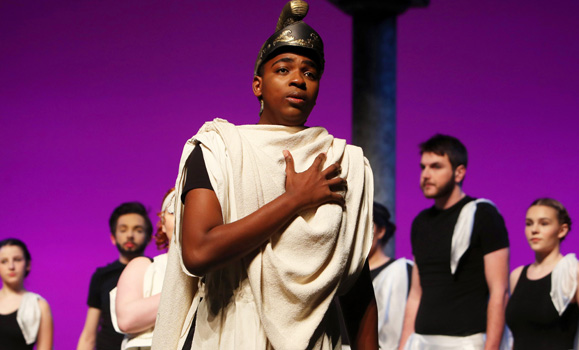 With Martin's most touching use of movement on full display, the audience sees the admission of love and the connection both characters have for each other deep in a secluded cave. This makes the heart ache, as the audience already knows the fate of both characters.
"You get to see a more genuine love," says Johnson, "Rolfe's Aeneas is a much more intimate character whereas the Aeneas in the Purcell is somewhat larger than life. In the Rolfe you see he is just one second away from absolute devastation. He's just holding it together the best he can."

However, you won't leave feeling glum from this evening of opera. The presence of Mercury (Shane Scott) and a Goat (Sarah Nearing) offers comic relief, complete with hooves and helmet, and gives an unexpected change of pace in the middle of the second show. These characters parallel the sorceress and witch characters in the Purcell, a menacing comedic break from the drama.
Adding to a historic legacy

The cast must bring themselves up to the task of performing both shows with one of the composers in the audience. James Rolfe will be visiting the Dal campus and offering some workshops as well as attending the shows and meeting the students.
Voice Professor Betty Allison, new to the Fountain School, has worked with Rolfe before and was happy to invite him to see what the students can do.

"I thought that Rolfe would bring life to the Purcell in a few different ways, and as students you would be able to look at the characters very differently. The Purcell is very aloof, I mean, we are talking 1600s so it has a superficial kind of quality. With the second show, you get into the psychology of the characters. I knew it would be a stretch musically to do, because James' work is very complex and quite bare. But, I think it gives a new appreciation to the Purcell, and for an audience it makes it come alive in a different way."
With the synergy these operas have together, the audience gets a deep dive into the tragedy of the myth. Each show aids the other, but each can stand alone as a work of art.


"I was a fan of the Purcell through the Mark Morris [American choreographer] production, but I had no idea about the Rolfe and I was totally surprised by it. Don't be scared off by contemporary opera," Martin urges.
These shows offer heartwarming love with true emotional pain told through witches, gods, goats, and people that seem more within reach than the myths and legends would lead you to believe. Come see if the Gods really do reward the faithful.

Dido and Aeneas, and Aeneas and Dido runs from February 6-9 in the Dalhousie Arts Centre's Sir James Dunn Theatre, with nightly performances at 7:30 p.m. and at 2:30 p.m. on Sunday. Tickets are available from the Dalhousie Arts Centre box office.