Every year, the Dal Reads Steering Committee selects a book as the title of the year. Through this program, members of the Dal community can obtain copies of the book and attend events designed around the theme of the book without any cost.
 
This year's Dal Reads title is Songs of Rita: Autobiography of a Mi'kmaq Poet. Rita Joe is a distinguished Mi'kmaq poet, who published several poetry books and received an honorary Doctor of Laws from Dal in 1993. Rita Joe's works examined many themes, including identity, Mi'kmaq language, and her residential school experience. She was the first author to be selected posthumously for the Dal Reads title for the year.

One of the events organized to explore a significant theme in Rita's works, Mi'kmaq language, was the Komqwejwi'kasikl (hieroglyphs) Birch Bark workshop last Thursday.

The event was led by Michelle Sylliboy, a versatile L'nu (Mi'kmaq) interdisciplinary artist, poet, and author who grew up in unceded L'nuk territory in We'koqma'q, Cape Breton. Her recently published book of poetry, Kiskajeyi - I AM Ready, uses Mi'kmaq (L'nuk) symbolic language to contemplate contemporary social issues.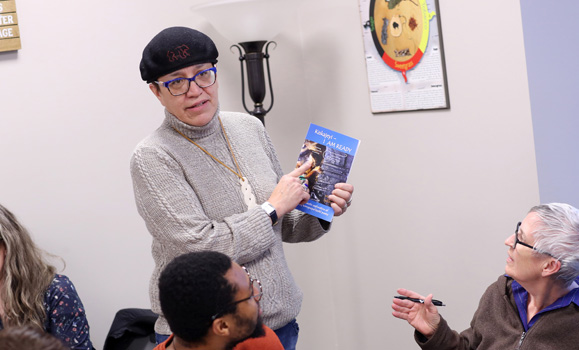 Michelle, pictured above, has been involved in the preservation and education of the Mi'kmaq language (L'nuk) for several years. "I am doing my Ph.D. in Philosophy of Education at Simon Fraser University, and I am going to be creating a Mi'kmaq hieroglyphic curriculum, that was the original intent, but I soon realized that I had to promote the language."

Michelle's artistic and academic efforts are directed toward reclaiming her people's historical narrative. "The workshop is an opportunity to plant seeds about the history of the Mi'kmaq language," she said. Komeqwejwi'kasikl (hieroglyphs) are part of a complex system of communication that the Mi'kmaq people of the L'nuk Nation used as maps and for keeping records.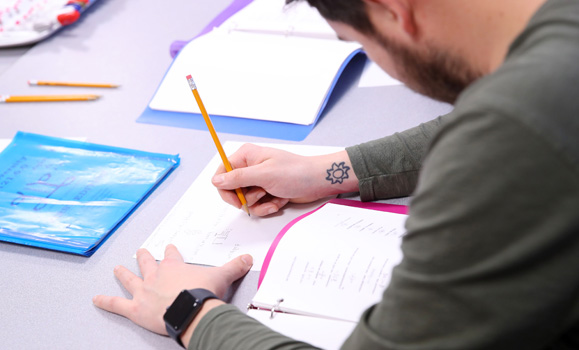 Participants at the workshop received two dictionaries: English to Mi'kmaq and Mi'Kmaq to English. These dictionaries contained various L'nuk symbols which captured not just words, but ideas and concepts. They served as a spring from which participants could draw inspiration for their compositions. "The workshop is about going back to the source," said Michelle.

Each participant drew their L'nuk hieroglyphic message on a piece of birch bark. The symbols enabled participants to express themselves poetically. The participants had complete creative autonomy: they selected the colors, the message, and the birch bark for their composition.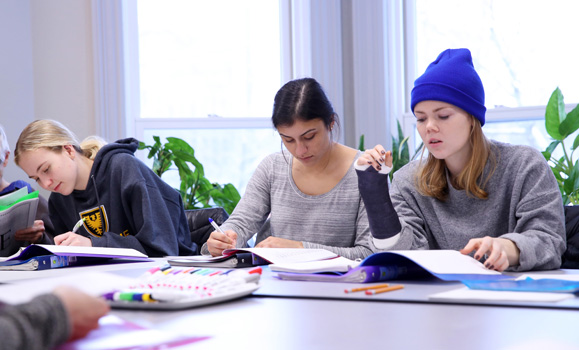 Jessica Hepworth, a Dal student in the social work program, created a message for her family and friends: "When I am weak we are strengthened for as long as you live, you have great love."

Another participant, Chandler Jennings, drew L'nuk symbols that represent,  "Earth who is an elder." He explained that he was attracted by the beauty of the symbols.

"People remember more when they create their own art," said Michelle.