Philosopher Lissa Skitolsky is the Simon and Riva Spatz Visiting Chair in Jewish Studies for the 2019-20 year and is being hosted by the Department of Philosophy for the duration of her time at Dalhousie.
The Simon and Riva Spatz Visiting Chair in Jewish Studies is intended to bring distinguished scholars from around the globe to share their expertise and perspectives with students and faculty at Dalhousie University and members of the broader Halifax community. The chair maintains a focus on contemporary topics but is otherwise broadly inclusive of scholars from a wide variety of arts, humanities, and social science backgrounds.
Before Dr. Skitolsky was promoted to as associate professor of philosophy at Susquehanna University, she worked as an assistant professor of philosophy at Luther College and as a visiting assistant professor at the University of Memphis. Her research in the fields of genocide studies and Continental philosophy has focused on illustrating the connection between discourse and sensibility in the normalization of state-sanctioned, systemic violence against racialized and gendered groups.
Dr. Skitolsky will deliver her first public lecture to the Dalhousie and Halifax community on Friday, November 15 at 3:30 p.m. in the Scotiabank Auditorium at the Marion McCain Arts and Social Sciences Building. Titled "Holocaust Humour and our Sensibility of Anti-Black Violence," her talk builds on her recently published article featured in The Journal of Aesthetics and Art Criticism.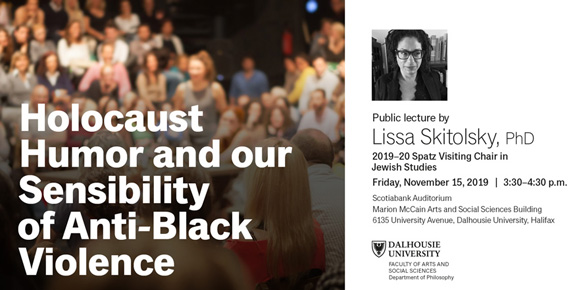 In anticipation of Dr. Skitolsky's first public introduction to the community, we connected with her for a Q&A to learn more about her and her research.
What does being named the next Spatz Chair in Jewish Studies at Dalhousie mean to you?
I am honored to be given the opportunity to contribute to Jewish studies at Dalhousie by teaching courses in my areas of expertise and pursuing my research on the politics of our discourse about genocide in the Canadian context by working with artists, scholars, and activists from Halifax.  I am also honored  to have this particular opportunity to share my work as a genocide scholar, given the life and work of Simon and Riva Spatz and their hope that this research chair could enhance our knowledge of the Jewish past and present for the sake of a better future. Further, I'm thrilled to represent the field of Jewish studies as an academic philosopher, and I have already learned so much from my colleagues and the students here in the Department of Philosophy.
What do you hope to accomplish in this role? What are you looking forward to?
In my Fall course on "Philosophy and Genocide," my aim is to introduce students to texts by philosophers who view Nazism and the modern phenomenon of genocide as a crisis for our conventional moral and political theories, as well as for our understanding and academic practice of philosophy itself. In my Winter course on "Jewish Humor," my aim is to explore the relation between comedy and Jewish culture through the study of theories of humor and the work of contemporary Jewish comedians. In both courses I hope to illustrate the relevance and practical importance of Jewish Studies in philosophical inquiries about history and morality, aesthetics and culture.
My research project this year is titled "Canadian Discourse and Sensibility About the Holocaust, Cultural Genocide, and Anti-Black Bias Against African Nova Scotians" and is concerned with the implications of the distinction between "genocide" and "cultural genocide" (prevalent in Canadian narratives about genocide) on the Canadian sensibility of systemic violence against marginalized groups. In particular, I will be focusing on how this distinction affects the local sensibility of anti-Black bias against African Nova Scotians. This project follows my recent research that examines how American discourse about genocide affects our sensibility about patterns of anti-Black violence in the United States.
My research at Dalhousie will examine whether there is a similar dilemma in Canadian culture with regard to the political sensibility of genocide and the sensibility of anti-Black bias against African Nova Scotians in Halifax. Specifically, I will examine whether the Canadian discourse about the Holocaust and its own "cultural genocide" in the past has influenced, shaped or excluded the sensibility about systemic bias against the African Nova Scotian community in the present. This project draws on the work of my colleagues at University of King's College, Dorota Glowacka and Sylvia D. Hamilton, as well as the work of Chike Jeffries in the Department of Philosophy at Dalhousie. I will also be working with local activists, artists and educators in Halifax who have collaborated with me over the past three years to organize events sponsored by local universities and non-profit organizations.
I am especially looking forward to my public lecture on the nature and value of 'holocaust humor' on November 15, as well as a special panel on "Black Aesthetics and Representations of Anti-Black Violence" on February 6 that I am organizing with my colleague Dr. Dorota Glowacka at University of King's College. This panel of artists and scholars will be sharing their reflections about the critically acclaimed independent film Black Cop, written and directed by local artist Cory Bowles, who will also be a panelist.
I am also looking forward to a presentation by Dr. Lewis Gordon on the history of Afro-Judaism on March 26 as the inaugural lecture of the Irvin Glovin lecture series in Jewish Studies. My aim in organizing these events is to expand our understanding of the "Jewish people" and the concerns of "Jewish Studies," as well as enhance the dialogue and solidarity between the Jewish community and the African Nova Scotian community in Halifax.
What interested you to apply for this visiting Chair position?
I have visited Halifax several times since October 2016, when I was invited to present my research in comparative genocide studies at University of King's College. On that visit, right before the U.S. presidential election, I met so many wonderful scholars and prisoner advocates who have become my friends and co-authors. I am especially grateful to be in a community of friends and inspiring activists and scholars. My research project arises out of conversations I have had with them about social and political conditions in Halifax, and so I am thrilled to be able to pursue it with their support.
What inspired you to study in your specialized field?
For junior high and high school, I went to a private Jewish day school where I received an early and comprehensive education about the Nazi genocide. This background instilled in me the importance of the Jewish value of Tikkun Olam, or the need to help "repair the world" by reducing the amount of violence and suffering. I was drawn to philosophy because I am preoccupied with how our ideas of the world often obfuscate and serve to perpetuate the very real conditions of social and political violence against minority groups.
Later I developed my expertise in the field of Holocaust and genocide studies, and my work draws on Continental philosophy to better explain the phenomenon of genocide in western politics. Of course, I appreciate all kinds of philosophy, but for me the question of how to understand and better prevent the regular, systemic and state-sanctioned infliction of violence against communities that are already excluded from moral consideration and the full protection of the law is the only question that I am interested in exploring as a scholar who works in the field of philosophy.
What drives you as a researcher and an academic?
I am driven by the desire to better understand historical systems of violence and the moral imperative to dismantle these systems in the present. My research is also driven by my activism as a prisoner advocate.
In particular, my research on the relation between discourse and the normalization of genocidal violence has always been informed by the testimony of individuals who are often "out of sight" and thus "out of mind" to many academics — such as prisoners and underground rappers — who have suffered from and resisted state violence through discursive and non-discursive practices. In my view, the testimony of these individuals is essential in order to better examine how we misrepresent and dis-articulate the nature and severity of systemic harms inflicted against minority groups.
I am motivated to do these sorts of studies because I can detect the traces of the genocidal past in the present social, political, judicial, economic, and educational organization of American culture.