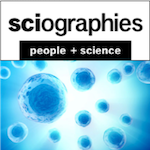 Sciographies is a radio show and podcast about the people who make science happen — brought to you by the Faculty of Science and campus-community radio station CKDU 88.1 FM. This is the final article in our eight-week series that features excerpts from each new Sciographies episode this fall. You can find all Sciographies episodes, including those released last year, on Apple and Android podcast apps, or by visiting dal.ca/sciographies or soundcloud.com/sciographies.

 
Christine Chambers was just 12 years old when she read a novel about a child psychologist and decided that she would become one too. Her career path began right here at Dalhousie in the undergraduate psychology program, just a few minutes away from Dr. Chambers' childhood home in Halifax, NS.
Now Dr. Chambers is a Killam Professor in both the Department of Psychology & Neuroscience and the Department of Pediatrics, as well as a member of the Royal Society of Canada's College of New Scholars, Artists and Scientists. She also has a few other titles: Canada Research Chair in Children's Pain; Scientific Director of SKIP (Solutions for Kids in Pain); and Incoming Scientific Director for CIHR's Institute of Human Development, Child and Youth Health.
Dr. Chambers' lab is based in the Centre for Pediatric Pain Research at the IWK Health Centre. That's where her team churns out evidence-based strategies for helping kids manage pain, while also working to make sure that information reaches parents, family doctors, and other front-line healthcare providers.
In this episode of Sciographies, host and assistant professor David Barclay speaks with Dr. Chambers about her laser-focus career path and different types of pain. She also shares the motivation behind her deep commitment to science communication and knowledge mobilization. Here are a few excerpts from the episode (edited for length and format).

Dr. Chambers (left) on set at Twitter Canada with Erica Ehm (right), partner in the #ItDoesntHavetoHurt social media initiative and founder of online community Yummy Mummy Club and Ehm&Co.
Dr. Chambers on her unwavering dream to become a psychologist…
Barclay: How did you get motivated to go to university?
Chambers: I read a book when I was twelve about a child psychologist.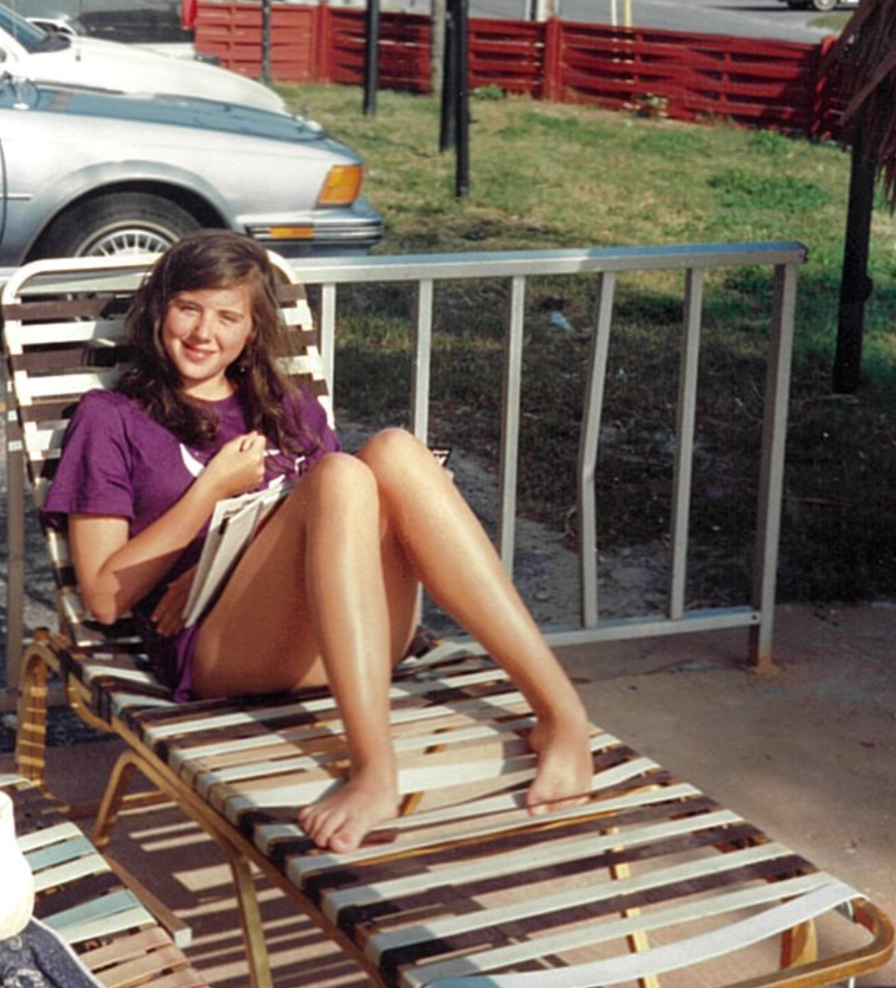 And from that day on, I decided I wanted to be a child psychologist. And in fact, my mom has the school treasury that, you know, every year you'd put your class photo in and there's a little section that says what you want to be when you grow up. From grade six onward, mine said child psychologist… As soon as I arrived at Dal [for her undergraduate degree], I asked: what do I need to do to get there?
Barclay: What was the book?
Chambers: It was a young-adult novel. I don't remember the name, but the author was Torey Hayden. She wrote a whole series about people who work with children who have disabilities or experienced trauma. It really impacted me.
… On the experience of pain
Barclay: Do we feel different types of pain?
Chambers: Yes. There are different types of pain, and your body has different pathways and receptors for different types of pain. You know there's short, sharp pain; there's longer more aching types of pain; thermal pain; cold heat…
Barclay: Are these all neurologically different types of pain?
Chambers: Yes, they're all different. The pain system is super, super complex… People's subjective reporting of pain is influenced by a variety of different factors. That's what I'm interested in as a psychologist. What are these psychosocial factors that impact our experience of pain?  For example, when you're depressed, that depressed mood will make your pain worse. If you undergo the same needle procedure or surgery in a different mood state, that mood state impacts your pain, and that's really fascinating.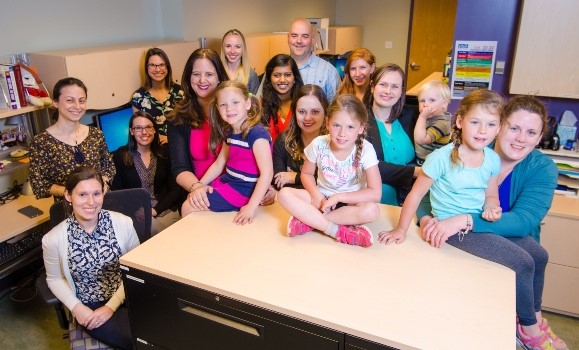 Dr. Chambers with members of her lab and some of the patient partners engaged in her research.
… On the motivation behind her push to mobilize knowledge
Barclay: So, part of your motivation to get into knowledge mobilization was to get your message out there faster, right?
Chambers: Yes. Various estimates show that it takes 17 years, on average, for the results of research to find their way to the frontlines in the context of health… After having my own kids, we were in the hospital having interactions and I was seeing first-hand that all this research evidence — that I knew existed — wasn't even being used to the benefit of my own kids... I was like: I can't keep doing this if it's not going to be used, and why isn't it being used? What do we need to do to change the system? My entry point at that time was that I believed in the power of parents. Nobody is going to advocate more strongly for their child than a parent. So, let's get to parents. Let's give them the information they need.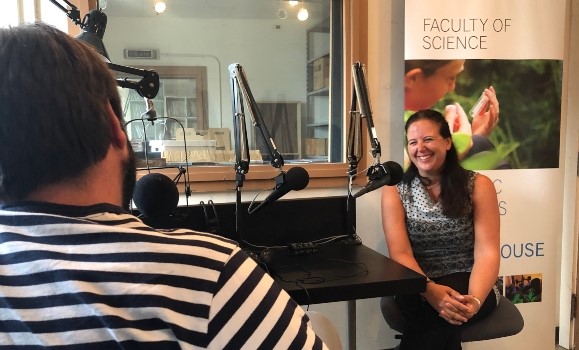 Dr. Chambers being interviewed for Sciographies in the CKDU studio.