The Honourable Kirsty Duncan, Minister of Science and Sport, announced $160 million for research labs in Canada on Monday, April 29. The funding comes from the Canada Foundation for Innovation's (CFI) Major Science Initiatives Fund, part of a historic $4 billion federal commitment to empowering science and research innovation in Canada.

Approximately $40 million will support operations at national facilities including the Ocean Tracking Network (OTN), which maintains tracking infrastructure globally and across Canada's three oceans and Great Lakes in support of aquatic animal conservation, sustainable fisheries and ocean resource management.

"These leading research facilities help position Canada as a top destination for world-class research and allow our researchers to make fantastic discoveries, strengthen Canada's social fabric and international competitiveness, and help train the next generation of our highly skilled workforce," said The Honourable Kirsty Duncan, Minister of Science and Sport, at a press conference in Saskatoon on Monday.

OTN, headquartered at Dalhousie University's Steele Ocean Sciences Building, will receive almost $2.3 million to enhance research capacity and infrastructure that documents the movements and survival of the ocean's valuable aquatic animals, ranging from crustaceans and fishes to turtles and marine mammals.

"The Ocean Tracking Network continues to lead the way in a rapidly changing ocean technology sector," says Alice Aiken, vice-president research and innovation at Dalhousie University. "This significant investment by the Government of Canada is recognition of the world-class research happening at OTN, which is changing our understanding of the natural world and helping us to better manage our aquatic resources."

Cutting-edge transmitters track Nova Scotia snow crabs

Snow crab thrive in the cold waters of the Northwest Atlantic. Their population sizes differ between fishing areas off of northern Cape Breton Island; harvesters from Victoria County engaged OTN to help document crabs' movements across the management zones.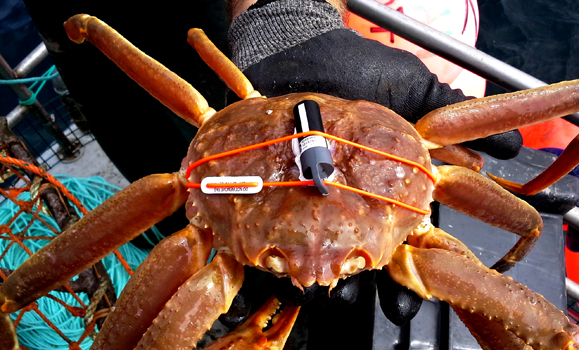 This community-led tracking project, which uses small transmitters that are logged by OTN's network of underwater tracking stations, also supports both DFO snow crab stock assessments, as well as environmental assessments that are part of Emera's Maritime Link project. OTN, community, industry and government partners convene annually at a snow crab summit in Halifax to communicate the project's latest findings.

Snow crab are just one of more than 220 species being tracked by Canadian and international partners around the world. The OTN Halifax Line, a 200 km-long array of more than 250 tracking stations, part of OTN's extensive Northwest Atlantic tracking infrastructure, serves partners from Europe and Greenland to the southern United States, and tracks tagged animals like wild Atlantic salmon, cod, seals and white sharks.

"This will make a tremendous difference in OTN's ability to accomplish its mission and to both deliver opportunities for, and meet the needs of, the scientific and stakeholder communities, both in Canada and internationally," said Sara Iverson, scientific director of OTN and Dalhousie professor.

A global network of more than 600 researchers makes use of OTN's cutting-edge animal tracking infrastructure, but its legacy lies in the data warehouse, one of only a few aquatic animal tracking data systems in the world and the only one with a global reach. This data system is the longest running and contains the largest data collection with regards to geographic and taxonomic coverage, a function the MSI infusion will help enhance, in addition to allowing OTN to deliver the digital tools researchers require to analyse their data.

The newest CFI-MSI infusion will support OTN's mission in conducting transformative research which is used provincially, federally and internationally to help guide the management and stewardship of valued aquatic resources and sustainable use of the ocean.

Learn more about OTN at its website.