Rapidly evolving digital technology enables hackers to more easily access and manipulate information across the internet, posing a threat to democracy in Canada and elsewhere, said a leading expert at a forum at Dalhousie last week.

Carl Miller, research director at UK-based education charity Demos, delivered a lecture on the political risks associated with information warfare and the widespread use of synthetic media. The event, held in University Hall last Wednesday, was hosted by Ottawa-based Public Policy Forum (PPF) and sponsored by the President's Office at Dalhousie.

Satyamoorthy Kabilan, vice-president of policy at PPF, opened the event with a short explainer about the forum, which began with Miller's lecture, followed by an armchair discussion (with Dal Sociology and Social Anthropology professor Howard Ramos) and a Q&A session with attendees.

Miller's lecture began with an introduction to the world of "deepfakes," an increasingly popular practice that uses artificial intelligence to create videos with synthetic faces that are nearly identical to that of a human. One potential scenario that could arise would be a video created to misrepresent politicians and elected officials.
Information warfare

The origins of information warfare and its threat to democracy began years ago, said Miller, noting it was not carried out by a military but by a vast, global network of users on 4chan — an image-based internet forum where anyone can post comments and share images anonymously.

"They had gone onto the internet to escape and now mainstream life was going there as well," explained Miller. "They began to say 'okay, if the world is invading our internet, then we are going to use the internet to invade their world.' That was roughly the line of thinking."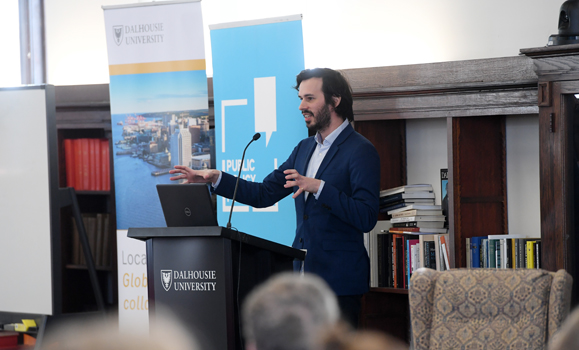 4chan users banded together to hack online polls and create a multitude of "sock puppet" accounts, which are fake social media accounts administered by one or more people. These fake accounts were used to get certain ideas trending across the internet. If they were successful in trending their ideas, 4chan users celebrated by unleashing a slew of cat memes upon the internet.

"This warfare began with cats on the internet. Cats are the origin of all of this," he said.

Miller described this tactic in his lecture as "ideological diffusion". 4chan users had discovered a way to use the internet to influence the offline world.

"They realized that if you packaged an idea up within a cat, it spread really, really well around the internet. Cats reminded people of babies," he said. "They realized that the reason people share things isn't because they were made to think something, it was because they were made to feel something."
Technology as double-edged sword

Karen Foster (below), an associate professor in Dal's Department of Sociology and Social Anthropology, provided opening remarks at the event, along with Satyamoorthy Kabilan, vice-president of policy at the PPF.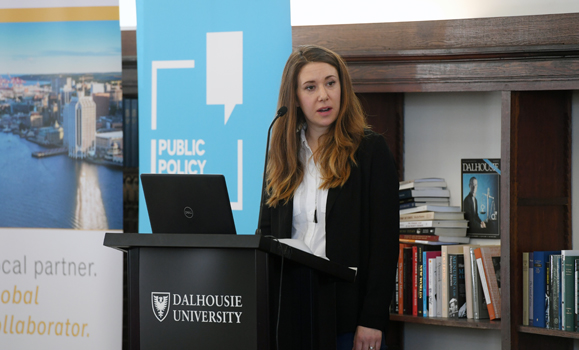 Dr. Foster, left, noted that while the internet has greatly improved the way in which we communicate with one another, there are risks that arise as advanced technology becomes more accessible.

"I think all [technology] is a double-edged sword. Sociologists have been talking about this for a really long time, about the development of technology and that it enables some behaviours," she said.

Dr. Foster said that increased public awareness on all levels is crucial to educate younger generations, who will likely become increasingly dependent on the internet as a source for information.

"I think peeling back the layers like this talk did where the origins of what you see online is discussed. I think that's really important," she said.

Miller concluded his lecture with a warning that synthetic media will only become more prevalent and therefore, we must be highly critical of the information we come across on the internet.

"The information that finds you is not the information that you need to find."