Deborah Adewole always knew she wanted to work in agricultural research and academia. Moving all the way from Southwestern Nigeria, Dr. Adewole is not only fulfilling this dream, she's committed to improving the health of chickens in Atlantic Canada's poultry industry through more holistic nutrition.

"Relocation to Canada presented some challenges, especially the weather!" Dr. Adewole says with a smile.

Growing up in Nigeria, she earned a bachelor's degree in agriculture. While in the third year of her undergraduate studies, she realized her passion for academia in agriculture.

"I volunteered to assist a senior colleague in her honours thesis project and since then, I started developing an interest in agricultural research," she says.

Following this passion, in 2009 Dr. Adewole moved to Winnipeg to complete a Masters and PhD degree in Animal Science at the University of Manitoba, specializing in poultry and swine nutrition. Her work during her master's degree on monogastric nutrition, the nutrition of animals with a single chambered stomach, paved the way for her PhD research in poultry nutrition.

Coming to Truro

In late 2018, Dr. Adewole made the move to Nova Scotia and was appointed assistant professor and industry research chair, Poultry in the Department of Animal Science and Aquaculture at Dalhousie University Faculty of Agriculture. As industry research Ccair, Deborah works in collaboration with industry associations and Dal AC to conduct applied and industry-related research. Dr. Adewole works with the Chicken Farmers of Canada and the Government of Canada through the Atlantic Poultry Research Institute.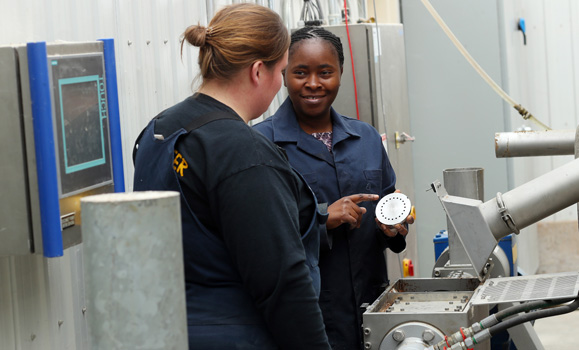 "My interest in nutritional research was propelled by my passion to enhance production of protein sources to boost food security for families in various parts of the world," Dr. Adewole explains.

Currently, her research is focused on alternatives to the use antibiotics in poultry with the goal of sustainable chicken production and responsible use of antibiotics in Atlantic Canada. A major aspect of her research will focus on exploring dietary fibre ingredients such as wheat, flax, oats, canola, and other natural growth promoting products to be used as alternatives to antibiotics in chicken production. Her research looks at the nutritional components in feed of both broiler chickens and laying hens.

"Fibre ingredients are major sources of non-starch polysaccharides, carbohydrates whose molecules consist of a number of sugar molecules bonded together, that can be fermented by bacteria in the lower gut of chickens to produce short chain fatty acids that promote gut health," Dr. Adewole explains.

Making a difference for farmers

Dr. Adewole is exploring how fibre modification strategies in chicken feed improve the production of short chain fatty acids, produces beneficial bacteria, and reduces the concentration of pathogens. These improved characteristics in chicken nutrition have the potential to enhance growth performance and promote gut health of chickens.

"Phytogenic products are natural growth promoting products," Dr. Adewole explains. "These products are major sources of phenolic compounds that have roles in health improvement through anti-inflammatory, antimicrobial, and anti-oxidant properties."

Through Dr. Adewole's research, farmers are likely to see improvements to the health of their chickens, both laying hens and broilers, without the use of antibiotics. It's possible that farmer's pocketbooks could also benefit from this research, as chickens with better intestinal health would require fewer visits from a veterinarian.

"The composition of gut microbiome plays an important role in gut health," says Dr. Adewole. "Intestinal health is crucial to the general health and well-being of poultry. My research approach promises to reduce bacterial infections in chicken production, promote gut functionality by reducing inflammation and enhance growth performance, thus reducing financial losses due to bacterial infections and gut inflammation."