Transformation. Inspiration. Dedication.

A lot can happen inside of a great classroom. But for Anne-Marie Ryan, it all starts with conversation.

"It's creating community, creating a sense of belonging — that we're in this together, collaboratively," says Dr. Ryan, a faculty member in the Department of Earth Sciences. "I'm learning as much from the students as they learn from me."

Dr. Ryan's community-based approach to teaching has earned her several accolades in recent years, including Dal's top teaching award in 2016 and one of the top teaching award in Atlantic Canada in 2017. Now, she's one of the 2019 recipients of a national 3M Teaching Fellowship — Canada's top recognition for university teaching.

An elite honour for a stellar teacher

Created in 1986 by the Society for Teaching and Learning in Higher Education (STLHE), the 3M Teaching Fellowship recognizes exceptional contributions to teaching and learning in Canadian post-secondary education, with only 10 new fellows selected each year.

In receiving the honour, Dr. Ryan joins current Dal faculty members Srini Sampalli (Computer Science) and Kim Brooks (Law). (Retired faculty members Joan Conrod, Management, and Tom MacRae, Biology, are also 3M Fellows.)

"To be named a 3M Fellow is to be recognized among the very best university teachers in Canada," says Dal Provost Teri Balser. "Anne-Marie is an exemplar: an educator who is creative in the classroom, committed to her students' success, and collaborative in working with colleagues to move teaching and learning forward on campus. This is truly a most deserving honour."

"It's very humbling, as there are so many good teachers out there," says Dr. Ryan. "It's such an honour to be recognized by colleagues and by your students in such a way."

Making the connections

Dr. Ryan — who also has two degrees in Education alongside her three degrees in Geology/Earth Sciences — has inspired thousands of students in her nearly two decades teaching at Dal. In her courses, students not only explore geological knowledge, but the ethical responsibilities and environmental issues linked with their line of work. (She's currently teaching an introductory first-year course and a second-year geo-environmental issues course that's an open elective).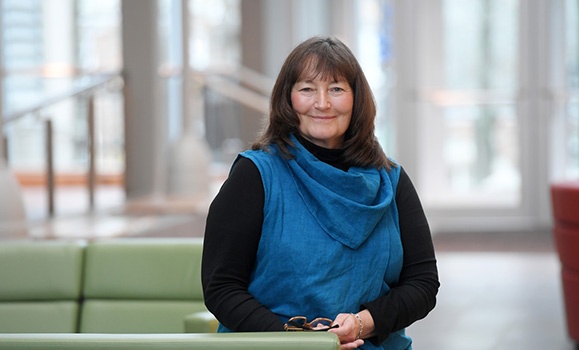 And her contributions to education at Dalhousie stretch well beyond the walls of her own classrooms. She led the development of Dal's Science Leadership and Communication Certificate, the first program of its kind for undergrad science students in Canada. She developed a "community of practice" within the Faculty of Science, bringing together colleagues to discuss pedagogy and practice in an informal setting. And she's also been a Faculty Associate with the Dal Centre for Learning and Teaching. (She's also a University Teaching Fellow.)

"Teaching is something that really matters to me," says Dr. Ryan. "I find the students are very grateful and positive. If we build the environment together, it creates a really nice working space."

The power of fellowship

She'll enter a new working space as a 3M Fellow. She'll become a lifetime member of the fellowship, as well as take part in a four-day teaching and learning retreat with her peers later this year and attend the 2019 STLHE annual conference.

"I like the idea of being part of a fellowship, of being part of a community of people who care so much about teaching and student learning," she says. "I think it also allows driving or supporting positive change — I'm looking forward to that aspect. There are a number of people I know and have admired over the years [who have been Fellows], and have watched how they've been able to move things forward."

Being a 3M Fellow is not an opportunity she ever expected — but one she's embracing with the same spirit of open collaboration that she brings to the classroom.

"It's a little overwhelming, to be honest, but overall I'm very grateful because I feel Dal has allowed me to take some risks and there's been such great people supporting me along that way — including the students, of course, and for them I'm truly thankful."