When Joan Conrod returns an accounting test to her students, there's often more than a grade attached.

A student who shows significant improvement over the previous test might get a chocolate bar. There could a candy treat for the student with the neatest handwriting. Other prizes double as polite teasing: Sour Patch Kids for messy work, or a roll of pennies for a student who neglected to properly round their answer.

"Rewards and recognition are a big part of what we do," says Prof. Conrod, who has taught in the Rowe School of Business for more than 30 years. "Accounting students, in particular, are people who like to have tests and be tested. We're big into metrics. But the prizes are not really about grades: I really try and get them to see themselves as a group of individuals who all have their own struggles."

The students get to join in the good-natured ribbing too, nominating each other for awards at the end of the course. Even the largest accomplishments get celebrated with cheeky twists: the student with the best overall assignment marks gets a princess tiara. (And yes, last time it did go to a guy.)

"It's about making the classroom about more than just teaching," says Prof. Conrod.  It's about their personal development, and their development as young professionals."
Award-winning teaching, true compassion


Prof. Conrod is one of Dal's most acclaimed teachers. Her success in the classroom has been recognized with university-wide honours (the Alumni Award for Teaching Excellence — Dal's top teaching award), by external organizations (the AAU Distinguished Teacher Award) and also by her own faculty (not just the Archibald Award, and the Management Teaching Excellence Award, but nine Commerce Professor of the Year titles).

Now, she adds a 3M National Teaching Fellowship to that list. The fellowship, sponsored by 3M Canada and the Society for Teaching and Learning in Higher Education, is the only national cross-disciplinary recognition of excellence in university teaching in Canada.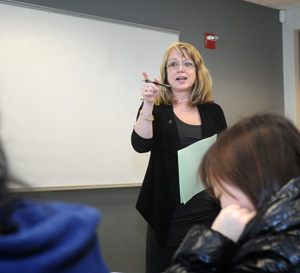 "She leads by example," says Greg Hebb, director of the Rowe School of Business. "Everyone knows how successful her students are, and that pushes the rest of the accounting group — and for that matter, the School as a whole — to keep up the same standard."

Doug Cashin (BComm'04) is one of the many students who owe a great deal to Prof. Conrod's teaching. Now a chartered accountant with Collins Barrow Nova Scotia Inc., Cashin says that Prof. Conrod recognized early on that he was the sort of student who could excel, and didn't let him settle when his work was sub-par.

She even went so far as to offer above-and-beyond support during a particularly difficult time in his studies.

"In a swing of unfortunate events, I ended up being short a course to graduate in the spring of my final year," he writes. Prof. Conrod then took it upon herself to teach him the missing course over the summer so he could graduate in the fall. "She was offering some of her own time... also, she had never taught the course before and therefore had to take time to learn the material herself before she could teach me."

Devon Dander, another former student, shares a similar story: that when a series of sudden personal problems threatened her studies, it was Prof. Conrod who was there to help.

"One step at a time, Joan found assistance from the Dalhousie counselors and helped me to recover," she writes. "She worked with some of my closest classmates to help get me out socially and involved in academic teams again where I had been so successful in the past… She constantly reminded me that I was intelligent, ambitious and hard working and that many people wouldn't be here after what I'd been through. "

"I will always attribute the start of my successful career to Joan, as I couldn't have done it without her," adds Dander.

Cashin, who stays in close contact with Prof. Conrod to this day and sometimes assists in marking assignments for her classes in Dal's executive MBA (FS), agrees.

"I have always felt that Joan was instrumental in getting me through university and I am still grateful to return the kindness, compassion and care that she showed me and so many other students," he says.
Tough but fair


Those themes of kindness and compassion appear throughout the letters of nomination for Prof. Conrod's 3M Teaching Fellowship. Alongside them is another theme: that she's very, very tough.

Guilty as charged.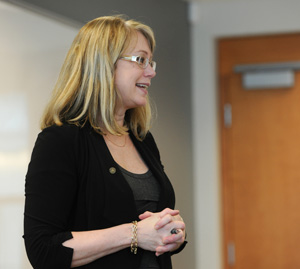 "I have very high expectations," she says. "I mark hard. I deal with tough topics, all the way through my courses, with no breaks. The material is tough, and I am tough, but my students know that."

Those expectations reflect that her students — fourth years in particular — are quickly approaching some very challenging professional entrance exams.

"If the students don't know the material, or can't ramp up to get there, then their professional careers are going to start off on a very difficult note," she says. "It's critical that I build their work ethic and their technical skills. I can't leave out the ugly or hard parts of the material."

She balances that toughness with detailed, step-by-step instruction through complicated accounting problems, some of which can take more than an hour to complete. She regularly works through the problems herself before class, so she knows exactly how to guide students through the work. She says that diligence has been key to her teaching.

"When I was leaving the private sector to come back to Dal, one of my good friends teased me: 'Joan, you'll never be able to do this,'" she recalls, with a laugh. "He said, 'You just know how to do things, and when someone doesn't know, you're not very patient.' That cut me to the quick, and made me really sit back and always consider how I explain these problems to others.'"

She's particularly inspired by opportunities to help students that need a bit of a push to achieve their potential.

"The people who get it immediately, they're not your problem; you expose them to the process and they figure it out themselves," she says. "I'm worried about the people in the middle, who are conscientious and caring and are very hard working, but just need to be shown the right direction. You have to pattern things for them."
A lifelong Dalhousian


Prof. Conrod has always had a strong connection with Dal. She grew up just down the street from Shirreff Hall, came to Dal for her commerce degree, and returned to the university as a professor after earning her chartered accountant's designation. She credits her mentor, the late John Parker, with encouraging her to consider teaching and helping her find her way back to Dal.

"Other than a brief hiatus at the University of Toronto in the early 1980s, I've been here all my life," she says.

During that time, upwards of 7,000 students have walked through her classroom doors: most of them excited, some of them scared, all of them set for a learning experience based around Prof. Conrod's passion and dedication to their success.

"Those years, ages 18-22, are this huge turning point for almost every student we have. They take more responsibility for themselves, accept their role in their own destiny. They put their shoulders back and grow up. And I get to watch that happen."

"Teaching is sometimes really easy, and sometimes really exciting, and sometimes it works better than others," she adds. "But it's always a thrill."