As a professor of Earth Sciences at Dalhousie, Anne-Marie Ryan gets to combine two of her passions: geology and teaching.

Well, make that three passions.
"I really love it when we're all learning together," says Dr. Ryan, of her life-long passion for learning. "My students usually teach me a lot."

That likely has a lot to do with how she approaches her time in the classroom. She asks her students a lot of questions. She tells them stories. She tries to make the material as relevant and connected to their lives as possible.

"I tend to think of my teaching as [a] conversation between my students and myself and between all of us. I want them to be part of this discovery," says Dr. Ryan, this year's recipient of Dalhousie's Alumni Association Award of Excellence for Teaching. The award is the university's top recognition for teaching excellence.
Falling in love with learning

Dr. Ryan's emphasis on creating an environment where everyone feels engaged in the learning process has resonated with students like Camille Malcolm.

"I just fell in love with [Dr. Ryan's first-year geography] course and I think in large part, it had to be Anne-Marie," says Camille, a fifth-year Geology major. "She's such a great teacher and she engages students. She's really good at promoting discussion in her class, which is something that really struck me."

So much so that Camille switched to studying Geology after completing the Foundation Year Programme at the University of King's College. She then set her sights on snagging Dr. Ryan as her honours advisor.

"I felt like I could really learn so much from her and she would be very good at guiding me through it," says Camille.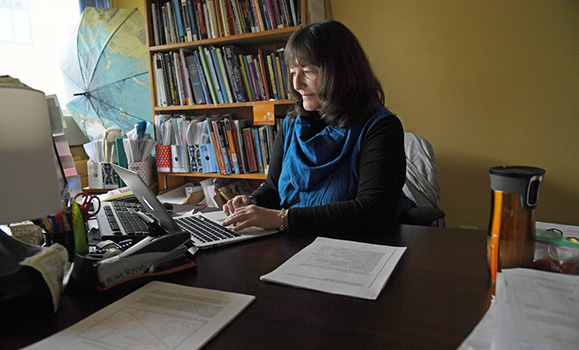 Dr. Ryan says that "being able to share and being able to feel like you can contribute in some way" is what drew her to teaching in the first place. She began her university teaching career with an environmental geology course at Saint Mary's University in the early 1990s. Although it was a relatively new field at the time, she seized the opportunity and has never looked back.

Innovations in scientific learning did not scare Dr. Ryan when she first began her teaching career and they certainly don't frighten her now. Working with three other faculty members, she has helped to establish the Certificate in Science Leadership and Communication within the Faculty of Science. The certificate allows students in the sciences to work with their peers and offer them guidance in communicating ideas, practicing ethical science, and learning about the nature of science in general.
Making a difference for students

Despite all of her accomplishments, Dr. Ryan remains humble. When asked about her thoughts on winning Dal's top teaching award, she turned her attention to the other great work being done by her colleagues at Dalhousie.

"I think there's a lot of really good teaching going on at Dal," she says. "Obviously, I'm really honoured and I find it humbling that I have received it, but there are a lot of people who are also doing great jobs."
Learn more about Dalhousie's University-Wide Teaching Awards.