One of Dalhousie's most acclaimed teachers has been recognized with Atlantic Canada's top award for teaching leadership in higher education.

Anne-Marie Ryan, a University Teaching Fellow in the Department of Earth Sciences, is this year's recipient of the Anne Marie MacKinnon Educational Leadership Award, presented by the Association of Atlantic Universities (AAU).

The award recognizes sustained commitment to the improvement of university teaching and learning, as well as leadership among faculty colleagues in helping create an environment that fosters and supports teaching excellence. Dr. Ryan was presented with the award at a luncheon on Thursday hosted by the AAU together with university presidents from around the region.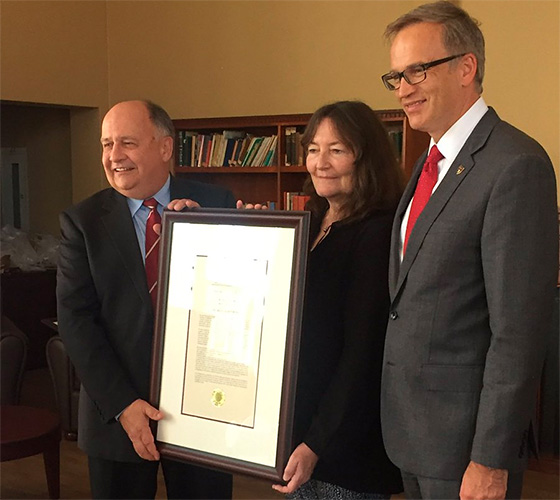 Dr. Ryan receives her award from Memorial University of Newfoundland President Gary Kachanoski and Dal President Richard Florizone. (@dalpres photo)

"It's always nice to be recognized by your peers, but to me this is also an award for the university," says Dr. Ryan. "It's within a bigger community; I don't work in a vacuum. I do so many things in collaboration with others, as part of a team."
A commitment to connection

For Dr. Ryan, teaching is about conversation. It's about recognizing that every class of students is different, and finding ways to adapt and make connections.

Her commitment to making those connections has earned her a reputation as of one of the university's most beloved teachers. In the past few years alone, Dr. Ryan has received the Faculty of Science Award for Excellence in Teaching, the Dalhousie University Educational Leadership Award and the Dalhousie University Alumni Award for Excellence in Teaching — Dal's top teaching award.

"Anne Marie is a great teacher because she instills confidence in her students and encourages us to ask the hard questions," says Fiona Henderson, a past student of Dr. Ryan's.

She's now a research assistant with an environmental firm called Eosense, and credits Dr. Ryan's classes (including her first-year geology class and fourth-year Environmental Geoscience) with inspiring her interest in the field.  

"[Dr. Ryan] taught me the importance of learning how to fail, and how failure is the best way to learn something new. She continues to be a great mentor to me to this day and is the teacher who helped realize my passion in the environmental geosciences."

"Caring teaching"

When she discusses what makes for great teaching, Dr. Ryan — who has both a bachelor and master's degree in education alongside her three degrees in geology/earth sciences — often uses the phrase "caring teaching."

"It's caring about the learning and the individual," she explains. "Sometimes, that means challenging students, moving them past where they are now. And that's one of the things I really like about teaching at this level: we're always pushing people past where they are. Therefore, we have to push ourselves past where we are. And that means I'm learning all the time too."

Dr. Ryan helps her colleagues learn, too. She's supported and expanded a "Community of Teaching Practice" within the Faculty of Science, bringing together colleagues for focused-but-informal gatherings to discuss pedagogy and practice. And she's also a faculty associate with the Centre for Learning and Teaching, helping share her passion for teaching and learning with colleagues across the university through workshops, presentations and university-wide committee work.

Additionally, Dr. Ryan co-developed the Certificate in Science Leadership and Communication offered by Dal's Faculty of Science, and co-teaches its capstone course in Science Leadership. The certificate program helps students consider science in societal and ethical contexts and gives them the opportunity to hone their leadership skills through avenues like mentorship and working with not-for-profit science organizations.

Light-bulb moments

Dr. Ryan's teaching courseload always includes the first-year introductory courses in Earth Sciences, which she says are among her favourites.

"It's exciting because they're excited," she says about teaching first-year students. "They're new, they're open. They're looking for new challenges and don't quite know what to expect. It's always that balance of helping them develop some autonomy but also giving them enough support."

Having been part of the Department of Earth Sciences since 2001, Dr. Ryan has not only introduced hundreds of new students to the field — she's helped them re-think what science is, and what it means to be a scientist in the world today. She says teaching gives her energy, and she cherishes those moments when the power of learning becomes readily clear.

How does she know when that happens, when her teaching is connecting with her students?

"It's watching the light bulb go on; those 'light-bulb moments' are kind of magical. It's the alumni who writes to you several years later and want to connect about something. And it's also the feel in the class. When the class is responsive, when you ask a question and get them talking and the noise level skyrockets — and it's all about the question you raised — you can tell."