Holly Johnson is seated on the couch reading a book in the Indigenous Student Centre lounge. She feels welcome in the Centre and comes here often.
Out the window behind her is the Law building where she'll be attending classes for her minor in Law, Justice and Society.
"I've always enjoyed thinking about justice and law and standing up for the little guy and it complements my prior learning and experiences," she says.
Exploring her options

She talks about how much she wants to do while at Dal. In addition to the minor, Holly is currently working toward a major in English but she's considering Social Work, either in addition to or after her current degree.
"I haven't really figured out whether I'll get my BA and my BSW. We'll see how that works. If it means I'm going to be in school forever," she laughs, "I might have to make a choice. I'm not sure which one I want to complete first."
Holly is motivated by her desire to help others and she'd like to weave the perspective she's gained from years of experience volunteering with not-for-profit organizations into her university degree. In the meantime, she's happy she can continue lending a hand while on campus.
"I just really believe in helping out and there are a lot of organizations through Dal that I can help out with. It makes you a more well-rounded person when you can get into some of those things but it's understandable if you can't, there's a lot to be done at university."
Holly says her profs have been very supportive and she's glad they're challenging her to push herself, mentioning one particular English prof "who is really encourging... his guidance is essential to my learning."

A different perspective

As an older student, Holly says her university experience is somewhat different. She says being surrounded by so many younger students helps to keep her young but she also sees opportunities that could ensure older students feel even more welcome on campus.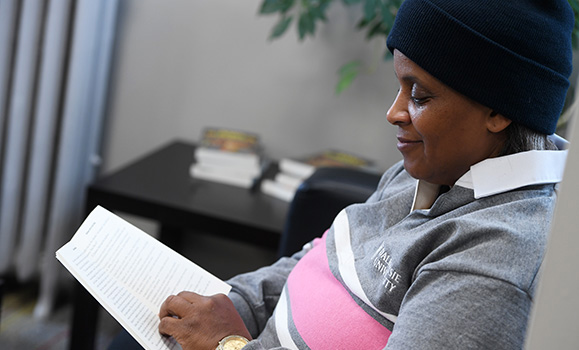 "I'm always thinking about how I can help out in a way that includes everybody," she says. "That said, the thing I love about Dal is that they're always trying to make it great for everybody not just one particular demographic."
Now that she's in the second year of her degree, Holly is starting to feel more comfortable with the routine and has begun looking around at other things that interest her on campus. She'd like to explore her love of athletics, for a start.
Discovering community

She's also become a regular at the Indigenous Student Centre. In addition to a quiet place to study, Holly feels a sense of community in the space and is eager to learn more about the Indigenous part of her heritage.
"I can't say enough about Michelle Graveline [the Indigenous student advisor]. She's so accommodating to students, faculty and staff," Holly says. "I come here to study, relax, print stuff, work on the computer, and I'm also able to talk about issues related to Indigenous culture. I'm not fully knowledgeable about that side of my culture but I'm trying to learn by asking and observing.
Holly also enjoys taking part in the monthly Friday Night Feast that's hosted by the centre. It gives her an opportunity to get together with the community and make connections.
"It's a feasting of the culture and a coming together — a gaining of unity and strength," she describes. "It's also a different way of thinking about food. It's about giving thanks to the earth and the animals that provided it. And it goes beyond being thankful — eating only what's necessary to eat. No wasting. You don't take things for granted. You have food today but maybe you won't have food tomorrow. So, be blessed and thankful for what you have and the bounty you can share."