[Spoiler alert: if you haven't yet watched the Great Canadian Baking Show finale, read no further!]
Life is still sweet for Dr. Sachin Seth — and not just bittersweet. He put his baking skills to the test on the Great Canadian Baking Show, and emerged not quite on top, but as one of three supremely talented finalists.
Now that it's all over, will Dr. Seth return to a more sedate Clark Kent-like existence, with his "Superbaker" alterego only making appearances in his kitchen at home? Or has life been transformed into something sweeter and richer by the Great Canadian Baking Show experience? 
Dal News: Congratulations on reaching the finale! There has been a lot of excitement in the Faculty of Dentistry and beyond. What has this period of viewing the show — and watching others view the show — been like for you?
Sachin: It has been great fun to watch the show from an outsider's perspective. When you are being filmed, you are exposed to everything in a very unedited version. There are all the multiple takes and everything that goes on behind the scenes to film a show. So, watching it in its edited format, all cleaned up, gives you an appreciation for just how excellent the producers of the show are. They take hundreds of hours of footage and turn it into a 42-minute show that tells the whole story. That was fascinating to me.
At the same time, everything you see in the show is 100 per cent real. There was no drama on set. There were people giving glances, for sure, and it was funny to see a lot of my glances at certain individuals. Certainly, in a very friendly way, Andrei was a nemesis of mine. Every time they were judging him they would show me looking at him. Those were the things I found very entertaining. I thought I was true to myself, but it is funny to see what you become when you have the camera in front of you.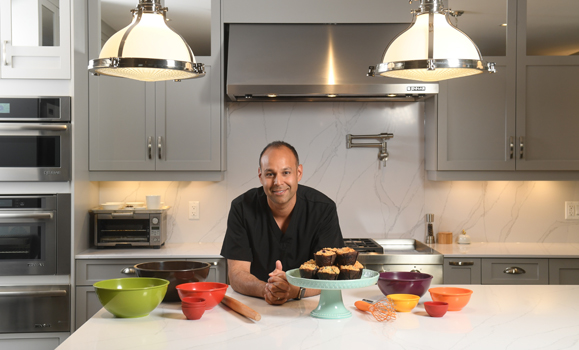 Dal News: When we spoke back in September, you had to protect the confidentiality of the show. Are you able to reveal a bit more of what it was like behind the scenes?
Sachin: For two of the baking challenges, we certainly had an idea of what we were going to be making and so we could line up the ingredients for what we would be doing. For the technical — the middle challenge — we had no idea, no clue. We literally picked up the gingham cloth and . . .that was it. Go for it!
I think having a preconceived knowledge of those technicals is not helpful, because you go into it with the bias of how you may have seen it or made it in the past. It's not necessarily what the judges want. For example, the technical for the finale was a princess cake. When I have seen these, I saw them as being a particular colour and I saw the rose on top in a very particular manner and the filigree pattern in a very particular way. And that was not exactly what the judges were looking for. If I had had no preconception, I might have done it differently.
With the technical, there is very little direction about how things should look. The recipe may say "pipe a filigree pattern". But you don't know where, you don't know how much, or how big. Or you might be told to "create a rose", but you don't know if it's supposed to be a realistic rose or something more playful like a ribbon rose. Megan certainly felt that she did better on the technicals she had never seen before and I get that. It was better not to know.
Dal News: What was it like on the evening before the final show? Did the three of you get together or did you spend the time alone mentally preparing?
Sachin: The night before the show we were pretty tired. Between the second to last show and the last show we had a grace period so that we as bakers could collect our thoughts and so that the production team had a chance to reset. That evening the three of us had some champagne to toast the event and I think we had some pizza and just chilled out.  Our mornings on the show started very early. We would be on set by 6:30 to take advantage of the cool of the day and we were there until 8:00 in the evening.
Dal News: What was your worst moment on the GCBS and your best?
Sachin: My worst moment on the show was the international week showstopper. I felt so defeated by that stupid sphinx. That was such a tumultuous time in my life because we were in the middle of creating the group practice model and I was knee deep in it. The dental school was my priority, but the point where I cracked a bit with all the balls I had in the air was with that sphinx. But I made it past that, thank heavens.
My best moment was my star baker win with the apple basket. That felt pretty darn good! The mirror glaze was also awesome and it was so much fun to do. But the first star baker win was special, so I'll say that was my best moment.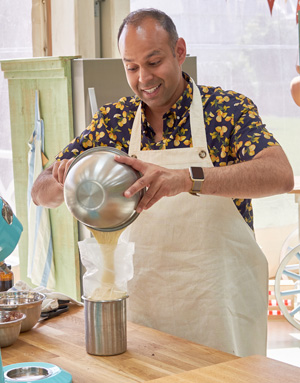 Dal News: As a viewer, it looked like the assignments became more and more challenging. Was this the case?
Sachin: Absolutely! They got exponentially harder right up to the finale. Some things appeared simplistic, but the time we were given and the amount of work required. . . Those jelly rolls in the finale pushed me to the limit. I barely got them on the plate and some of my decorations were falling off.
Dal News: You never looked stressed on the show until the penultimate episode when you said, "it's a whole new level of crazy," and Julia observed that it was the first time she had seen you sweat. Was that the crepe cake?
Sachin: Yes, it was very tight on time. To make 24 crepes was a lot of work. I had made elements of the cake before, but I hadn't made a fully decorated one.
Going into the show, I was aware that if you practise something to the point of perfection, it can look rehearsed. And when it comes to being creative, you want to live in the moment and be creative. I never broke a sweat as I went along because I was able to roll with the punches. If you try to be more scripted, it's harder to navigate through things not working out or things you can't control, like the heat.
Dal News: Many of the bakers found they were asked to make things they had never heard of before — let alone baked — but you didn't seem surprised by anything. Were you already familiar with all the techniques prior to the show?
Sachin: I think I have some very strong foundations in pastry and baking that carried me through very well. The challenges on the show certainly tested my knowledge of pastry arts, but I felt that I was strong in those. It meant I could relax and focus more on the creative side of things, which is very important to me. After all, we eat with our eyes first.
People were always excited to talk to me after an episode, but the ones where they said "you killed me — I wanted to eat that so badly" were the breakfast basket with the croissants and breakfast buns and the canapé platters with the butter chicken vol au vents. . .I actually got hungry myself watching that!
Dal News: What was the item you found the most challenging to make?
Sachin: The technicals were all very challenging. One of the most difficult was the daifuku mochi, with the red bean paste, the rice flour dough, and the strawberry. Trying to get that right was tough. And the joconde cakes took the cake, so to speak! Those were technically challenging, but timewise – I don't know how they expected us to get that done in the time. It was near impossible, partly because the heat in the kitchen was so hot. At a normal 21° C room temperature, something with gelatin will start to set up — to gell. But it was pushing 40°C in that tent. There was no setting up. And the freezers we were given weren't much help. At home, your freezer has lots of frozen food in it, so it maintains a level of cold. We had empty freezers and they were struggling in the heat. You just didn't get the cold you sometimes needed. But those joconde cakes are going to be part of my repertoire for sure. I'm not scared of them!
I actually looked forward to the technical because I love being challenged. One thing I have discovered about myself is that there is nothing I can't do. I want to impress upon my students and other people who come into my life that they can do anything they want. Being on the show totally solidified that for me. I don't have any baking expertise other than what I do at home and I've never been in a baking competition — or in any real competition — before. Don't let anyone stop you because you don't have this, that, or the other thing. You can learn anything you want. It is quite a life lesson. When I see my dentistry students trying techniques for the first time, I tell them "don't worry, you can do this." I hope it's inspiring for my students to see me doing this and I hope they believe they can master the skills they need to become dentists.
Dal News: Do you feel like you learned more about baking as a result of being on the show?
Sachin: The judges gave tweaks about flavours but no real advice on techniques. We didn't really interact with the judges after they stopped judging. It was very fair like that.
But I learned things through this show that I probably wouldn't have at home. I had never made a mirror glaze prior to the show, or vol-au-vents. I've discovered that the more technical something is, the better I tend to be at it, because I like to break it down and analyze it. It's part of my profession. For me, the harder the dental procedure, the happier I am, because I like breaking the challenge down into digestible bites. I like having to get one stage right before moving onto the next one. Baking and pastry are the same. There are times where you have to make sure a stage it is 100 per cent accurate before moving onto the next one.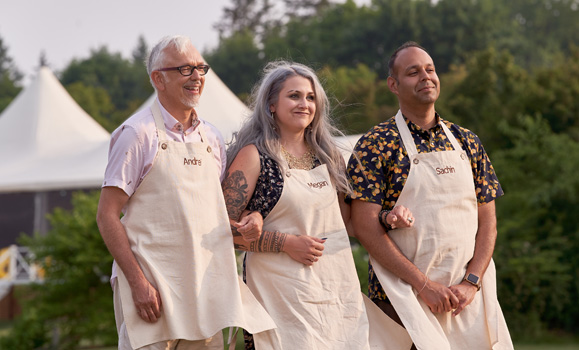 Dr. Seth with fellow finalists Andre Godoroja (left — the season's champion) and Megan Sasiewich.

Dal News: When the three of you were standing arm-in-arm in front of the judges waiting for the result, what was going on in your head?
Sachin: Many things go through your head when you're standing there. Number one, you are just exhausted. It was like a prison release because you don't know what to do with yourself. You almost want to collapse. But you've got to be "on." There are interviews to do, families are there, and everyone is excited and happy. So as you stand there, you're feeling exhausted and then there's the thought "maybe I have a chance at this". You have butterflies in your stomach and then when you hear the words, it is, for lack of a better description, just a release. It's over.
Dal News: Now that it's over ' both the filming and the viewing — what does that mean for you?
Sachin: One big part of this process for me was getting used to social media, particularly Instagram. I try to post semi-regularly without being too obnoxious. Now I'm trying to decide whether I continue with it or just stop, because social media is not my thing.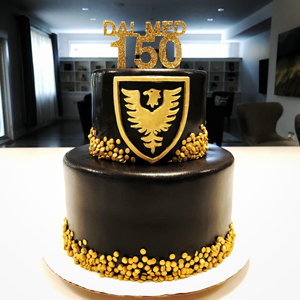 But I have a bit of a following. People seem to find pleasure in seeing what I'm baking, to the point where I'm getting custom orders now, including a cake for one of the Dal medical school's reunion parties (left). I don't think it's a secret that black and gold run through my veins. I'm a huge Dalhousie fan, so making that cake was such a joy for me because it's my alma mater. I'm also getting asked to make cakes for events, and even go to children's birthday parties and decorate cupcakes with the children. I am first and foremost an educator and a dentist, but if I can accommodate a request I certainly will.
People have been asking me if I would give up dentistry to bake. But baking is something I do for enjoyment. It's my stress reliever. When you make something that is supposed to be your hobby your work, it unfortunately no longer remains so fun. So, I don't think I want to make that trade. Baking is still something I want to do to relax. I don't want to make it the enemy.