Management student Trevor Silver is busy setting up his tREv Clothing pop-up shop in the Student Union Building. The booth is full of colourful t-shirts, caps and stickers featuring the core principles that have inspired and motivated him.
"When I meet somebody I'll say, 'Have you heard of the brand?'" Trevor explains. "I always have my hat, so I point to my hat and say, 'It's T-R-E-V, which stands for trust, Respect, Educate, value.' You gotta trust yourself, respect yourself, educate yourself and value yourself and others to succeed. And it says 'success' on the strap because if it's on your head, it's on your mind: success."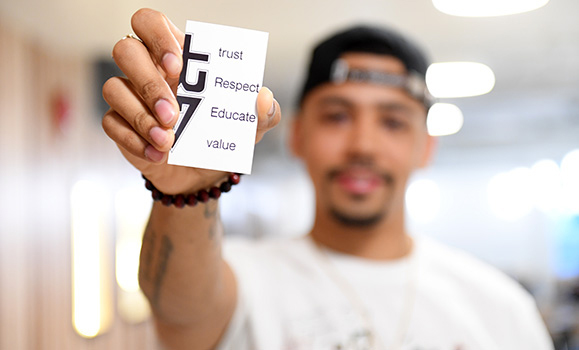 These days, Trevor definitely has a lot on his mind as he balances business success with finishing his degree.
Motivated to try

Going to university wasn't something Trevor ever considered while growing up. Then, his cousin went through Dal's Transition Year Program (TYP) with the plan to pursue Architecture. At the same time, his history teacher began encouraging him to give university a try.
"I had no plans for coming to university at all but my older cousin was my inspiration to think I could do this," he recalls. "And if it wasn't for Ms. Ryan, the teacher who motivated me, I would not be at Dal today. It wasn't in the books until then."
The Transition Year Program began at Dal in 1970 with a mandate to "increase the access for and the successful participation of Black and Aboriginal students at Dalhousie University." Generations of students who have been supported by the program have gone on to accomplish their academic goals. Trevor agrees it was a game changer. "I wouldn't be where I'm at today if it wasn't for TYP."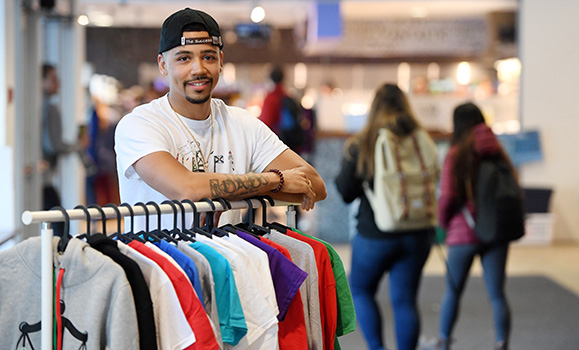 When he got to Dal, Trevor had his heart set on studying Law. Because Law is a professional program, it requires previous university study so, after completing TYP, he chose an undergraduate degree in History in honour of Ms. Ryan. But he kept his options open — duing his first few years, Trevor took lots of different courses that allowed him to explore his varied interests. One of them was a Management course.
"I did history for three years and then I took a business class in my third year and I thought it was so cool! I don't know why I didn't take it before," he recalls. "After that, I decided to switch to Management and did two years of Management. Then I got accepted to law school."
Letting go to follow a dream

For all intents and purposes, getting accepted to Law, meant Trevor had reached his goal. But after his first year of courses and a summer placement in a law firm, he started to realize that something wasn't quite right.
"Becoming a lawyer was my whole plan — I thought if I'm going to go to university, I might as well aim high," he says. "But when I got there, I wasn't feeling it. It wasn't for me. I was kind of devastated because it was my goal since I started, that's like seven years of working."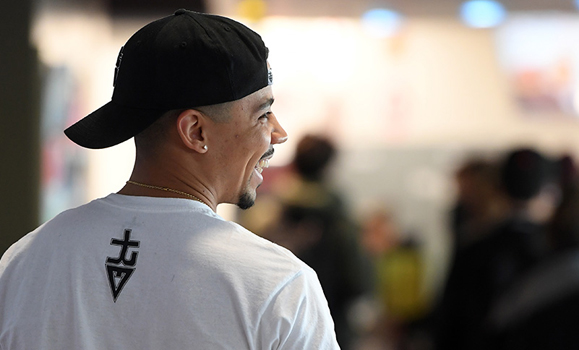 Fortunately, at this time, Trevor was also beginning to doodle designs. When he came up with a design that represented the crucial balance between work, money, career and family, love, friendship, he knew he was on to something. He decided to use the design he'd created for a chain a few years before as the logo and that's when tREv Clothing was born.
Putting in the work

Now, back in Management, Trevor plans to finish his degree by 2020. He knows it'll be a challenge to keep up with school while promoting the brand but he's determined to make it work.
"I've got another cousin, a younger cousin, who's studying to be a vet or a dentist, so we've got each other to stay in line. And that's why I'm not quitting school," he explains. "I appreciate TYP giving me the opportunity and if my cousins are sticking it through, I've got to stick it through too. Just because I didn't finish law, I've still got to get a degree."
While Trevor's inspiration comes from home — from his grandfather, his cousins, his high school teacher — along the way he's discovered that the drive for success really does come from within.
"If you're still living, there's nothing that can stop you — even when you're down and out," he says. "I work on it every day and I work on the brand. I find it's from putting in the work. Like exams and stuff: the more work you put in the more confidence you have. If you never do it, you won't be confident enough to know what works and what doesn't."