When Thomais Maniou came to Dalhousie last year she knew she wanted to get the most out of her university experience — something beyond just working towards her degree in biochemistry and molecular biology. The trouble was, she wasn't sure what "the most" was for her personally, or what she needed to do to find it.

Earlier this term, she decided to go to the fourth floor of the Student Union Building and explore the Stay on Track program, a Student Affairs initiative facilitated by the Bissett Student Success Centre. Open to all students in their first or second year, the program uses the Clifton Strengths assessment tool to identify their individual talents. They are then paired with a student success advisor to develop goals for university and beyond.

Meeting with her advisor in the Centre was Thomais' first step to figuring out exactly what the "most" was she was seeking, and how she could make it happen.

"The program has helped me a lot at articulating my goals," says Thomais. "When I first started it, I wasn't involved in campus activities or societies, and I felt disconnected from the Dal community — partly because I felt like an outsider being from another country."

While it didn't bother her initially, Thomais started to realize it was taking a toll on her mental health. Finding it difficult to connect with peers who shared similar interests and goals, she began withdrawing even further from university life outside of her courses.

"It was Terra, my student success advisor, who helped me find the courage to reach out and get involved with different societies on campus," she says. "And she helped me figure out which of these societies mattered the most to me, so I could prioritize."
Strengths lead to success

Terra Bruhm, Thomais' advisor, says the key to helping achieve that success is by making good connections with students and working with them to explore their strengths and passions.

"By giving them a chance to tell their story, I can better understand where they're coming from, where they want to go, and what they need to get there," says Bruhm. "We need to understand a student's lived experience. What have they enjoyed studying in the past? What do they feel they're good at? What do they see themselves doing in the future? What resources do they have and what supports do they need? We tailor our work to meet the individual needs of each student."

Thomais says that working with Terra has helped her discover who she aspires to be and how she can overcome obstacles to achieve her goals. While she has always wanted to have a wide variety of interests and hobbies, she doubted that she would be able to follow through on many of them if they seemed to be contrary to one another — such as wanting to be a scientist while feeding her passion for creative writing at the same time.

"The program has taught me that these interests don't have to clash and can complement each other to make me a better person and produce work of real value," she says. "I'm learning that as I challenge myself more, I will encounter difficulties a lot and I won't always get the best results. But these obstacles don't define me or my potential, and can actually be great learning experiences that can help me grow."

The growing confidence that Thomais attributes to working with Terra has enabled her to move out of her comfort zone and explore new experiences on campus. Since starting the program she has become involved with the Harry Potter Society, Sodales, Dal Writes, and the Biochemistry Society. During Study Break, she also plans to volunteer for Let's Talk Science.
National and international recognition

It's not just Thomais who is singing the praises of Stay on Track. Along with the other six streams that make up the entire On Track suite (Register on Track, Start on Track – Online, Start on Track – On Campus, Back on Track, and Career on Track), the program recently received the Outstanding Advising Program Certificate of Merit Award at the NACADA: The Global Community for Academic Advising annual conference in Phoenix, Arizona.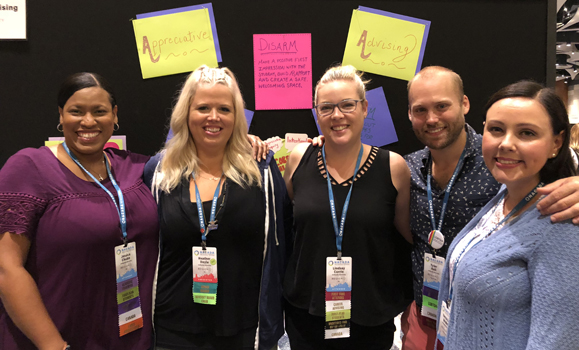 Left to right: Jessica Chubb, Heather Doyle, Lindsay Currie, Tyler Hall, and Terra Bruhm of the Bissett Student Success Centre.

This past June, the program was also recognized by the Atlantic Association of Colleges and University Student Services (AACUSS) with the Award for Excellence in Student Services, given annually to an institution that has demonstrated excellence through the development of a new initiative beneficial to student life.

"I think the recognition is great, but what I think is most important is the impact it has on the students. It's only a program, so the advisors really make a difference on the students who take part," says Heather Doyle, senior advisor on retention and director of student academic success at the Bissett Centre.

The six streams of the free program have been developed to follow students through their transition into university and through their first couple years, while providing the right type of support at the right times — from registering for courses and learning about what to expect in university, to developing strategies for boosting the grades of students who struggle in their first semester.
New paths

New this year is Career on Track, a program that helps students discover their strengths, identify career goals, and find the paths to build up the necessary skills for achieving their post-university goals. It is currently open to first- and second-year students in FASS, Computer Science, and Science.

Also new are the On Track Microbursaries which provide up to $500 in emergency funding for first- or second-year students in financial need. Since it was launched by President Richard Florizone last spring, it has awarded nearly $65,000 to Dalhousie students.

The common thread running through all of the On Track streams is the focus on helping students identify and focus on their strengths—rather than their weaknesses—and using them to find success. But in doing so, Thomais has also discovered that she can turn her weaknesses into strengths.

"I feel a lot less afraid to take risks, to make mistakes, or to get a bad grade," she says. "I take advantage of what I can learn from them, which has reduced my stress levels. It is also starting to improve my self-esteem. In day-to-day life, it's easy to lose track of your progress and focus on the bad things only. By accepting them as an integral part of my growth, they affect me in a less negative way."

For more information about the On Track program, visit dal.ca/ontrack.

Related reading: Supporting Student Academic and Career Success