Student Affairs has been busy this summer transitioning several of its units to better serve Dalhousie students and enhance the academic and career supports available to them.

As part of those ongoing efforts, the former Advising and Access Services Centre has been reorganized into two distinct, yet related, centres: the Bissett Student Success Centre: Academic Advising and Career Services and the Student Accessibility Centre.

The academic advising portion of the former Advising and Access Services Centre is now co-located with the career elements of the former Career and Leadership Development Centre. Situated on the fourth floor of the Student Union Building, the Bissett Student Success Centre holistically integrates academic advising with career counselling, exploration, planning and preparation, and allows students to access both career and academic advising and support in one location, helping them to align their academic goals with their career aspirations.

Expanded student success team
 
The Bissett Student Success Centre houses seven student success advisors. Former academic advisors Amy McEvoy, Pat Schappert, and Patty Shaw, along with four new hires — Terra Bruhm, Tyler Hall, Cheyenne Henry, and Sarah Ready — funded through a generous gift from Dalhousie supporter Dr. David Bissett. The team has received professional development focused on Appreciative Advising, as well as areas such as inclusivity and diversity, career advising and student development theory. Shane Leblanc, coordinator, career programming, and his team of career peer advisors continue to provide career preparation and student employment support and programming as part of the new centre. Jeanette Hung also continues to provide career counselling support to students.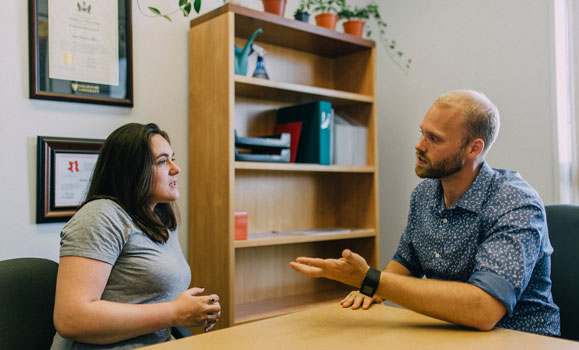 Tyler Hall of the Bissett Student Success Centre speaks to a student.

Leading the team is Heather Doyle, who will oversee the student success advising aspect of the Bissett Student Success Centre as well as the Studying for Success program. Jill Malolepszy continues to oversee the career support aspect of the centre.

"Students tell us how important career planning and preparation is to them, from the time that they apply throughout their university careers," says Anne Forrestall, senior assistant vice-provost, Student Affairs. "Early connections between the development of academic plans and career exploration are important for student success and career preparation. The co-location of these supports adds another layer of intentional and integrated service to our students."

Related reading: Improving access to mental health support for Dalhousie and King's students
Programs aimed at successful student transitions

The new student success team will also deliver a range of programming across the university, such as the newly developed On Track program. Designed to support students throughout their first year, On Track is a series of comprehensive and cohesive programs including Start on Track (early in-person and online orientation activities) and Back on Track (available to students who have struggled in their first academic term).

The team continues to work closely with partner faculties, providing one-on-one advising to first- and upper-year students in the faculties of Science and Arts & Social Sciences, as well as students from other faculties who may be struggling academically or transitioning from other programs or institutions.

Accessibility support

The newly named Student Accessibility Centre continues to support students with needs related to full and inclusive access within their living and learning on-campus environments. The Centre is shifting its focus to student access—a proactive approach inviting collaboration from both students and faculty to improve inclusion. Student accessibility advisors advise and help students to develop and implement accessibility plans that identify both academic supports and individualized success strategies.

Located in G28 in the Killam Library atrium, it now shares the fully accessible space with the Writing Centre, which has moved from the Killam G25. The Mark A. Hill Accessibility Centre will continue to be used for exam and testing support.

Quenta Adams will oversee the new Student Accessibility Centre, within the Student Access and Academic Support portfolio.

The creation of these two centres of excellence ensures that Dalhousie is providing full and wide-ranging access to supports that strengthen the success of our students and enhance the overall student experience.