A designated space dedicated to providing accurate information about Indigenous history and the journey of reconciliation — that's the concept behind the Gord Downie and Chanie Wenjack Legacy Space program.
On Thursday, October 11, a large crowd gathered to officially launch a Legacy Space at Dalhousie University.  The space consists of the entire South Learning Commons on the main floor of the Killam library, and it will be a safe and welcoming place where conversations about the past, present and future are facilitated and encouraged.
"It is a privilege to open a Legacy Space at Dalhousie," said Richard Florizone, Dalhousie's president, at the beginning of the event. "This is a space that encourages education and awareness about Indigenous history, and will serve as a constant reminder to students, faculty and staff of the university's commitment to reconciliation."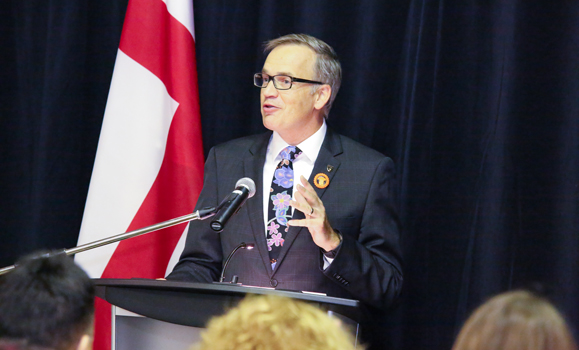 President Richard Florizone speaks at the Legacy Space dedication.

The concept for Legacy Spaces originated with Chief Morley Googoo, the Assembly of First Nations Regional Chief for Nova Scotia and Newfoundland. The idea came to him after watching a Heritage Minute about Chanie Wenjack, and began to take shape during a visit to a Halifax restaurant in 2016. Since then, many Legacy Spaces have opened throughout the province, including at Armbrae Academy, Barrington Steakhouse and Oyster Bar, Cape Breton University, and Halifax City Hall.
Chief Googoo played a key role in selecting the location for the Legacy Space at Dalhousie. The Killam Library is one of the busiest places at Dalhousie. About one million people come through its doors each year — as many as 10,000 visitors daily — with many of them using the learning commons.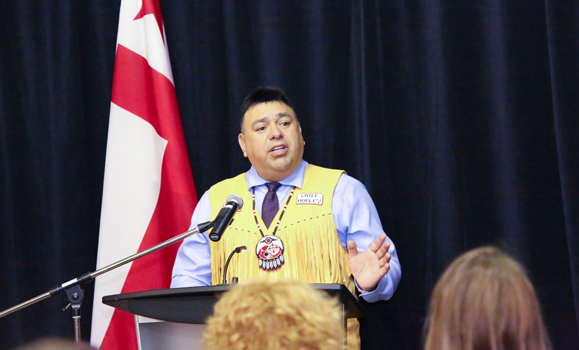 Chief Morley Googoo's remarks at the event.
"This is where the minds are going to be changed, where the students are learning," said Chief Morley Googoo during his remarks at the event. "If we're going to have Gord and Chanie be the gatekeepers of all our stories and be the ambassadors of change, of how and when we're moving forward, we need people to see it, and more importantly, we need young minds that are just learning their careers to be influenced and inspired to do something — whatever their role is going to be."
Located in the Legacy Space will be two plaques that tell the story of Chanie Wenjack; an original poem written by Rebecca Thomas, a Mi'kmaq poet and activist from Lennox Island First Nation, and former Halifax Poet Laureate; and two prints by Mi'kmaq artist Loretta Gould.
The Secret Path

Chanie Wenjack was born in Ogoki Post on the Marten Falls Reserve on January 19, 1954.
In 1963, at the age of nine, he was sent to the Cecilia Jeffrey Indian Residential School in Kenora, Ontario. In 1966, at 12 years old, Chanie ran away from Cecilia Jeffrey, attempting to reunite with his family.  Unfortunately, his body was found beside the railway tracks on October 22, a week after he fled. He succumbed to starvation and exposure.
After hearing about Chanie Wenjack's life and death, Gord Downie began a personal project to tell the story of Chanie Wenjack. It began as ten poems written by Downie (who passed away from cancer in October 2017), as he imagined what it would be like to be Chanie. These poems later became the lyrics to the Juno Award-winning album, Secret Path. An illustrated novel and documentary have also been created as part of the project.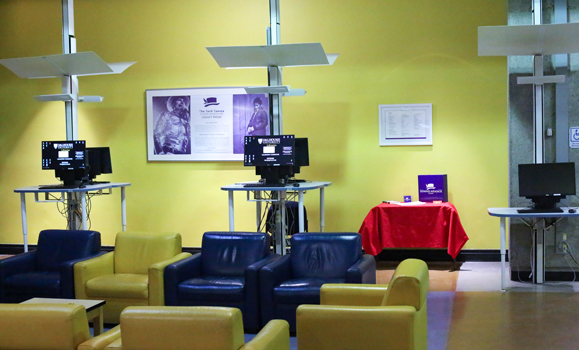 A look at the Downie/Wenjack Legacy Room in the Killam.

The Gord Downie & Chanie Wenjack Fund (DWF) is part of Gord Downie's legacy and embodies his commitment, and that of his family, to improving the lives of First Peoples in Canada. In collaboration with the Wenjack family, the goal of the fund is to continue the conversation that began with Chanie Wenjack's residential school story and to aid our collective reconciliation journey through a combination of awareness, education and action.
For more information about the Gord Downie & Chanie Wenjack Fund and the Legacy Space program, visit the DWF website.
Dalhousie's commitment

The Legacy Space at Dal is being launched during the university's 200th year, in which the "Year of Belonging" is being celebrated. This significant milestone has provided the opportunity for the university to recognize and honour its relationship with and responsibilities to the Mi'kmaq, and the legacy of the land on which Dalhousie sits.

Earlier this year, Dalhousie's Board of Governors approved an Indigenous acknowledgement statement that reads:

Dalhousie University is located in Mi'kma'ki, the ancestral and unceded territory of the Mi'kmaq. We are all Treaty people.
These words reflect the university's past and future, as work continues to incorporate Indigenous education, research and support into the life of our institution.

Consistent with these commitments, Dal has adopted the Universities Canada Principles on Indigenous Education; enhanced supports at the Indigenous Student Centre; permanently raised the Mi'kmaq Grand Council flag on both the Halifax and Truro campuses; and significantly increased the hiring of Indigenous staff and faculty.
In addition, the National Centre for Truth and Reconciliation Hub is located on the Agricultural Campus within the new Student Learning Commons. The NCTR Hub will officially open on November 19.
"Footnotes": A poem by Rebecca Thomas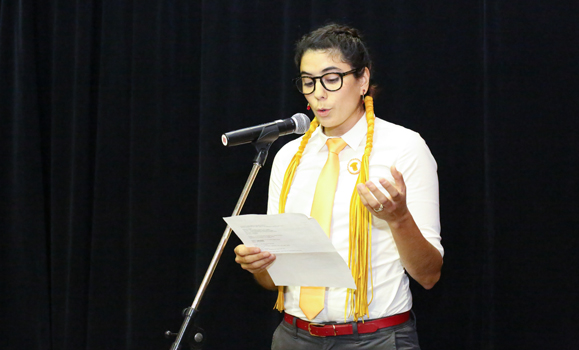 The following poem by Rebecca Thomas, Dal alumnus and past poet laureate of Halifax, is permanently installed in the Gord Downie and Chanie Wenjack Legacy Space in the Killam Library.

Introduction:
The following stories deal with mature subject matter that can be disturbing.
It's a story about kids whose legacy is deserving of something better than the vetted letter sent home,
Lies in cursive promising they weren't so alone.
This story is raw.
It only includes what we saw.
But don't worry, there's hope.
Just scroll down to the footnotes.
 
Chapter 1: The Boats.
Let's fast forward through this part.
A bunch of men thought they could get a new start.
They came to turtle island with great intentions.
To make names for themselves, never stopping to question.
Why we died from all their infections.
 
Chapters 2-6: More and More of the Same Old Shit.
They thought they were better than us.
And we had no power to say enough is enough.
 
Chapter 7: All Indians Must Go to Heaven.
Here, we're going to take some time.
Really delve into the divine.
The intentions of those who took our children.
The ones who said everything about them was forbidden.
It is in this chapter we will spill some serious ink.
Because it is here we need to shift how you think.
Grown men.
The future faces of our money felt like they had some problems,
They devised a national plan targeting children to solve them.
 
Chapter 8: An Exercise in Faith.
At this point, Canada is all in.
We're not trying to trash anyone's religion.
But the country chose to disregard our spirituality.
The crown's rules, beliefs, and distain was our new reality.
Pick a denomination.
Just be sure to pick the correct one.
 
Chapter 9: So many lost lives.
The kids that went in,
Were erased by a system.
They lost the spirit under their skin.
Many disappeared.
Their absence met with tears,
As police or nuns or no one at all confirmed parental fears.
 
Footnote 1 for scope: Chanie Wenjack's last hope.
 
A boy ran away.
Was given matches instead of a place to stay.  
Found unmoving and cold.
He never got the chance to grow old.
 
Chapter ten: We pick up our pens.
 
Footnote 2: story telling is something we do.
But we decided that your style would be the best way to get through to you.
 
Resume chapter.
We begin with unending resilience and laughter.
Survivors dictate their stories to those willing to listen.
Their voices, an additional gift to all they've already given.
The leader apologizes.
Our resolve finalizes.
 
Chapter 11: A Fallen Rock Star Becomes Our Secret Weapon.
Cherished by the masses for his skilled verses.
Dedicated his last breath to our purpose.
 
Footnote 3: He refused to let the world forget Chanie.
Wela'lin, Gord Downie.
Please rest peacefully.
 
Chapter 12: We Will Not Be Shelved.
Determined to be heard,
We push back with protests, ceremony, love, and poetic verse.
This part is new,
Settlers didn't rehearse.
We help them along, showing them baby step first.
 
Footnote 4: we will show them patience. Give them an opportunity to do more.
But make no mistake,
We will never go back to the way you treated us before.
 
Epilogue:
This section is currently being written.
It comes at your end.
But for us, it marks the beginning.