It's an exciting time to be joining the Dal community.
That was evident all weekend long as hundreds of new students made their way to campus in both Halifax and Truro for Orientation Week. But it was more than just first-year enthusiasm at play — just drop by the Dal 200 sign on Studley Quad for evidence that the bicentennial spirit is making this a particularly exciting September.
More on Dal 200 celebrations: visit dal200.ca
That spirit infused this year's Induction ceremonies, which took place on Saturday, September 1 in Truro and on the evening of Monday, September 3 in Halifax.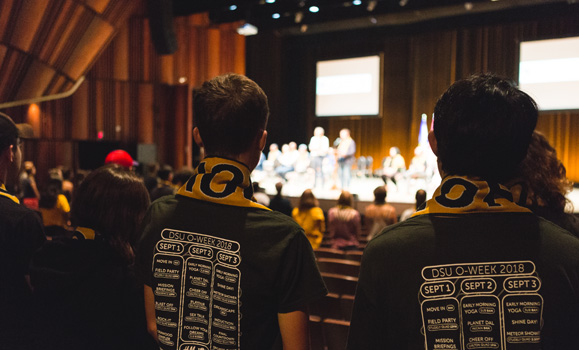 The Dalhousie Arts Centre's Rebecca Cohn Auditorium echoed with that enthusiasm on Monday, as President Richard Florizone welcomed the first class of Dal's third century.
He encouraged students in an inspiring speech at the ceremony to "embrace the life of the mind" and to pay attention to balance in university life.
"It's a short burst of time when you're experiencing so many firsts," he said.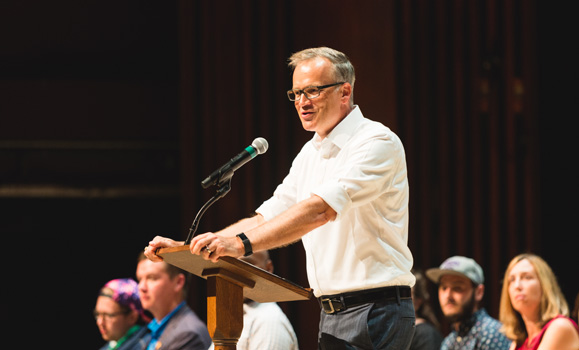 President Florizone said that while university is a dramatic shift from high school, taking advantage of every opportunity is paramount to maximize success.
"Professors here will expect you to think more deeply and more thoroughly than perhaps ever before," he said. "It can be hard work, but if you embrace this opportunity, I promise that this semester will be one of the most transformative experiences of your life."
Following Dr. Florizone's speech, students rose to take the university's pledge, black and gold Dalhousie scarves draped over their shoulders:
I promise to uphold and protect the integrity, good character, and scholarly legacy as well as the culture of respect and good citizenship at Dalhousie University.
A Mi'kmaw welcome

Eyes widened when Aaron Prosper, president of the Dalhousie Student Union (DSU), sang a powerful rendition of the Mi'kmaq Honour Song.
"When we welcome people here to our territory, we sing this song," said Prosper, the DSU's first-ever Indigenous president.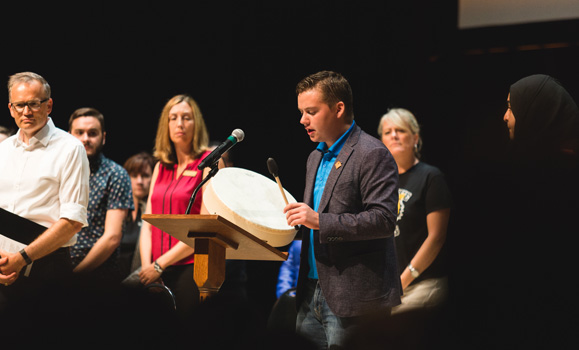 Prosper, who is from Eskasoni First Nation in Cape Breton, told an emotional story of how he came to be rooted in his community and the struggles faced by his ancestors during a dark period of history. He welcomed students to Dalhousie, reminding them that no matter their background, experiences, or studies, they are part of the Dal family.
"No matter where you're at, whether you're off campus or in residence, you are a part of this community," he said.
Defining success – even through "bad days"

Ivan Joseph, Dal's new vice-provost of student affairs, reminded the newly inducted class that university is a mix of good and bad, successes and failures.
Dr. Joseph told a vivid story of a day when he experienced one tragedy after another. Students chuckled as he described dropping an entire chicken dinner in the dirt and shattering a national championship soccer trophy. Though the story was told in a light manner, Dr. Joseph had some serious advice for when life seems to present insurmountable challenges: remember that life is defined by more than a mark on an exam or perfect class attendance.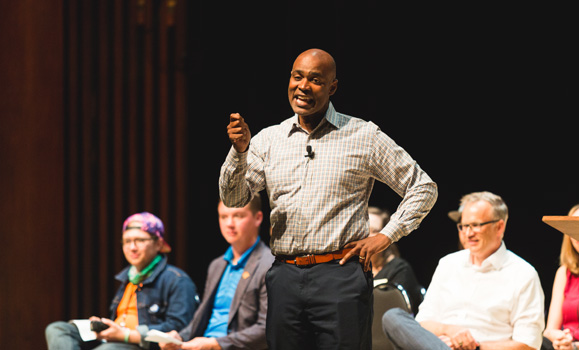 "No matter what you've done and how great your accomplishments are, you're going to have these kind of days," he said, closing his speech with inspiring words for those inevitable bad days.
"You're going to have those moments where you think, 'did I make the right choice?' Those days do not define you."
A fresh start

For first-year student Kierstan May of Toronto, the sense of a close-knit community was one of the reasons she chose to attend Dalhousie.
Despite only seeing the campus for the first time on Monday, Kierstan is eager to explore Halifax and embark on a journey of personal and academic growth.
"[Halifax] seems like a nice community of people, which is important," she said.
She said she is looking forward to beginning her studies in the Faculty of Arts and Social Sciences this fall to get a better understanding of the direction she wants to take in life.
And she's thrilled to be doing so in a city where she knows nobody.
"I'm excited for a fresh start."
Learn more about Dal 200 celebrations: visit dal200.ca