Tyler Lightfoot didn't plan on becoming a data analyst. A degree in English and Psychology, plus years of working in sales and service, do not necessarily point to a highly technical career.

"If you had told me five years ago where I would be today, I probably would have laughed in disbelief," Tyler says. "But when my current position [Institutional Analyst with Dalhousie Analytics] was posted, it immediately interested me.

"The job description not only fit with my education and service experience, but also my love of learning and finding and producing information. Being able to help produce results from evidence found in data was something that immediately attracted me."
Finding a new path


Growing up in the small town of Melvern Square in the Annapolis Valley, Tyler thought he might become a firefighter, police officer or even a chef like his mother. It turns out that his self-proclaimed "obsession" with reading scientific research journals would become useful.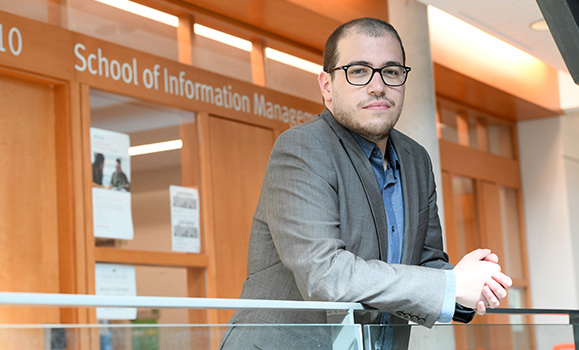 Tyler didn't plan on graduate studies either. Until a co-worker who had recently graduated from Dalhousie's Master of Information Management (MIM) program encouraged him to apply, he didn't believe further education was a possibility for him. He is now completing his second year in the Master of Library and Information Studies (MLIS) program.

"The School of Information Management and the Faculty of Management feels like a family. The encouragement and willingness to help, collaborate and bring people together is wonderful. That level of collegiality constantly pushes me to do better."

He has found a way to link his graduate work to his day job. A conversation with SIM professor Lori McCay-Peet gave Tyler the confidence to apply for a research assistant position with the Consumer Trust and Social License project, helmed by Sylvain Charlebois, Vivian Howard, Tony Walker, Peggy Cunningham, Michelle Adams and Jeffrey Friesen.
Read also: Who do you trust? Dal researchers publish Canada's first social license to operate report
The project attempts to answer if Canadians believe that organizations are trustworthy, socially responsible, environmentally sensitive and ethical. In other words: do Canadian organizations have a "Social License to Operate," or "SLO"? ? The group recently published the Food Retail Sector Consumer Trust Report.

 "There are a lot of highlights so far with this project," he says. "It's the first of its kind to look at SLO in multiple sectors, and this research has given me a new perspective on data analysis and survey administration. I want to investigate that further, so I'm looking forward to writing a paper on this subject as part of a directed reading course. Later, it will hopefully translate into a master's thesis proposal, then a PhD."

Applying his skills

In the meantime, Tyler has also been applying his analytical skills to data collected from the "Impact Together" consultation sessions regarding the strategic direction of research across campus.
Not surprisingly, this work fascinates him.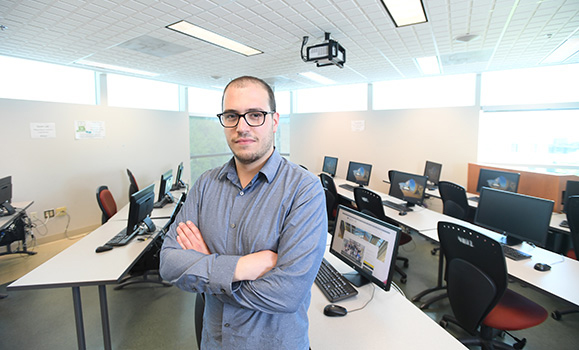 "It has opened my eyes to the incredible research happening here at Dalhousie that I never would have known about. I am proud to be involved with the future of innovation on campus."

It seems his success is a surprise only to him. When asked about working with Tyler, Sylvain Charlebois (Dean, Faculty of Management) said: "Tyler is incredibly open-minded, which allows him to learn a great deal. His work on our seminal SLO project received media attention from across the country, a huge accomplishment for a young scholar."

Tyler's journey shows that you should never be afraid to pursue an unfamiliar path or to chase after whatever captivates you.

"Taking the MLIS degree and getting involved with these projects has opened my eyes to the fact that I have a drive and passion for real-world research, and if I can, I'd like to make a career out of it."