Do Canadians believe that businesses and government organizations are trustworthy, socially responsible, environmentally sensitive and ethical? In other words, do they have what experts refer to as a "social license to operate," or "SLO"?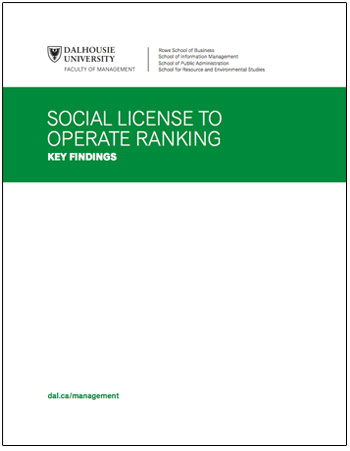 "No one could answer this question," says Peggy Cunningham from Dal's Rowe School of Business. "So we polled a national sample of Canadians."

The results are published today (Wednesday, January 31) in Canada's first Social License to Operate report.

Roots and Mark's were ranked highest in the clothing retail sector, while H&M and Forever 21 ranked lowest of the organizations included in the report. In food retail, local food suppliers ranked highest, with Loblaws coming in second and Sobeys last. Via Rail and WestJet were ranked highest in the transportation sector, while Air Canada ranked lowest. Among government departments, National Museums, Parks Canada and the CBC were ranked the highest, while the CRA ranked the lowest.
More findings: Read the full report

Insight into Canadian perceptions

The authors hope that the report will provide valuable insight about how Canadians view the organizations that they interact with most frequently in their daily lives.

"We tried to choose sectors that all Canadians would have experience with," explains Vivian Howard of the School of Information Management, lead author of the report. "Everyone eats, everyone has to clothe themselves and get from place to place, everyone deals with the government in one way or another."

"It fills some important gaps in our understanding of the way many Canadians perceive the performance of companies and organizations," says co-author Tony Walker from the School for Resource and Environmental Studies. "Similar social license studies have been conducted in the past, but they have typically been restricted to just one organization or company and often to just one geographical area. Our study is national in scope, covers several sectors and is demographically diverse."

Cross-disciplinary analysis

It's a complex subject, and addressing it required expertise from the Faculty of Management's four schools which have worked in a variety of areas: environmental assessment, public engagement, corporate social responsibility, and ethics in the public, private and government sectors.

In addition to Drs. Howard, Walker and Cunningham, the report's authors include Michelle Adams (School for Resource and Environmental Studies), Jeff Friesen (School of Public Administration), Master of Resource and Environmental Management graduate Alison Kader, and Library and Information Studies student Tyler Lightfoot.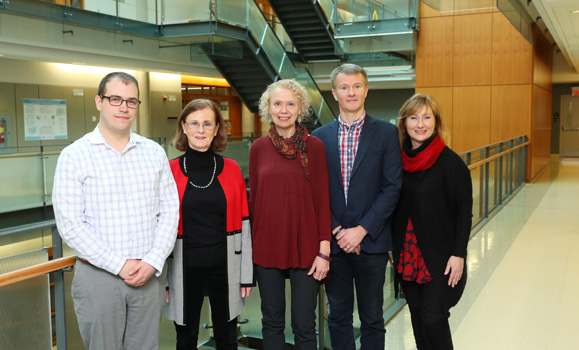 Left to right: Tyler Lightfoot, Peggy Cunningham, Vivian Howard, Tony Walker, Michelle Adams
"It was our first time working on something like this, and we quite enjoyed it," says Howard. "I think we're uniquely positioned in the Faculty of Management to do this kind of study, because we have theright combination of people from our different schools. It made social licensing such an obvious choice."

Connection with identity

The researchers found that Canadians have a preference for clothing retailers with a strong Canadian identity as part of their brand: Roots, Mark's, HBC and Lululemon all ranked highly. Unlike in the food and transportation sectors, where a high SLO ranking didn't necessarily correspond with usage, in the clothing retail sector, respondents were more likely to frequent those retailers that they perceived to be trustworthy and environmentally sustainable.

"The preference for Canadian brands was very striking," says Dr. Howard. "I was also surprised by how volatile Lululemon was. Its messaging has a strong ethical statement: the mission and vision is something we'd be looking for in social licensing. For women and people with higher incomes the company ranked very high. But for people with lower income and for men it ranked low. The company's messaging obviously works for some sectors of the population and not others."

The report will be published annually, and Dr. Howard hopes that in future years they'll be able to explore some of the regional differences that the report points to. For instance, Northern Canadians were much more likely to be critical of clothing and food retailers than Canadians in the rest of the country.

"We can't say anything definitive but it suggests that there's some differences. Hopefully in future we'll be able to get more participation from the North."

Setting the benchmark

Two of the organizations that appear in the report have been subject to public criticism since the data were gathered. Grocery retailer Loblaws, which ranked quite highly in the report, turned itself in to the Canadian Competition Bureau for the chain's involvement in fixing bread prices. H&M, which ranked among the lowest of the clothing retailers included in the report, faced customer boycotts in early 2018 over a promotional image depicting a young black boy wearing a hoodie with the words "coolest monkey in the jungle."

Dr. Cunningham says that the researchers are interested to see how the results differ next year.

"Findings from the poll will be used as a benchmark to measure how Canadians' perceptions of organizations evolve over time," she says. "This year's pilot study is just the beginning."