"Hi, and welcome to Hey OA, a podcast all about osteoarthritis research."
That's how Biomedical Engineering doctoral student Kerry Costello greets her audience each month before she interviews her guest researcher.
Kerry has been podcasting for the Osteoarthritis Research Society International (OARSI) for just over a year now. She started the podcast as part of her roles on the society's Young Investigators and Communications committees to deliver content throughout the year for those who might not be able to attend the annual conference.
"I cover areas of interest that might be of relevance to mainly young investigators but also useful if you were a more advanced researcher and wanted to get an introduction to something a little bit outside of what you normally do," she explains.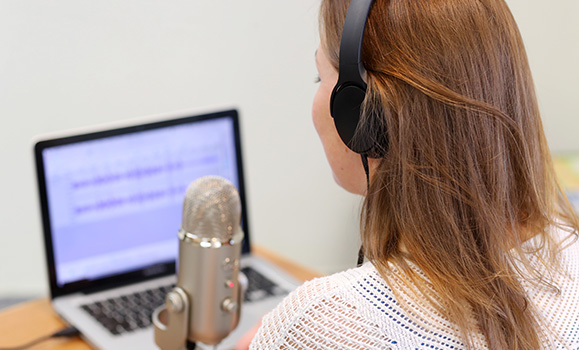 Kerry laughs about how the podcast has made her "famous" at the conference — people recognize her name (and her voice!) — but also relates how the experience has given her a chance to meet and learn from so many varied researchers.
"I meet a lot of cool people," she says. "It's kind of nice because when I want to learn what a person does, I can send them an email and ask if they want to be on the podcast. Then I get to call them up and just chat for half an hour."
Inspired learning

What started as an interest in medicine soon intersected with a fascination with engineering and developed into a solid academic career. Though it wasn't intentional, she's sort of combined her mom's career as a physiotherapist and her dad's training in mechanical engineering.
It seems Kerry's family also helped to inspire her specialization: both Kerry's uncle and dad experienced osteoarthritis, so that got her curious.
"I saw them go from being pretty active guys to having a lot of pain after a day of walking."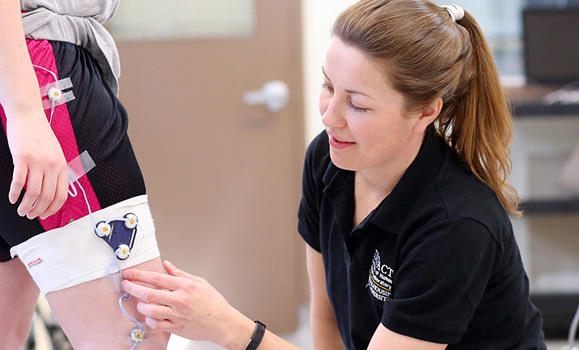 Her interest was strengthened through an opportunity to participate in a Pratt Research Fellows Program on osteoarthritis while she was completing her undergraduate studies at Duke University.
Kerry completed a double major in Biomedical Engineering and Mechanical Engineering before moving on to a Fulbright Scholarship in the Netherlands, a master's degree from Virginia Tech and a one-year research internship in Colorado. "I've been all over the place and had lots of different experiences," she says. "But that was good because I got to see how a lot of different places did things."
Human motion

At Dalhousie, Kerry has been involved with the Dynamics of Human Motion lab run by professors Cheryl Kozey and Janie Wilson. The lab is mostly focused on walking and knee osteoarthritis.
"We found that a lack of unloading of the joint and muscle co-contraction are associated both with being more severe in your osteoarthritis but also," Kerry says, "those who have these patterns are the ones that go on to progress."
Kerry's research is specifically exploring in how early intervention with activity might reduce the necessity for knee replacement.
"It would be great to learn that a nice non-invasive management program like walking a little more or reducing sedentary time, or participating in retraining at the physiotherapist that changes those muscle activation patterns so they're not co-contracting all the time might produce more favourable results."
Good experience

During most of her PhD program, when she wasn't on air or in the lab, Kerry was on the field with the Tiger's Women's Field Hockey team. Her enthusiastic participation earned her an Impact Award for an individual in either club or rec sports.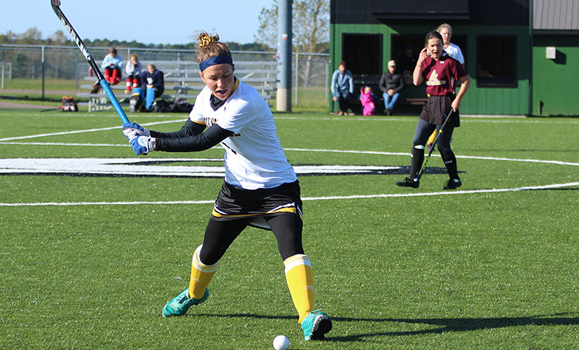 "This past year, I ended up making the league All-Star team, which was exciting and kind of a surprise," she admits. "We also won the Atlantic University Championships for the fourth year in a row!"
Kerry is preparing to defend her thesis this summer and will soon start looking for a post-doc position. Looking back, she feels she's gotten a lot out of her time at Dal.
"With the lab and field hockey, it's been a good experience," she says. "And one thing that I like about our group is that we do go and present at a lot of international research conferences. So, that's nice because we get to share our research and get feedback from the international community. I've been able to meet a lot of people around the world through those experiences and that's how I got involved with the Young Investigators committee and doing the podcast for OARSI."