It has been a long journey from a refugee camp in Nepal to the Faculty of Dentistry at Dalhousie for Kunsang Namgyal, in both physical distance and life lived. And it has been far from easy. But Kunsang is happy and grateful to be back on track and completing his dentistry studies at Dalhousie.

"I feel very blessed to be here at Dal and in Halifax," says the soft-spoken Kunsang. "I travelled with my family from Nepal to Toronto two years ago. Since then it has been an arduous journey to learn English and prepare for the qualifying exams to study dentistry here. But the work has paid off and I am happy to be studying dentistry here in Canada and to feel that I have a future here."

Kunsang arrived in Halifax at the end of March to begin his studies. He Is one of seven Qualifying Program (QP) students — internationally trained dentists who come to study at Dal to become licensed to practise in Canada. He and his classmates, all of whom are from India, will spend a lot of time in lectures and labs until mid-August and then join the third-year class for the final two years of the degree program. Because Nepal is close to India, Kunsang learned to speak Hindi, giving the QP students a shared language in addition to English.

Stateless in Nepal

Kunsang's family is Tibetan, but he and his siblings were born and went to school in a refugee camp at Jampaling, near Pokhara, Nepal. Kunsang's father left Tibet with his parents in 1959, after the failed uprising against Chinese rule in Tibet. As Tibetans in Nepal, the family is stateless, with no right to citizenship or to remain in Nepal permanently. Tibetan refugees cannot legally own land or property or travel freely.

Kunsang is one of five children, all of whom were born in Nepal. After high school, both Kunsang and his older brother Khamsum Wangdu attended the University of Kathmandu's dental school and completed the five-and-a half-year bachelor of dental surgery program there — the first Tibetan students to do so. They were also the first members of their family to go to university.

The brothers were inspired to study dentistry by their grandfather who looked after them when their parents were at work. He died from a serious infection after an unqualified dentist removed one of his teeth with non-sterile equipment.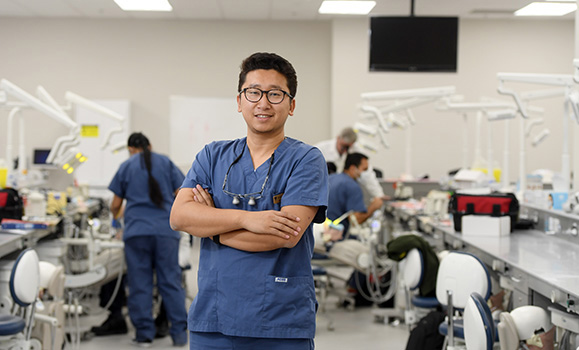 "I was in primary school when my grandfather died," says Kunsang. "His death was untimely. When I grew up, I knew the realities of not being able to afford dental care and it made me determined to study dentistry."

After completing their studies in Kathmandu, Kunsang and Khamsum discovered that, because they had no status in Nepal, the government would not allow them to take the Nepalese licensing exam. It was a bitter and unexpected blow.

"Having been born and brought up in Nepal, it was quite disheartening to hear the government's decision. The news came as a complete shock and I felt frustrated and helpless. I was often upset and saw no end to the hard times. Each day was a struggle, but I worked hard and I never gave up my dreams."

Canada: A new state of being

In June 2015, the two brothers landed in Toronto. They supported each other throughout the months of studying English and preparing for the qualifying exams. Then they both applied to the dental schools at the University of Toronto and Dalhousie; these were the two with the lowest application fees among similar dentistry programs in Canada.

"It is a very expensive process to prepare for and take the exams and then to apply for a university place," explains Kunsang.

Kunsang was invited to Dal for an interview last summer. During that visit — his first trip to Halifax — he met with current QP students, Kash Kohli and Krissy Singh, who gave him a tour and talked to him about the admissions and registration processes to him.  "It cemented my decision to choose Dal."

In November 2017, Khamsum was offered a place at the University of Toronto and Kunsang was waitlisted. Two weeks later, Kunsang received his offer letter from Dal. The waiting was tense, but it had, as Kunsang says, a "happy ending."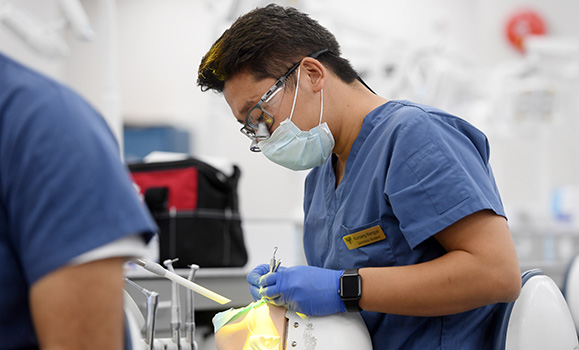 A few weeks into the program, Kunsang admits that he is working hard and noticing the differences between the program here and the one in Kathmandu. "There are a lot of lectures and a lot of hands-on work in the lab. We use more technology here and I like that we have more time to practise."

He also feels well supported. "Dal makes everything easy. On the buddy program, you are matched with a third-year QP student and a regular dentistry student. There was a welcome lunch for all of the new QP students and a get-to-know-you meeting with current QP students so that they could give us their tips and insights."

Not only has Kunsang found a place where he can work toward becoming licensed with confidence, he has found a country. Stateless no longer, he plans to apply for Canadian citizenship later this year.

"As a result of my experiences, I have learned one very important rule," says Kunsang. "Something good is bound to happen in the end when you do not give up. Even since I came here, I have experienced nothing but kindness and respect from Canadians. I am very thankful for being in Canada and I look forward to returning the kindness that I was shown when I first arrived here."