Last week, the Dalhousie Professional & Managerial Group (DPMG) — the association that includes the university's managers and professional employees — held its annual conference under the theme of "200 and Beyond: Faces, Places, Spaces." And when it comes to going beyond, this year's DPMG award honourees certainly fit the bill.
The DPMG honoured four of its members at the conference, as well as at a special luncheon in late May. Three of them received the DPMG Award recognizing exemplary contributions to the university, while a fourth received  the DPMG Early Career Award for Outstanding Achievement celebrates employees with less than four years of service in the DPMG.
Below are excerpts from the citations for each of the recipients.
John Hope
Assistant General Counsel
Legal Counsel Office

Hidden, yet seen, is an apt way to describe John Hope's contributions to Dalhousie University. While the particulars of his contributions must, by their nature, remain undisclosed, the impacts of his commitment and leadership pervade the university.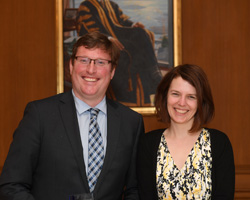 John (pictured with nominator Alison Shea) began working at the university's legal counsel office about ten years ago. He has since risen to become the assistant general counsel, and with the retirement of the general counsel earlier this year, he assumed the leadership of the university's legal team.

The reach of John's impacts is simply limitless. Ian Wagschal, assistant director of minor projects, notes that "a good portion of Dalhousie's success can be attributed to John's behind-the-scenes influence and judgment." And Vice President Finance and Administration Ian Nason concludes that "every major construction project at Dalhousie in the last ten years owes something of its success to John's careful legal guidance and ability to work with diverse stakeholders." Whether it is in his extensive relationships across the university; his approach to sensitive and high-stakes projects; or his engagement with students, John's thoughtfulness and ingenuity are always evident. The complex IDEA project is just one example of John's practical and solution-focused nature: he developed a unique Contractor Safety Management Process widely acclaimed by safety experts as the "gold standard" in institutional safety practices.

John's penchant for refining processes is impossible to miss, and his humour and capacity to forge lasting relationships have been of immense advantage to Dal. In the words of Privacy Officer Alison Shea, these strategic relationships allow John to transform "a potential week-long discussion into a ten-minute phone call."

Said Msabaha
Program Coordinator
Global Health Office, Faculty of Medicine

"A human being with a big heart, and strong intelligence; someone who manages everything with a big smile and an easy nature," is how Jacquie Thilaye describes 'the mayor of Dalhousie'. No, not Mayor Mike Savage or President Richard Florizone, but Said Msabaha, program manager at the Global Health Office (GHO), Faculty of Medicine.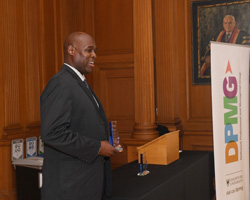 While Said served as an evening supervisor at the Killam Library between 2005 and 2011, he joined the GHO as a program coordinator in 2011. His initial responsibility was limited to supporting international students from Malaysia admitted into the medical school. In no time, the diligence and dedication that stood him out as a supervisor at the Killam Library became obvious at the GHO. He soon began supporting International Medical Graduates entering into clerkships and managing other programs involving students in health studies to participate in exchange programs.

Said has not only fulfilled the mandate of his office — he has gone over and beyond. He has successfully managed the Link Program, an intensive 15-week orientation for international students transitioning into clerkship. He also coordinates a program which deals with the identification and posting of students in Health Studies to undertake courses in Tanzania and the Gambia, even travelling to Tanzania on his vacation to get a first-hand appreciation of students' experience in the country.

In case you are wondering how Said came to be known as "the mayor of Dalhousie," all you need to do is to take a walk with him from the Henry Hicks Building to the Carleton campus and see everyone who stops to say "hi." Shawna O'Hearn, Said's nominator, notes that while "Dalhousie campuses can feel disconnected ... (Said) demonstrates how interconnected we are."
Kim Thomson
Chief of Staff and Executive Director
Provost Office

Kim Thomson personifies professionalism, exudes competence and inspires confidence. While her official position as the chief of staff, Provost Office, might suggest a singular mandate, in fact Kim is many things rolled into one. She coordinates the day-to-day activities of the Provost Office; manages the Provost Committee, the Deans' Council and the Provost's Executive; serves as the university contact and resident expert with the Maritime Provinces Higher Education Commission, and acts as the university liaison with the Education Advisory Board.


Kim played a pivotal role in Dalhousie's adoption of and transition to the Provost Model. Since the model's rollout, Kim has dedicated herself to its smooth operation and constant improvement. For example, upon realising the need for an effective and efficient internal review process, Kim undertook a process of ensuring that executive assistants and managers were trained in the six-sigma method for process analysis. Approval processes for new and modified academic programs are now conducted more effectively and efficiently.

Kim's nominator, Associate Vice President Academic Fiona Black, notes that Kim "employs all her formal learning and continued professional development with a deep wisdom." These words were reaffirmed by Provost Carolyn Watters, saying that Kim, "thinks strategically and leads from behind the scenes, through candid and open relationships across the university."

If you need to get a job done, Kim is your go-to-person. Her peers and others who report to her attest to her availability, geniality and candour. Andrea Heyer, executive assistant and project coordinator said: "What is most notable about Kim as a leader is her accessibility. Kim has been my team lead on several projects over the years, and she has always been willing to offer consistent and valuable insight, and if necessary role up her sleeves and work jointly to 'get the job done'."
Beverly Zinck (Early Career Award)
Coordinator of Access Supports/Academic Accommodations
Agricultural Campus

Students, colleagues and faculty all agree: Beverly Zinck, or 'Bev' as she is fondly called, has a heart of gold. She gives willingly, unreservedly and unconditionally. She gives her drive, vision and passion to the cause of the Accommodation Office at the Agricultural Campus.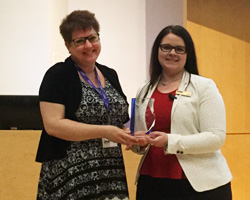 Her deeper appreciation of and connection to the demands of her office is evident in the reforms Bev has enacted and the immense success she has recorded in less than four years. To make access to accommodations services quicker and easier, Bev (pictured with DPMG President Kate Somers) developed a Test Request Form, sends electronic test and examinations notifications to students, and is currently revamping the outdated accommodations database at Truro.

One of the many areas where Bev's engaging, personable, proactive and collaborative attributes came to the fore was in her reform of the scheduling system of examinations and tests. "Bev built the present efficient, trusted system, and excellent collegial interaction with instructional colleagues from scratch," writes faculty member Nancy Pitts. "For this vision of 'team-ship' alone, Bev would be deserving of recognition".

Whether it is in her scanning and emailing of class notes to students, her last-minute adjustments of her personal schedule to accommodate a student who forgot the time for a test or examination, or spending late nights, early mornings and weekends to work with students, Bev is always available with refreshing calmness and assuring demeanour.

"Respect is at the core of Bev's leadership style," writes nominator Carolyn Bartlett. "It is ingrained into her personality and it becomes pervasive with students and colleagues she interacts with daily."