It was referred to as an "unprecedented mortality event."

Last summer, a large number of North Atlantic Right Whales were found floating in Canadian waters. In order to ensure this never happens again, the Government of Canada has implemented various protection measures to reduce the threats and base their decisions on the best information possible.

"Our government is committed to the protection of endangered species, and will continue to take all appropriate actions to reduce threats to the iconic North Atlantic Right Whale and help ensure the survival of the species," says Minister LeBlanc in a news release.

On Wednesday, June 6, the Honourable Dominic LeBlanc, Minister of Fisheries, Oceans and the Canadian Coast Guard, announced a new interactive mapping tool, developed by Hansen Johnson, a PhD student in Dal's Department of Oceanography, that displays the recent known locations of the whales as they travel in Canadian waters.
The map displays near real-time whale detection information provided by various partners who contribute airborne, vessel and acoustic glider detections of the North Atlantic right whale.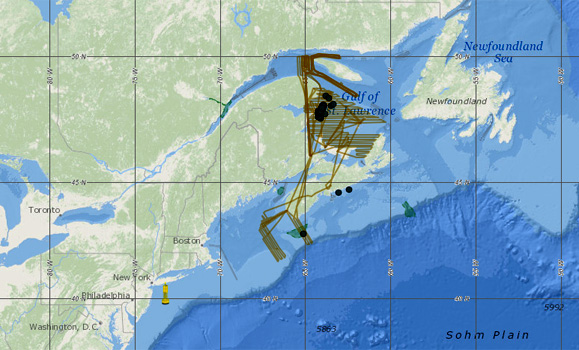 "Protecting Canada's endangered whales from further harm is a shared responsibility, and working with partners like Dalhousie University adds more tools to strengthen these efforts," says Minister LeBlanc.

Providing access the most comprehensive data available

The WhaleMap allows users to view recent right whale detections and also customize the map to display various surveillance efforts and protection measures. By providing this information on the web, partners will be better able to work together and ocean industries and members of the public will have rapid access to the most comprehensive information available.

"In November 2017, Minister LeBlanc emphasized the need to enhance whale detection information and to share the information in a timely manner," says Christopher Taggart, a professor in Dalhousie's Department of Oceanography.
"With our wholehearted agreement, we began to enhance the WhaleMap to what it is now. The map will continue to get better with the tremendous efforts of the multiple-agency survey teams who upload their data as quickly as they can. This quintessential collaboration will help to protect an endangered species."

Read also:
A race against time – saving the North Atlantic right whale
Under the skin – Dal researchers work to determine cause of death for North Atlantic right whales

The project received $57,500 in funding support from the Oceans Protection Plan. The $1.5 billion Oceans Protection Plan is the largest investment ever made to ensure our coasts are healthier, safer and better protected. The plan includes measures that will address threats to marine mammals in Canadian waters and enhance capacity to respond to marine mammal incidents.

"This new mapping tool provides an incredibly innovative way to gather the data we need to help protect the North Atlantic Right Whales," says Alice Aiken, Dal vice-president research. "The research being conducted by the faculty and students involved in the Marine Environmental Observation Prediction and Response Network (MEOPAR) – Whales Habitat and Listening Experiment (WHaLE) project is truly world-class, and we're proud that it is happening at Dalhousie."

For more information about this project, visit the Fisheries and Oceans Canada website.