The year-end student productions from the Fountain School of Performing Arts usually have a historic bent and this season's grand finale is no different. Drums and Organs definitely harkens the year 1818 – the year Dalhousie opened its doors and Mary Shelley wrote her now iconic Frankenstein – but there's also a modern twist.

That's because Drums and Organs, kicking off on March 27, is primarily set in the here and now. The spin on Shelley's famous "Modern Prometheus" story goes even more modern, focusing on a character named Mary (played by Zoe Mackey-Boehner) who is a young Dalhousie medical student with a gift for cardiac surgery.
Read also: Full preview of the production

It's this historic-modern mix, as well as a play-within-a-play as seen through the eyes of eight year olds, that has made the production an interesting challenge for those designing and sewing the costumes.

Stitching the "theatrical creature" together

The modern costumes, as well as the monsters in the children's play — including Frankenstein and his bride — were designed by third-year students, overseen by Fountain School Instructor Anneke Henderson. Fourth-year students like Kaelen MacDonald, doing her honours in Costume Studies, are handling the characters seen in 1818 flashbacks.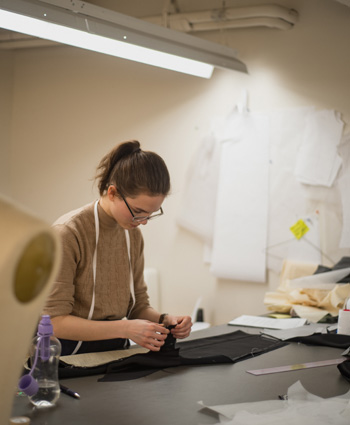 Kaelen (left) is responsible for cutting and stitching a suit for fourth-year actor Ursula Calder, who is playing a man from some 200 years ago, as well as a modern-day character and the bride in the play.

"She is a female bodied person who is wearing a very traditionally male costume," says Kaelen of the challenge of the task.

Kaelen says Prof. Henderson gave students the option of making a period men's suit or women's dress and she was happy to do either.

Months of hard work

Planning for the play's costumes began around Christmastime, with production designer Karyn McCallum bringing forward her ideas on the overall look for Drums and Organs. Working closely with Prof. Henderson, who is also head of wardrobe for the Fountain School of Performing Arts, the costumes were finalized and assigned to students for their term project.

As a cutter and stitcher on the production, Kaelen makes a pattern from scratch – in her case for a suit jacket, waist coat and trousers – and sews the garment, which for a historical costume means paying particular attention to period accuracy.

That's one of the things she has come to love about the Costume Studies program at Dal. "Not only is this theatrical, it's also very historical. Not all programs have that, and I just love history. So it's a happy accident that that worked out."

Kaelen, from Saint John, N.B., says she also loves the modern elements of Drums and Organs considering the social status of women in the early 1800s. Back then, women could not attend her school. But in 2018, they are driving the production of the new play.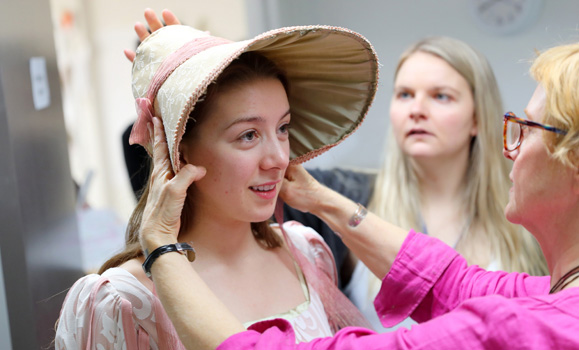 Rebecca McCauley getting fitted for a hat.
Not only are lead characters female, the play was written by Dalhousie alumnus Gillian Clark (BA Hon '13) and directed by associate professor Roberta Barker. (It features a gender-neutral character, as well.)
Read more: Dal alum pens modern twist on Frankenstein for Dal 200

"They're making sure to put women into this conversation," says Kaelen. "I like that approach to it. I think when you're celebrating things, it's very easy to overlook the realities of the time you're celebrating."

Bringing it all together

Prof. Henderson says it's a pressure-filled time for the students as they balance all their obligations while racing to meet deadlines to complete the costumes.

"In the end, we all come together as a team," she says.

Indeed, the wardrobe department spends much of its work toiling away out of sight of rehearsals, really only seeing their work all come together at the end.

"It's hard for us to visualize exactly how our costumes are going to play out on stage until you see all the other elements," says Prof. Henderson. "I find that really exciting. I'm so curious to see what it's going to look like."

Drums and Organs runs until March 31 at Sir James Dunn Theatre. Tickets are available from the Dalhousie Arts Centre Box Office.

All photos Nick Pearce except photos of Rachelle Bunbury and Kaelen MacDonald by William Sinclair.
Drums and Organs full coverage