Two hundred years ago, Mary Shelley published her seminal novel Frankenstein or The Modern Prometheus and profoundly changed the literary world. Across the Atlantic Ocean, the ninth Earl of Dalhousie was inspired to launch an academic institution which would in time become world-renowned.

After a tumultuous and triumphant two centuries, emerging playwright and Dal alum Gillian Clark, has created a theatrical celebration of both the school and the novel. Drums and Organs looks at how human connection has evolved since both Frankenstein and Dalhousie University came to be. 

The modern experiment  

Fountain School professor and director Roberta Barker has found this modern "kaleidoscopic play" to be unlike any show she has worked on in the past – calling it a sort of "jazz riff on Frankenstein."

From the infamous fictional scientist to a Haligonian medical student, all of the characters in Drums and Organs are strikingly fresh in their modernity, and will undoubtedly evoke images of friends, enemies and roommates that all university students have experienced.
Read also: Profile of playwright and alum Gillian Clark

"The show kind of has the feeling of one of those FYP parties I would go to in first year," says the playwright Clark, reminiscing on her first year as a student at King's College. "I remember at the end of one of them, we went into one of my friend's 'tickle trunks'… and we put on these really stupid costumes [and] ran down Spring Garden road at 3 a.m."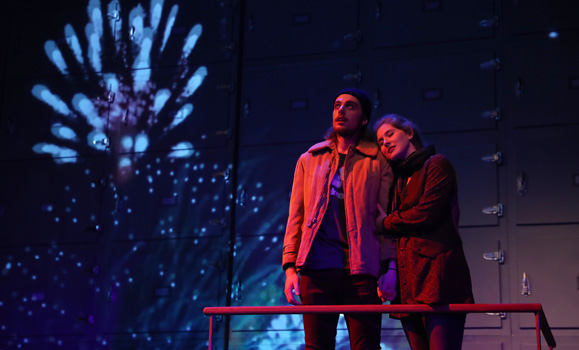 Ian French (left) as Arthur and Zoë Mackey-Boehner as Mary.
Clark wanted Drums and Organs to capture that sort of feeling. "But I also want this show to remind us what it's like to [go] through heartbreak for the first time," she adds, "or lose the dog you had since the second grade, or miss your mum so much that you actually can't even remember how to connect with her anymore —  all things that happened to me at Dal."

The centuries

There is no way to understate how much has changed for humankind over the past 200 years, from technology and science to theatre itself.  

Rebecca McCauley, who plays the role of Alex, a young woman grappling with a diagnosis of ovarian cancer, believes that a "connecting thread over the centuries [is] the fact that humans continue to search for connection." Clark's work showcases a fresh take on the unchanged fundamentals of love and connection.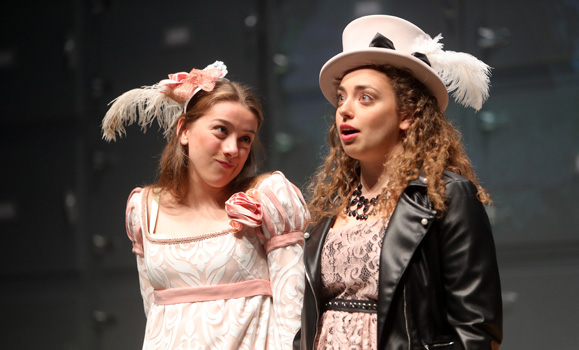 Rebecca McCauley (left) as Alex and Lindsey Ross as Jaime.
"I wanted it to be fast paced and accessible," says Clark, "like you are scrolling through your Instagram feed. It's little snippets of stories that are cut and sewn together to create a larger overall picture of what it means to be [a] human being today."

With characters and settings that hit much closer to home than the worlds of Shakespeare or Chekov, young people will leave Drums and Organs feeling as though this show was written expressly for them. Yet the production also serves as a showcase of connections and love that have transcended through time and space to create a metaphysical fusion of the past and present.

The collective

Putting together a production of this calibre is no short order, and with 80+ individuals working on the project, from costume cutters to sound designers, there are a lot of moving pieces. Not only is working on a Fountain School show a fantastic challenge for students hoping to hone their own craft, but an opportunity for people from multiple disciplines in the theatre to meet and flourish together.

"Working on the show has reminded me of the power of theatre to connect people," says production dramaturge Alexandra Geist. "This show is so special because it speaks to something that unites us all: grief, loss, and most importantly, love… I have grown so much as an artist and a writer from working with such an amazing cast and creative team."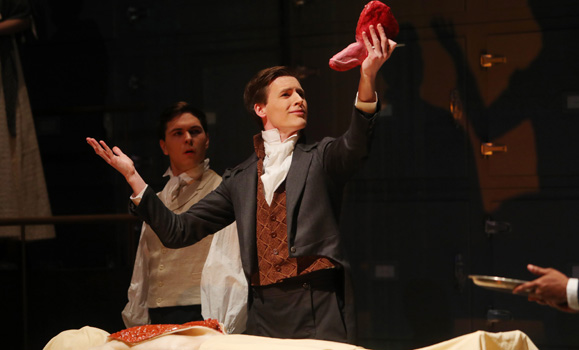 Jonah Campbell (left) as Lab Assistant and Taylor McMillen as Professor.
Drums and Organs also features a six-piece band and an original score by Dal alum Jackson Fairfax-Perry, who has found acclaim as a member of the local band Hillsburn. Claudia Gutierrez-Perez, who plays the role of Angela, says Jackson's score complements Gillian Clark's text extremely well.

"The relationship between the actors and the musician has really come down to listening, which is at the core of this story's message," she says.

The creation

Drums and Organs was commissioned by the Fountain School of Performing Arts as the final show for the graduating acting class. A self-proclaimed "theatrical creature," it's a transfixing amalgamation of creative minds. providing the actors with the opportunity to originate a set of diverse and memorable characters who have never been seen on stage before.

One character audiences might recognize, however, is the role of Dr. Frankenstein, played by Ryan Gallant.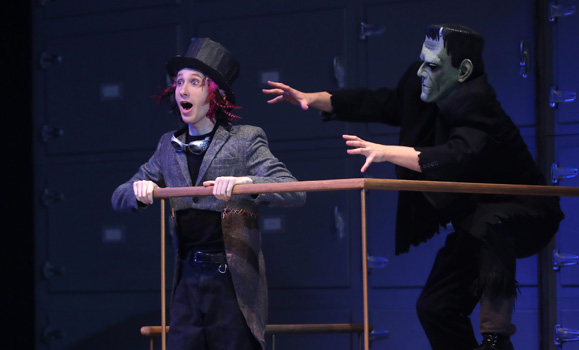 Ryan Gallant (left) as Victor Frankenstein and Jonah Campbell as Creature.
"Dr. Frankenstein has been portrayed numerous times and in numerous ways, says Gallant, "so I found myself trying to really listen to the text and really discovering [it] before I applied any other knowledge to the character."

Gallant's take on the obsessed scientist is a definite departure from canonical incarnations, and finding a unique take on such a well-known character isn't the only challenge the Dal students have been tasked with ably navigating.  

Rebecca McCauley has found that, "It has been a great acting exercise working with contemporary speech and living with characters who speak very similarly to the way that we do." While Zoë Mackey-Boehner's challenge playing the principal role of Mary — a graduate student hoping to be a surgeon and coping with the responsibility and morality of saving lives — was bringing something brand new to life.

"An incredible experience… and an emotionally affecting challenge… I put a lot of pressure on myself, thinking, I am the first 'Mary' to ever perform this… I've been able to find a lot more freedom in realizing [that] the role of the actor is to create."
 
Gutierrez-Perez sums up the unique experience for the actors.
"We've loved being part of the collaborative process; from the very beginning, our feedback has been incredibly valued and helped shape the text that we're working with to this day."

The pulse

Drums and Organs is a show that oozes theatrical allure. As well as her bold projection and costume design, Karyn McCallum has envisioned a stellar set which reaches an expansive 21-feet high. The design is invigorating, props are vivid, and the plot is a rollercoaster that refuses to release you until the very end.
Read also: Behind the seams: Making the costumes of Drums and Organs

Roberta Barker feels that the play has tapped into a universal pulse.

"Life and especially love is something that is passed on from person to person [and] actually surrounds us all of the time… The love that comes out of human interactions is greater and more powerful than all the darkness that comes out of human interactions, and [it] will spread forwards and backwards… Love permeates the play"

As a young playwright, Gillian Clark has a sense of the relevance of the cycles of love within her play and says to any prospective audience. She writes:

As a playwright- I aim to make unique experiences that bring people together.  
So think of Drums and Organs as that.
Make a night of it.
Go with your best friend or crush or nemesis.
Put on your favourite outfit, or your favourite sweatpants…
Grab a burger and a beer from somewhere yummy before because it's Burger Week…
And go to a show. A live experience. A show that has a pulse.

Drums and Organs has live music, amazing costumes, and a cast of fearless students telling a story that is funny, vulnerable and fresh. It is both a timeless tale of connection and moral responsibility, and a modern masterpiece of recycled love that comes electrifyingly alive on the stage.
Drums and Organs runs from March 27-31 at the Dalhousie Arts Centre's Sir James  Dunn Theatre. Tickets are available from the Dalhousie Arts Centre Box Office.

Drums and Organs full coverage