In many ways, it's what Kinesiology student Fola Akpan brought from home that's shaping her university experience.

To begin with, she was home schooled from primary through high school and Fola credits that experience with her success in university.

"In high school I was very much self-taught. I was told what I needed to learn and then tasked with figuring out how to learn it," she describes. "That's very useful now that I'm in university because I can take the information and transform it into the style of learning that works best for me."

Supporting role

That also makes her a great tutor. Fola uses her experience to teach her peers how to find the study and learning skills that work best for them. Her self-directed high-school curriculum, also means she has a deeper understanding of the subject than most.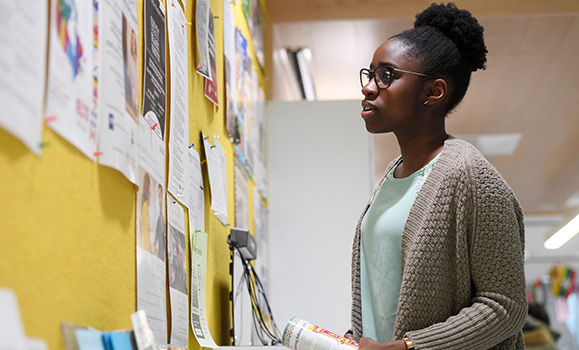 "I learned anatomy and physiology in high school because I was able to tailor my program to my own interests," she says. "And then I came here and did it again. So, I have this really solid knowledge base, which means when people come to me with course material I haven't seen in a year, it comes back to me faster."

Fola likes being a tutor/mentor with the Black Student Advising Centre because it's as much about providing support and encouragement as it is about going over course material. "I didn't know I'd enjoy it so much but after the first couple times, I realized it was a fun experience to watch them recognize how they can excel. I have these proud moments when they figure it out."

Rewarding work

Last summer, Fola had a chance to get involved with the Imhotep Legacy Academy, working with them as a Science Activity Developer. She says there was never a dull moment.

"My job was to create the science activities that the mentors for that program would actually implement," she explains. "I was sitting in a study room boiling stuff and sticking stuff together, like a mad scientist. My favourite project was hot ice. That was a fun one."

Her willingness to jump in and go the extra mile was recently recognized with the Mrs. Nora Hickson Kelly Bursary Award for accomplished students who help their community.

Healthy choice

Fola's experience at home also influenced her decision to study Kinesiology. Her dad is a big proponent of physical activity and healthy living so she grew up very aware of the importance of doing things like going to the gym or going for a walk.

"My dad's parents died at a young age and it would have been preventable with physical activity," she explains. "So that instilled into him the importance of eating healthy and keeping active, and that transferred to me."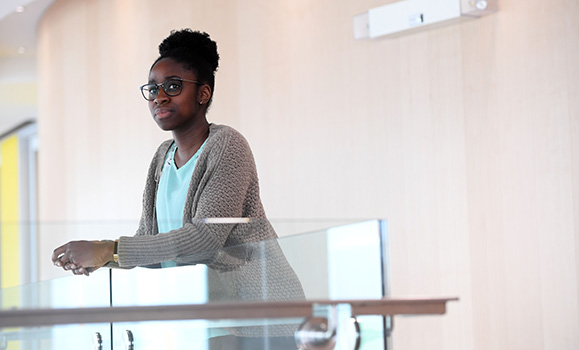 So far, she's really enjoying her Kinesiology program and would have a hard time choosing a favourite among her courses. For example, Fola says, "I think I'm really interested in one aspect of Kinesiology, like the anatomy aspect, and then I'll go to a different class with a different professor who's just as passionate about their work and I think 'Oh! Now I like this aspect.'"

Taking it further

This semester, Fola's discovered a love of research and is considering doing an honours degree in Kinesiology.

"Research isn't as scary as I thought it was," she admits. "It's interesting looking in to things and being able to add to the body of knowledge."

She's currently involved in an independent study that explores how EMG can be used to measure the activation of certain neck muscles. "We're focused on being able to apply that to creating exercise protocols for people using specific machines so they can target really specific areas of their neck."

And while Fola was once quite certain she'd move on to Physiotherapy after she graduates in 2020, she's now thinking about Medical School.

"One of the things about being here is that you get exposed to so much stuff," she explains. "I thought I didn't want to do Medicine before but I've learned there's so much that's interesting to explore about the human body. I'm not sure which path I'll go down."