When you're developing programming for students, who better to plan it than actual students?
That's the thinking behind the three student program coordinators at Dalhousie's Indigenous Student Centre (ISC). The students — Ali Barnaby, Karlee Johnson and William Johnson — may have grown up in different parts of the country, but they share similar experiences of arriving at university from their home communities, and similar reasons for working at the ISC.
"Because I come from a Mi'kmaq community called Eskasoni, First Nation, I felt that it was important for me to reach out to the Centre when I first moved to Halifax in 2014," says fourth-year Medical Sciences student, Karlee Johnson (below).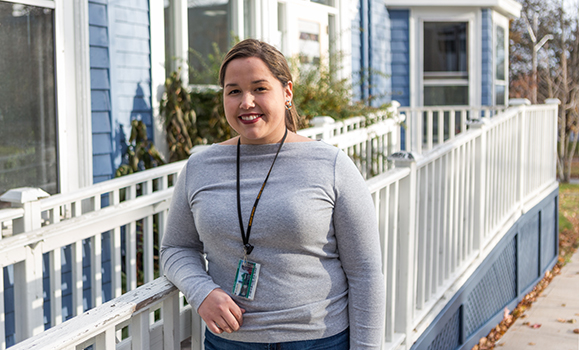 "It was the first thing that I reached out to because I was seeking to feel at home again. I was amazed with the amount of support they offered for Indigenous students, and I was happy that the Centre was there for me especially through the transition process from my community."
Learn more: Indigenous Student Centre website
Ali Barnaby (below) is from the Listuguj Mi'gmaq First Nation, in the seventh district of Mi'gma'gi – Gespegewagi (on the Quebec side of the border from Campbellton, N.B.). Now in her second year of Political Science, she came to Dalhousie after studying briefly at another university — one where she found a tight-knit community of Indigenous students at the university but also a lack of on-campus services for the community. That caused her to struggle academically, so she transferred to Dalhousie and completed the Transition Year Program before starting Political Science.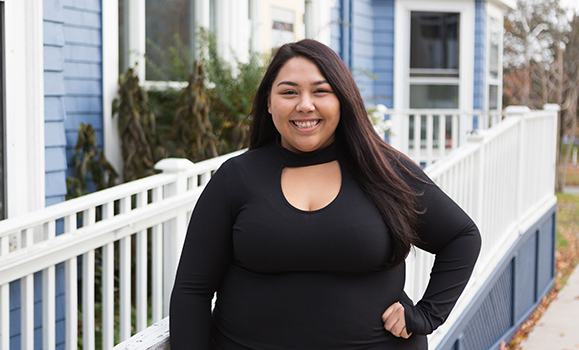 "Michele [Graveline, the Indigenous student advisor at the ISC] is super supportive and always eager to help," satys . "It's an awesome environment to work in. On top of all the great services she's able to offer, we also have a great community of students who frequent the space. It's a great place to make new friends and de-stress after a long day of school."
Finding a home on campus

Fifth-year Kinesiology major William Johnson (below) is from Kepe'k, the Narrows of Our Great Harbour Chebucto, in the north end of Dartmouth. Like Karlee and Ali, he was drawn to the Indigenous Student Centre because of the sense of safe community it fosters on campus — something he says is of vital importance to Dal's Indigenous students.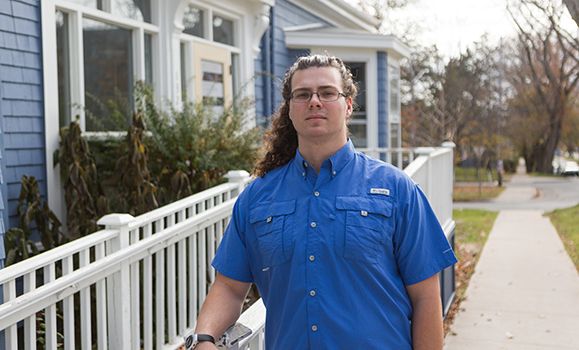 "Many Indigenous students are coming from their home reserve communities and are experiencing culture shock living in the city," he says. "This helps them have a little bit of respite — they run into many other students who have moved from their communities. They also meet students who have adapted and can share their knowledge to make the transition easier."
As program coordinators at the ISC, the three students create events that draw upon their own interests and talents, and complement the larger programs facilitated by the Centre such as the tobacco tie ceremony and Friday Feasts (held on the last Friday of each month).
For example, Karlee facilitated a paint night for Indigenous students on the night before Halloween; Ali is currently working on a mini-workshop series that focuses on the intersects of aboriginal identity; and William has been creating traditional items such as musical instruments, artwork and games for the students to use in the ISC. They also host study hours a few nights a week, until 9 p.m., during which they're available to students who want academic support or to be able to talk to an Indigenous peer about the challenges they face.
"It's important to have them working at the Centre because it provides the work the Centre does with a student perspective," says Michele Graveline (below). "It also gives Indigenous students the opportunity to earn money on campus and gain experience. I want them to take advantage of opportunities that become available to enrich the experience at the Centre and to develop as leaders."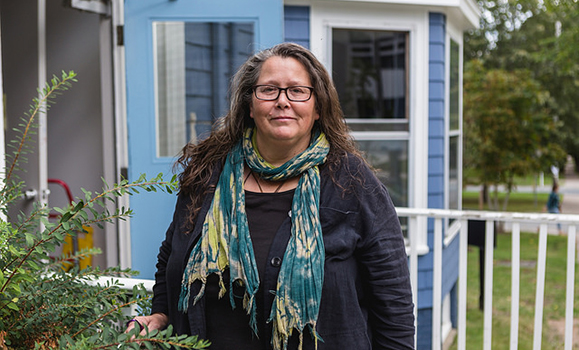 Students helping students

Graveline is hoping to have more events aimed at skills development, public speaking, group work, and strategies to deal with Indigenous peoples' historical legacy in productive ways. This would include various cultural work, such as beading.
"That can be quite helpful as a way to relax, which students need," she says. "But culture can also teach us lessons about our history and we can then imagine where it fits within contemporary spaces and places — basically rooting what we do, making those connections to the land and to the ancestors, but through our modern-day lens."
One of the ways the three student program coordinators hope to foster those connections is by promoting the Mi'kmaq language at the ISC. Ali has a basic understanding of the language, William has been learning to speak it for over five years and Karlee is fluent, having graduated from the first-ever Mi'kmaq immersion class in Eskasoni. Next week she's starting Mi'kmaq conversation classes at the ISC, "to help those who want to learn the language to reach their capabilities."
The desire to help others learn the language is just part of the overall passion of the three students to do what they can to support their fellow students not only with adjusting to university life, but also by strengthening the Indigenous community on campus. And through working at the ISC, they're gaining experience and skills that they can then take back to their home communities and use to pursue their future endeavours.
"Personally, I'm passionate about rebuilding the Mi'gmaq nation," says Ali. "And through this vision I believe it's important to start within communities. My goal is to work with Indigenous communities and continue the work of those who came before me in rebuilding healthy and thriving communities. Some of us are already there — however, some of us still have a ways to go."
Learn more: Indigenous Student Centre website