Falling temperatures and final essays signal the tail end of the fall semester, but for Dalhousie's Architecture students it means something different: it's time to prep for the 22nd Annual Chronicle Herald Holiday Parade of Lights.
Nearly a dozen Architecture students have been hard at work over the last few weeks crafting their entry for the parade, scheduled for Saturday, November 18 in downtown Halifax. The students have taken on the challenge of designing, building and executing a float using the skills they have learned in class.
"We started by asking ourselves, what is the parade about?" says Shaili Chauhan, a student in the Masters of Architecture program and leader of the initiative. "It's about light, so we needed to find an interesting way to feature light."
Architecture student McKenna Young had the idea to focus on the kinetic movement of light.
"We had a few ideas of how to incorporate light. We wanted to do something kinetic, like a pendulum, that has a self propelling motion," says Young. "But it was important for us to be able to understand what we were building and how it works."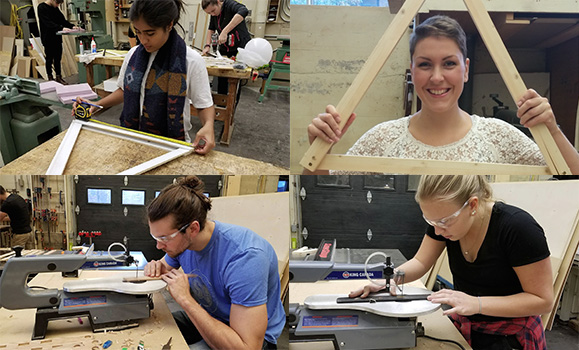 Architecture students at work on their designs.
The idea evolved to incorporate both static and kinetic ideas of light. "We have our pendulum, symbolizing motion and a static cloud that contrasts it," explains Chauhan. "The two elements come together to complement each other well."
From idea to execution

Once they had their idea, the students began creating, bringing in some of their Engineering colleagues for input.
"Actually executing an idea can be difficult, but that's part of the experience. We had to develop problem-solving strategies along the way," says Chauhan.
Young agrees, emphasizing that actually having the product in your hands and being able to see what works and what doesn't leads to design changes. "It's not something that would ever happen when designing a building, but with this float we are able to experiment," she says.
The students are excited to show off their hard work in the parade, but their piece isn't a traditional float propelled by a motorized vehicle. Instead, the students took a more sustainable approach.
"We don't use cars!" explains Chauhan. "Being Architecture students, we're focused on sustainability. In the past we have used bicycles, but this year we are carrying the float on foot."
"We hope that the project is visually stimulating. It's not about the people carrying the float…  it's about the light and the effects you get from it."