Close to 200 people checked in at the Halifax Marriott Harbourfront Hotel last Friday to share ideas about the impact of co-op education on the future of Nova Scotia's workforce and economy.

Dalhousie teamed up with the provincial government and other universities in the region to bring post-secondary co-op students, employers and other supporters together for the Nova Scotia Co-operative Education Summit, the first gathering of its kind in the province.

Conversations throughout the day centred on the value of co-op and work-integrated learning and some of the many challenges and barriers to growth, including employer development and recruitment.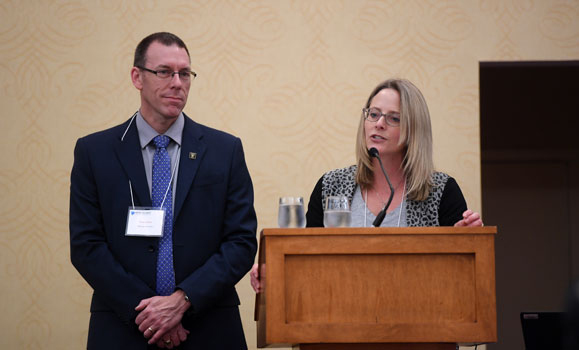 Anna Cranston (right) and Doug Gallant.
Anna Cranston, interim assistant dean in Dal's Faculty of Management and one of the organizing committee co-chairs for the event, along with Doug Gallant, Dal's director of SITE co-op, acknowledged that co-operative education is a constant learning cycle that requires collaboration on various levels and with multiple community partners.

"Co-op isn't just about putting the student into a job, it's about the intersection between the workplace and the classroom and understanding that what you can learn in class can be transferred and used very actively in the workplace," said Cranston during a noon-time panel discussion moderated by Dal President Richard Florizone.

Bringing workplace experience back into the classroom is equally important, added Cranston, noting that faculty need to help support students to reflect on what they learned.

Dr. Florizone highlighted the continued growth and success of Dal's own co-op and work-integrated learning options, noting that 100 per cent of the university's programs now offer some kind of experiential learning opportunities.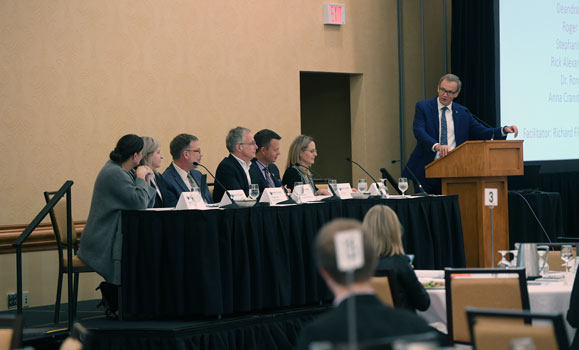 Richard Florizone moderates the panel.

"Students are saying that they want this practical experience in addition to the in-class education," he said.

Benefits for all

Dozens of Dal students came out to the daylong event to participate in workshop sessions, panel discussions and networking opportunities.

Dal Master of Planning student Hailey Winder reflected on her own journey with co-op education, citing it as a fantastic way to integrate and make the transition from academia to the workplace in the real 'adult' world. She completed a co-op work term with the Municipality of East Hants as a student recreation planner this past summer and was subsequently hired on to complete some part-time work until the end of the year.

"It has been an incredible experience to gain actual practical skills," says Winder, "and it's driven by a lot of your interests, so you get to take a hands-on approach to how you want to go through the co-op program. It can be very individualised and personalised, which is great."

While work-integrated learning is rewarding and comes with a multitude of benefits for students, it is also a great investment for businesses and employers who take part, said Winder, picking up on a point emphasized by morning keynote speaker Abdullah Kirumira, a scientist and entrepreneur in Nova Scotia's biotechnology sector.

"Students are passionate and they're well-equipped with a contemporary, relevant [skill base] coming straight out of university and technical colleges," she said.