Alyshia Scott's university experience changed for the better when she had an epiphany about herself. A hard worker who spent her high school years as a retail cashier, she realized that, to get the most out of school, she needed to approach learning with a professional attitude.

"I always valued myself as an employee more than a student, and I think once I realized that I started putting more effort into my schoolwork," Alyshia says. "I'm the only one holding myself accountable for school, whereas I had a boss at work.

"I kind of made myself my own boss for schoolwork."

Being both boss and employee in her own personal learning business has paid dividends. After switching from Engineering to Earth Sciences in the early years of her undergraduate degree, Alyshia landed in History after an elective course in the subject unlocked her passion for it. Last year, she made the Dean's List for the the first time in her academic career.

"I realized that the good grades come with the courses you're really passionate about," Alyshia says.
Finding her path

Alyshia is now heading into her fifth and final year, extending her academic experience by adding a minor in Management. The decision to broaden her horizons was sparked by Courtney Larkin, who managed and mentored Alyshia during the latter's summertime stint working in Dalhousie's Conference Services and Summer Accommodations unit in 2016.

"Courtney kind of took me under her wing as a mentor. She was a Bachelor of Management graduate and helped me realize how much I'd enjoy it."

It's fitting that a self-described worker like Alyshia had such a pivotal experience on the job–and that she has continued to find work opportunities throughout her university career.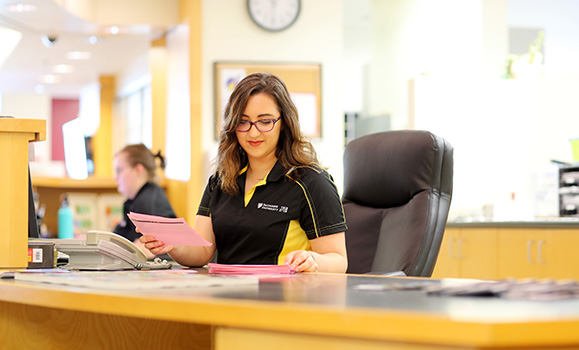 She returned to Conference Services and Summer Accommodations again this summer, working as an associate team leader. Her responsibilities include training staff, maintaining financial accounts and ensuring a high level of customer service for a business unit that accommodates casual guests, conferences, wedding parties and summer students in Dalhousie residences.

"Even though we're only kind of like a hotel, we want to offer the same level of experience any other hotel would offer," says Alyshia, who has also worked at the front desk of LeMarchant Place for the past three academic years.
Hands-on experience

For Alyshia, who foresees a possible career in tourism management, her work experiences have complemented her academic ones and helped her envision future success.

"It's easier to see how my academic experiences are going to be applied in the real world. When I'm doing financial accounting or a course like that, I'm seeing numbers, words, spreadsheets that I've seen before in this job.

"To me that kind of makes it more real."