Curiosity about the ocean has fuelled many of history's greatest expeditions, inspired researchers around the world, and, most recently, attracted visitors to Dalhousie's Steele Ocean Sciences Building (SOSB) during Doors Open Halifax.

The city-wide event invites Nova Scotians to explore the interiors of Halifax's historically and architecturally significant buildings — ones typically not open to the public.  

This year, the Faculty of Science once again transformed the atrium of the SOSB into an "ocean hall" in celebration of Ocean Week. It was one of over 30 spaces in Halifax that opened their doors on June 3 and 4.
Connecting with research

Only 400 metres away from Halifax's Northwest Arm, the university's latest ocean research facility is perfectly situated to study the marine system. The building is home to world-class scientists who work to observe, predict, conserve and mitigate risks associated with the global ocean.

Such an undertaking requires an immense amount of collaboration. Resident research groups of the building — the Canada Excellence Research Chair (CERC.Ocean) in Ocean Science and Technology, Ocean Tracking Network (OTN), Marine Environmental Observation Prediction and Response Network (MEOPAR), Ocean Frontier Institute and the Aquatron Laboratory — work together and with scientific groups around the world to better understand the ocean and its resources.

"I was happy to see visitors were interested in what's in their own backyards," said Ronnie Noonan, a Marine Biology student and Doors Open volunteer. "Awareness is the first step towards learning about the ocean."

Learning about the ocean

More than 1,000 attendees visited the SOSB over the weekend, eager to meet students and researchers and share their passion to understand the ocean and the mysteries within it. Some came with inquiries about marine research and technology, to swap stories and observations of the ocean, or simply with a willingness to learn about ocean science. Whatever the motivation, curiosity filled the atrium.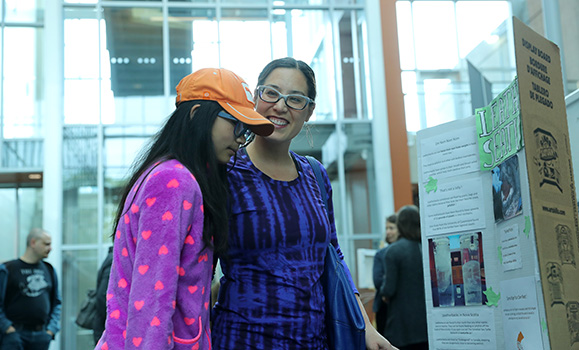 An eager future marine biologist studies information on leatherback sea turtles.
"It was great to meet people and hear all of their different questions," said Nina Galle, an Ocean Sciences student and Doors Open volunteer.

Visitors were treated to a fun and educational experience as they interacted with resident researchers and students through hands-on activities and demonstrations. There were opportunities to explore the marine world with Ocean School through virtual reality headsets, learn how best to track seal movements with OTN, and explore numerous oceanographic instruments with professors and students from the Department of Oceanography.

Enthusiasm and spirit

Plenty of other entertaining activities captured the imaginations of the youngest visitors, too. SuperNOVA showed children how leatherback turtles lay eggs with a sandbox demonstration, while Raina the Mermaid made special appearances in the Aquatron's pool tank. Enthusiasm for the mermaid was matched by that for the touch-tank aquarium, which held many animal and algal species found around Halifax. After touching hermit crabs, kelp and a sand dollar, one young visitor told volunteers it was "the best day ever!"

Although visitors left with many questions answered, their curiosity for the ocean and its inhabitants will last a lifetime.