Recently, an innovative materials research group at Dalhousie jumped into the ocean technology game and teamed up with VEMCO, a local company that develops unique tracking solutions for the Ocean Tracking Network and researchers worldwide.

The collaboration will help scientists collect more accurate data on animal behaviour, movement, physiology and the survival of animals in marine and freshwater environments.

Mary Anne White, Harry Shirreff Professor of Chemical Research (Emerita) in the Department of Chemistry, led a small team of researchers on a project unlike any other her group had tackled before.

A new challenge

Dr. White's Thermal Properties of Materials lab usually focuses on materials that can be used to develop new or improved ways to store energy.

But in a chance conversation with a VEMCO employee at a Halifax Chamber of Commerce dinner, Dr. White learned scientists who study the movement and migratory patterns of fish would benefit from a new kind of acoustic telemetry tag—a tracking device inserted under the skin of a fish. This tag would somehow have to emit a signal when a larger fish ate a tagged fish. That way researchers could better interpret their data knowing the information coming from that tag is associated with a different species.

"He said, 'we have a problem that materials research might help us solve,'" recalls Dr. White of the conversation over dinner. "So, I wondered, how can my team help develop that signal?"

Dr. White brought the problem to her research group. Kim Miller, a postdoctoral fellow at the time, jumped at the chance to get involved. With a natural "love of fish," Dr. Miller was a perfect fit, said Dr. White.

"We needed to make a coating for the tag that the stomach acid of another fish would dissolve — it would need to be stable and non-toxic while under the skin of the tagged fish, but unstable and still non-toxic in the stomach acid of the predator," says Dr. White.

Detailed approach

"It's a fascinating project, chips in fish. We got to learn a lot about how VEMCO makes these tags. It's a very intricate procedure," says Dr. White.

With funding from Natural Sciences and Engineering Research Council of Canada's (NSERC) Engage program, Dr. White's team identified that a derivative of a material called chitin provided the right combination of chemical properties for the coating. A product of nature, chitin helps form tough outer skeletons found on lobsters, beetles and spiders.

The placement of the tag was an important factor in the success of this project because tags are inserted under the skin so they can continuously send out information on location, activity and physiology. Dr. White's modified chitin material would require particular mechanical properties, too. After considerable chemical testing, the team made a coating flexible enough to prevent cracking and swelling while the fish moves about.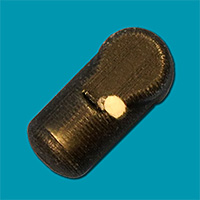 When the coating of the tag encounters the predator's stomach acid it degrades and triggers the release of a small magnet that emits the signal of predation, changing the output of the tag to indicate that it's inside of a predator.

Dr. White and Kim Miller, along with former master's student Ryan Fielden, hold a patent with VEMCO on the successful device now. Called the V5 Predation Tag and available on the company's website, it reacts to a changing chemical environment on predation and within a matter of hours emits a signal to researchers.   

Eddie Halfyard, a former PhD student in the Department of Biology who was supported by the Ocean Tracking Network, is looking forward to what this new tag can do. Currently he's a marine scientist with the Nova Scotia Salmon Association.

"It allows us to have more confidence in our data, but it also opens up a whole new avenue of research and application for telemetry data," says Dr. Halfyard.  

Flexible solutions

"Materials researchers have a lot of techniques at their fingertips. We look at a lot of materials to find solutions to diverse problems," said Dr. White.

"It doesn't matter whether it's a fish tag, pen ink, or energy storage materials — the ways we characterize materials and their properties are part of our toolkit and expertise. Training in materials research means you can be very flexible and tackle a wide range of problems."