When the Dalhousie Arts Centre opened its doors in 1971, it was welcomed as the premier performing arts venue in Halifax. Community arts stakeholders finally had a space where both symphonic and rock music could be at home, where both emerging and accomplished artists could share their talents.

Today, more than four decades later Dalhousie is on the cusp of realizing an extraordinary opportunity to enhance the performing arts scene on the east coast through a newly revitalized and expanded Dalhousie Arts Centre.

The $27.7-million capital project will act as a springboard and home for the Fountain School of Performing Arts, while expanding the impact of academic programs and community space that play vital roles in Atlantic Canada's vibrant arts and culture scene. The Arts Centre expansion will feature a three-story performing arts wing, the centerpiece of which is a new 300-seat concert hall — a much-needed addition to performing arts infrastructure in Atlantic Canada.
Support from artists across Canada

The planned expansion is already generating lots of buzz and excitement across the country, with a large group of high-profile performing artists led by Grammy and Juno award-winning artist Sarah McLachlan publicly endorsing the expansion.

"I grew up in Halifax and am proud to support the Dalhousie Arts Centre/Fountain School of Performing Arts as I feel it's so important for people to have art education in their lives, and music in particular," says McLachlan, who is Honorary Celebrity Chair of the effort. "Music brings us closer together and gives us the opportunity to be able to feel, communicate and better understand ourselves and each other."

So, why all the excitement?

"With arts programs across Canada struggling to survive, this investment in the Dalhousie Arts Centre and the Fountain School of Performing Arts signals that the arts really do matter," says Jane Archibald, a Juno Award-winning operatic soprano and project supporter. "Those of us who dedicate our lives to the performing arts do so because art is essential to the human experience and not a mere luxury or frill."
A key part of Nova Scotia's arts community

In addition to the new concert hall — which will be named the Joseph Strug Concert Hall — the Arts Centre expansion includes new practice and rehearsal spaces for voice, music and theatre, as well as modern and airy costume studies studios which will accommodate students and their cutting tables, sewing machines and other equipment. A revitalization of the existing building's systems, as well as a re-vamp within the Rebecca Cohn Auditorium are also in the works.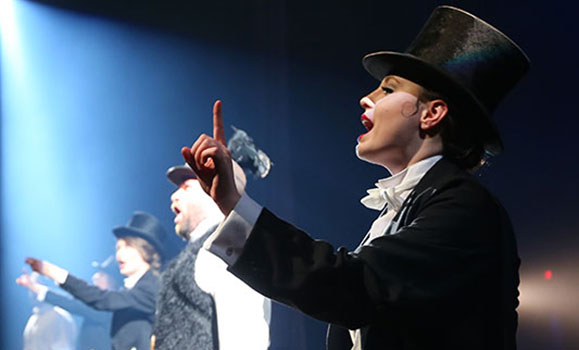 Dal students perform "The Magic Flute."

"The relationship between the physical environment and artistic development is an important one," says Jacqueline Warwick, director of Fountain School of Performing Arts. "Making that investment in improving the environment signals that the arts matter to Dalhousie. For our students, it speaks to the significance of what they're trying to do."

As to the broader community, Archibald notes that there is a real hotbed of talent in Nova Scotia and that we've always been good at making do with the limited facilities we have.

"It will be so nice for some of our up and coming performing artists to have the ability to train at home in a revitalized performing arts centre. My hope is that this project will have a domino effect; that other communities on the national scene will see what's happening at Dal and it will plant the seed for them to do something similar."
A chorus of supporters
For complete biographies, visit alumni.dal.ca/arts-centre

HONORARY CHAIR
Sarah McLachlan, singer-songwriter
SUPPORTERS
Jane Archibald, operatic soprano
Holly Arsenault, jazz pianist
Jeri Brown, soprano
Linda Carvery, jazz and gospel vocalist
Tim Chaisson, musician/songwriter
Rose Cousins, singer-songwriter
Philippe Djokic, concert violinist
Chalmers Doane, music educator
Melanie Doane, singer/musician
Ferne Downey, actor
Alan Doyle, musician
Damhnait Doyle, singer-songwriter
Neil Edwards, president, Honens Festival and Piano Competition
Andrea England, singer-songwriter
Randy Glynn, artistic director
John Gracie, folk music artist
Jerry Granelli, jazz musician
Bernhard Gueller, music
director and principal conductor, Symphony Nova Scotia
Dave Gunning, singer-songwriter
Barbara Hannigan, operatic soprano/conductor
Karen Kain, artistic director, The National Ballet of Canada
Richard King, audio engineer
Suzanne Lemieux, oboist
Daniel MacIvor, writer/director/actor
Lindsay G. Merrithew, actor/producer
Anne Murray, entertainer
Ross Petty, actor/producer
Rhapsody Quintet
Denis Ryan, musician
Ron Sexsmith, singer-songwriter
Lynn Stodola, pianist
Kurt Streit, operatic tenor
The Barra MacNeils
Rich Terfry, alternative hip hop artist
Thom Swift, singer-songwriter
Alan Syliboy, multimedia artist
Shimon Walt, cellist
Dinuk Wijeratne, composer
Christopher Wilcox, managing and artistic director, Scotia Festival of Music