In an effort to better profile university governance, we've launched this new feature highlighting some of the presentations and decisions that come out of the Dalhousie University Senate.

Senate is the university's senior academic governing body, with membership consisting of elected representatives from Dal's Faculties and the University Libraries, elected student representatives, a representative from the University of King's College and Dal's senior administrators. Senate is responsible for approving new programs; granting degrees/diplomas; managing the reviews of Faculties, centres and institutes; and setting academic regulations and the academic calendar.

Senate meets on the second and fourth Mondays of the month, from September through June. Look for our Senate Notes feature following each meeting — and for a similar feature on the University Board of Governors launching next month.
Steps to making diversity and inclusion a reality

Fourth-year Nursing students Allison MacFadden, Jennie Hynes and Krista Shanks delivered a presentation on understanding equity through addressing downstream challenges with gender-neutral washrooms at Dal.

The students commended Dal for providing gender-neutral washrooms in residences and new buildings and for having an online list that provides information on where those are located across Dal's three Halifax campuses.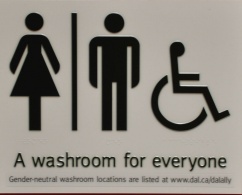 Their presentation also highlighted some of the limitations of these existing resources, including inaccurate directions, missing and inconsistent signage, and washrooms that require staff let you in.

While putting new washrooms in old buildings is not always possible, they said, providing accurate and effective signage for students (even if it points to a neighbouring building) is. "What if that student could dash out of the class . . . and follow the signs to the closest washroom just like I do?" said MacFadden. "What if we had signs in every building pointing to the closest gender-neutral washroom right beside the signs that point to the men's and women's?"

The students said they've been working with Dal Allies, an LGBTQ+ support group for students, staff, and faculty, on improving signage and other resources.

New program proposal: Law, Justice and Society
The Senate Academic Programs and Research Committee put fourth a motion for a new Bachelor of Arts interdisciplinary Major program called Law, Justice and Society to be housed in the Faculty of Arts and Social Sciences and administered through the Department of Political Science.

Frank Harvey, dean of the Faculty of Arts and Social Sciences (FASS), and Krista Kesselring, associate dean, academic, for FASS, provided an overview of the program. Dr. Harvey pointed out that it builds on existing teaching and research strengths across FASS and was developed in response to student demand, noting the Law and Society minor has been the university's most popular for years.

While interdisciplinary in nature, Dr. Kesselring said the existence of socio-legal professional associations and scholarly journals illustrate the robustness of the field: "It's a field in its own right, as well as drawing upon all these other more traditional disciplines."

Two distinctive elements in Dal's program will be a core course offered through the  Schulich School of Law and the integration of social justice and human rights components into the core of the major. Experiential learning opportunities will also be developed.
Adopting Universities Canada Principles on Indigenous Education

Dalhousie's Indigenous Strategy Steering Committee (ISSC) was established to develop an Indigenous strategy for the university. It has been tasked with working through the "evaluation" and "appropriate implementation" of a collection of recommendations made in reports identified by the university's Strategic Priority 5.2 (Foster a collegial culture grounded in diversity and inclusiveness) and, subsequently, the Truth and Reconciliation Commission's calls to action.

One of the recommendations was that Dalhousie adopt Universities Canada Principles of Indigenous Education. Senate approved the adoption of the principles after a brief presentation from Keith Taylor, ISSC's co-chair, who said the committee would likely come before Senate again several times as they work through developing a robust Indigenous strategy.
Draft U.S. Public Health Service Research Misconduct Policy
The Senate Planning and Governance Committee put fourth a motion allowing for the adoption of the Draft U.S. Public Health Service Research Misconduct Policy. Mark Filiaggi, Dal's associate vice president, research, said Dal's current policy on research misconduct in relation to U.S. Public Health Service is out-dated and doesn't reflect current requirements for holding funding through that body.  

Dr. Filiaggi said the new policy, which was adopted at Senate Monday, has specific requirements on how allegations of research misconduct are reviewed in relation to any funding held through the U.S. Public Health Service. The U.S Public Health Service is very explicit about what they consider to be research misconduct, focusing specially on plagiarism, falsification and fabrication of data.

Draft policy on policies

The Draft Policy on Policies was approved at Senate Monday, following consultation with multiple stakeholders over a two-year period.

Dr. Kevin Hewitt, Senate Chair, detailed some of the changes made to the policy since a review by the Senate Planning and Governance Committee last year. It is now co-sponsored by the Board of Governors and Senate, reflecting the bicameral nature of governance at Dal. Required assessment criteria were also expanded to include sections ensuring policies are tied to the university's mission and core values and on the impact of the proposed policies on diversity, equity and inclusiveness (and measures designed to eliminate negative impact on these principles). School directors were added to the list of policy sponsors and the policy approval process is now broken out more clearly among various sponsors: Board, Senate, co-sponsored with Senate, other sponsors.
200th anniversary update
Catherine Bagnell Styles, assistant vice-president of communications and marketing, provided a broad overview to Senate of what to expect from Dal's 200th anniversary celebrations in 2018.

Her presentation included a snapshot of the planning process, some of the guiding principles shaping the 200th, and details about a few of the many

signature events and initiatives being planned for the bicentennial celebration.

She highlighted the extensive and inclusive consultations that have gone into planning the 200th, noting about 45 brainstorming sessions have been held and close to 800 individuals involved so far.

Bagnell Styles, who is project lead on the bicentennial, said the 200th provides a platform to support the university's mission through profiling achievements, enhancing reputation and engaging key communities, particularly those who may not have always felt truly engaged by Dal.

"What we really want is for people throughout our city and across the country to feel this is their celebration," she said, noting it is also an opportunity to say thank you to those who have helped build Dal during its first two centuries.

She detailed a layered approach to celebration that will include centrally run signature events of national interest, Faculty and unit activities, conferences, community activities and promotional efforts (advertising, media outreach, storytelling, etc.).

Learn more about the Dalhousie Senate at its website. Minutes for past Senate meetings are available on DalSpace. Minutes for this meeting will be posted once approved by Senate at its subsequent meeting.