The fireside lounge on the first floor of the McCain Arts and Social Sciences Building looked a lot like a library this past Tuesday afternoon.

An assortment of books touching on everything from Indigenous and gender issues to Russian Studies and U.S. foreign policy were on display as part of an event celebrating recent publications from researchers in the Faculty of Arts and Social Sciences (FASS).

"The annual event is an opportunity to recognize the publications and research produced by our faculty," explained Howard Ramos, associate dean of research for FASS.

"Publishing is an important step for scholars, particularly in arts and social sciences," he added.

Diversity was a common theme this year among the featured items, which included 18 full-length books, 39 peer-reviewed articles, five book chapters, three reports, and one review.

More than 20 faculty members came together to be recognized for their work, including Margaret Robinson, assistant professor of Indigenous Studies at Dal. She delved into the topic of two-spirited and bisexual people for the Journal of Bisexuality. One of the busiest authors at the event, Dr. Robinson had three different publications on display.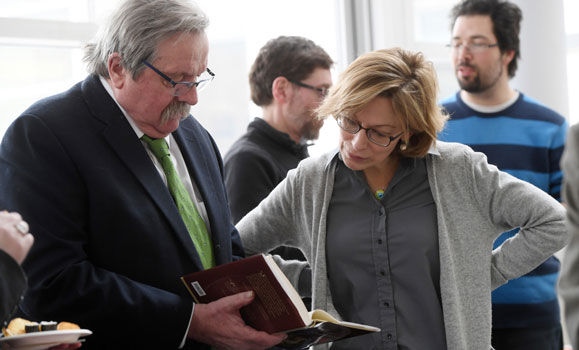 A recent book on productivity and prosperity by Karen Foster, a Sociology professor and Canada Research Chair in Sustainable Rural Futures for Atlantic Canada, was also highlighted.

Dr. Foster spoke at the event about the importance of showcasing published research in the arts and social sciences. She compared it to some of the ways research is recognized in other fields.

"Publishing is the primary way to measure academic success in our field," she said. "In the technology fields for example, you can develop and release a product. We can't do that, but we still have to show our outputs somehow. We do that through publishing."

Dr. Foster had the opportunity to talks a bit about her own book, titled Productivity and Prosperity: A Historical Sociology of Productivist Thought, which explores the concept of productivity over the last 200 years and the future of productivity growth.

"We need to re-evaluate productivity," said Dr. Foster, summarizing her research. "The association between increased productivity and increased standard of living is falling."

Among the other scholars with work featured were Frank Harvey, dean of FASS, who teamed up with Dal PhD Candidate John Mitton to explore the topic of credibility as it relates to international politics in their book Fighting For Credibility: U.S. Reputation And International Politics. History professor Cynthia Neville had two publications featured, one a journal article on the beginnings of royal pardon in medieval Scotland and a book chapter on the image of kingship on Scottish royal seals.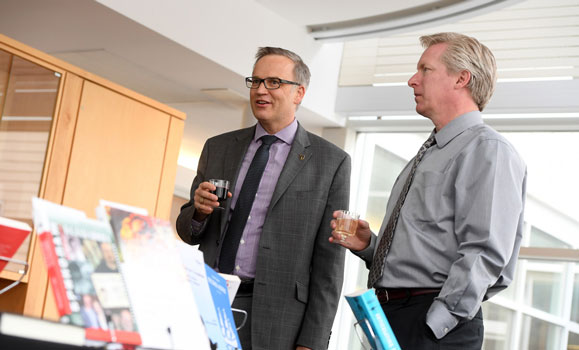 Dal President Richard Florizone and Frank Harvey, dean of FASS, at the event.
For more information on the work produced by FASS, visit the Faculty's research website.